Americans keep having fewer babies as U.S. birthrates hit some record lows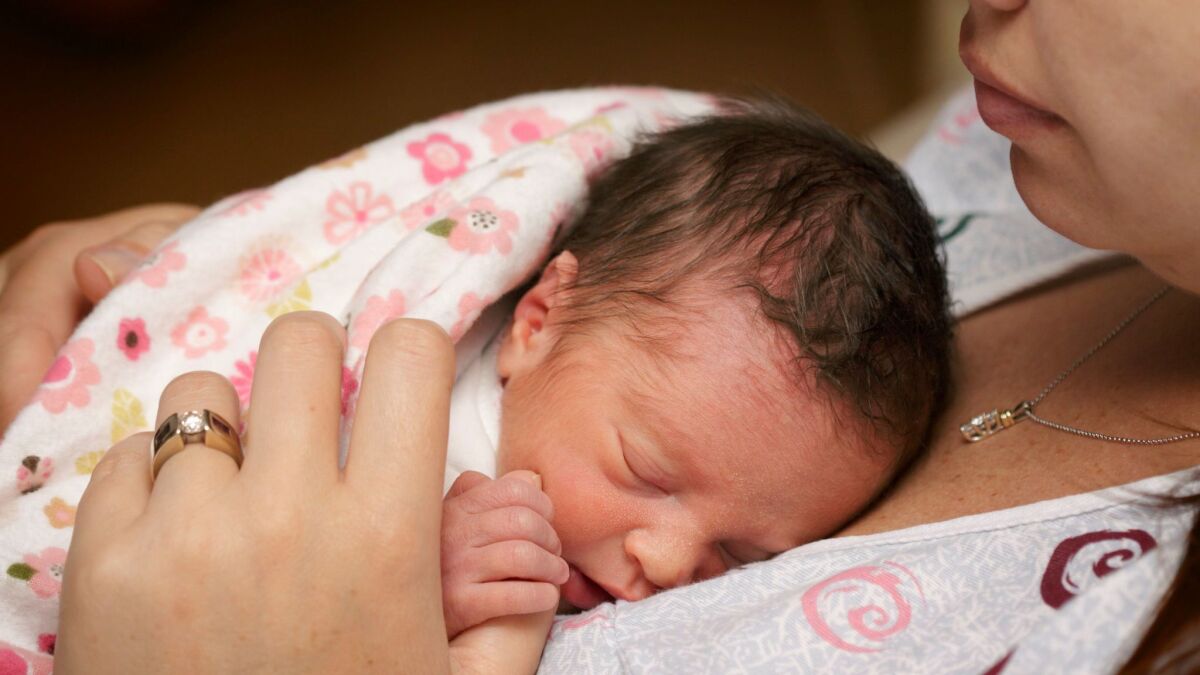 Hey stork, you've been slacking off — and U.S. health officials know it.
For the second year in a row, the number of babies delivered in the U.S. fell in 2016, according to a new report from the National Center for Health Statistics. For some groups of women, the birth rate reached record lows.
The provisional figures released Friday include 99.96% of all births in the United States last year. Here's what they show:
Overall births
The total number of babies born in the U.S. last year was 3,941,109. That's 37,388 fewer babies than were born in the U.S. in 2015, which represents a 1% decline.
The number of births tends to rise as the population rises, so statisticians like to make historical comparisons by calculating the general fertility rate. This is the number of births per 1,000 women considered to be of childbearing age (between 15 and 44).
In 2016, the U.S. general fertility rate hit a record low of 62.0 births per 1,000 women ages 15 to 44. In 2015, the general fertility rate was 62.5.
Another useful statistic is the total fertility rate. This is an estimate of the total number of babies that 1,000 women would have over their lifetimes, based on the actual birth rates for women in different age groups.
In 2016, the total fertility rate for American women was 1,818 births per 1,000 women. That's the lowest it has been since 1984.
In order for a generation to exactly replace itself, the total fertility rate needs to be 2,100 births per 1,000 women. The U.S. has been missing that mark since 1971 (though the country's population has grown due to immigration).
More older mothers
The ages of women giving birth in the U.S. has been skewing older for several years, and that trend continued in 2016.
Birth rates for women 30 and older hit their highest levels since the 1960s, and women in their early 30s had the highest birthrate of any age group.
In 2016, there were 102.6 births per 1,000 women between the ages of 30 and 34. The last time it was that high was 1964.
There were also 52.6 births per 1,000 women ages 35 to 39, the highest that figure has been since 1962.
The birthrate continued to taper off for women in their 40s, with 11.4 birth per 1,000 women between the ages of 40 and 44 and 0.9 births per 1,000 women ages 45 and up. Those were the highest birthrates for those age groups since 1966 and 1963, respectively.
In 2016, the overall number of babies born to mothers in their 30s was 1,656,736. An additional 112,007 babies were born to women ages 40 and up.
Teen births declining
Meanwhile, birthrates for women in their teens and 20s hit record lows in 2016.
The teen birthrate reached a new low of 20.3 births per 1,000 women between the ages of 15 and 19. That's 9% lower than it was in 2015; 51% lower than it was in 2007 (when the current downward trend began); and 67% lower than it was in 1991 (the year with the most recent peak).
Improvements in teen births were seen in both 15-to-17-year-olds (down 11% from 2015) and 18- and 19-year-olds (down 8% from 2015).
Statisticians also tallied 0.2 births per 1,000 girls ages 10 to 14. That rate was unchanged from 2015.
Altogether, 211,726 babies were born to women under 20 in 2016.
Women in their 20s were responsible for the bulk of last year's births — 1,950,642 of them — even as their birthrates fell to record lows.
There were 73.7 births for every 1,000 women ages 20 to 24, along with 101.9 births for every 1,000 women ages 25 to 29. Those rates were 4% and 2% lower than in 2015, respectively.
Births to unmarried women
Just under 40% (39.7%) of all babies born in the U.S. last year were born to unmarried women. In 2015, that figure was 40.3%.
The birthrate for single mothers peaked in 2007 and 2008, at 51.8 births per 1,000 unmarried women of childbearing age. After falling for eight straight years, it hit 42.1 births per 1,000 unmarried women in 2016.
The proportion of out-of-wedlock births varied a great deal according to race and ethnicity.
Women of Asian descent had the lowest proportion of births to unmarried women (12%), followed by whites (28.4%), Native Hawaiians and Pacific Islanders (47.7%), American Indian or Alaska Natives (68.1%) and blacks (69.7%).
Among Latinas, 52.5% of births involved unmarried women.
Healthcare and health outcomes
More than three-quarters (77.2%) of women who gave birth in 2016 began receiving prenatal care during their first trimester. On the flip side, 6.2% of women completed their entire pregnancies without any prenatal care. (Comparable figures for 2015 were not reported.)
Preterm births, defined as births that occur before 37 weeks of gestation, accounted for 9.84% of all U.S. births in 2016. That's up from 9.63% in 2015.
All of that increase can be traced to a 3% bump in late preterm births, which occurred after 34 to 36 weeks of gestation. Births prior to 34 weeks held steady, at 2.76% of total births.
Babies born prematurely are at greater risk for asthma and other lung problems, cerebral palsy, intellectual disabilities, infections, vision and hearing problems, and dental complications, according to the March of Dimes.
There was also a small increase in births involving babies who weigh less than 2,500 grams (or 5 pounds, 8 ounces). In 2016, 8.16% of babies met this threshold for low birthweight, up from 8.07% in 2015.
A low birthweight carries an increased risk of heart problems, respiratory distress syndrome, bleeding in the brain and an intestinal condition called necrotizing enterocolitis, the March of Dimes says.
Follow me on Twitter @LATkarenkaplan and "like" Los Angeles Times Science & Health on Facebook.
MORE IN SCIENCE
As opioid addiction skyrockets, treatment for addicts lags far behind, insurance data show
Air pollution exposure may hasten death, even at levels deemed 'safe,' study says
This cutting-edge bandage could make flu shots a thing of the past
Get our free Coronavirus Today newsletter
Sign up for the latest news, best stories and what they mean for you, plus answers to your questions.
You may occasionally receive promotional content from the Los Angeles Times.