U.S. birthrate hit new low in 2013 as women delayed having kids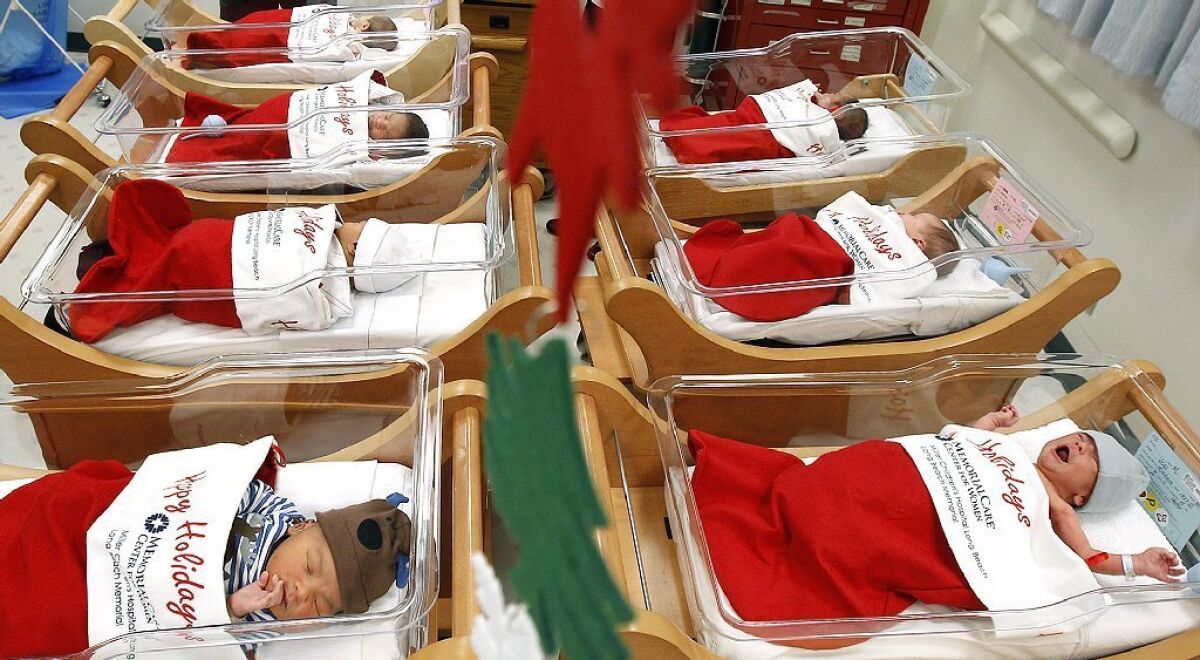 American women gave birth to 3,932,181 babies in 2013 as the nation's birthrate fell to another record low, federal researchers reported Thursday.
The total number of births declined for the sixth straight year, with only 62.5 babies born for every 1,000 women between the ages of 15 and 44. The birthrate has dropped 10% since peaking in 2007.
The continuing baby bust comes courtesy of women under the age of 30, who are increasingly delaying motherhood until they are older. The birthrate for women ages 20 to 24 fell 3% between 2012 and 2013, and dipped 1% for women ages 25 to 29. Last year, there were 80.7 babies born for every 1,000 women in their early 20s, along with 105.5 babies born per 1,000 women in their later 20s.
Meanwhile, births to women who already turned 30 continued to rise. The birthrate for women ages 30 to 34 rose 1%, to 98 per 1,000, and grew 2%, to 49.3 per 1,000, for women between the ages of 35 and 39. The birthrate held steady at 10.4 for women ages 40 to 44.
Women above the age of 44 aren't counted in the nation's general fertility rate, but the report noted that there were 0.8 births for every 1,000 women between the ages of 45 and 49. That was a 14% increase compared with 2012.
Births to teens plunged 10% between 2012 and 2013, to a rate of 26.5 per 1,000. In other encouraging news, the preterm birthrate (which measures births before 37 weeks of pregnancy) fell slightly to 11.39%. Every state except Hawaii recorded a statistically significant decline. (So did the District of Columbia.)
The total number of births to white and Latino women fell by 1% or less between 2012 and 2013, and it remained essentially unchanged for African American women. Figures for Asian American women were not reported.
After remaining flat from 2009 to 2012, the rate of twin births grew 2% in 2013, to 33.7 per 1,000 women of childbearing age. The researchers calculated that roughly one in every 30 babies born last year was a twin.
The report was released Thursday by the National Center for Health Statistics, which is part of the Centers for Disease Control and Prevention. The data were based on information culled from birth certificates and entered into the National Vital Statistics System.
Follow me on Twitter @LATkarenkaplan and "like" Los Angeles Times Science & Health on Facebook.
Get our free Coronavirus Today newsletter
Sign up for the latest news, best stories and what they mean for you, plus answers to your questions.
You may occasionally receive promotional content from the Los Angeles Times.