To protect your lungs from wildfire smoke, the mask you wear matters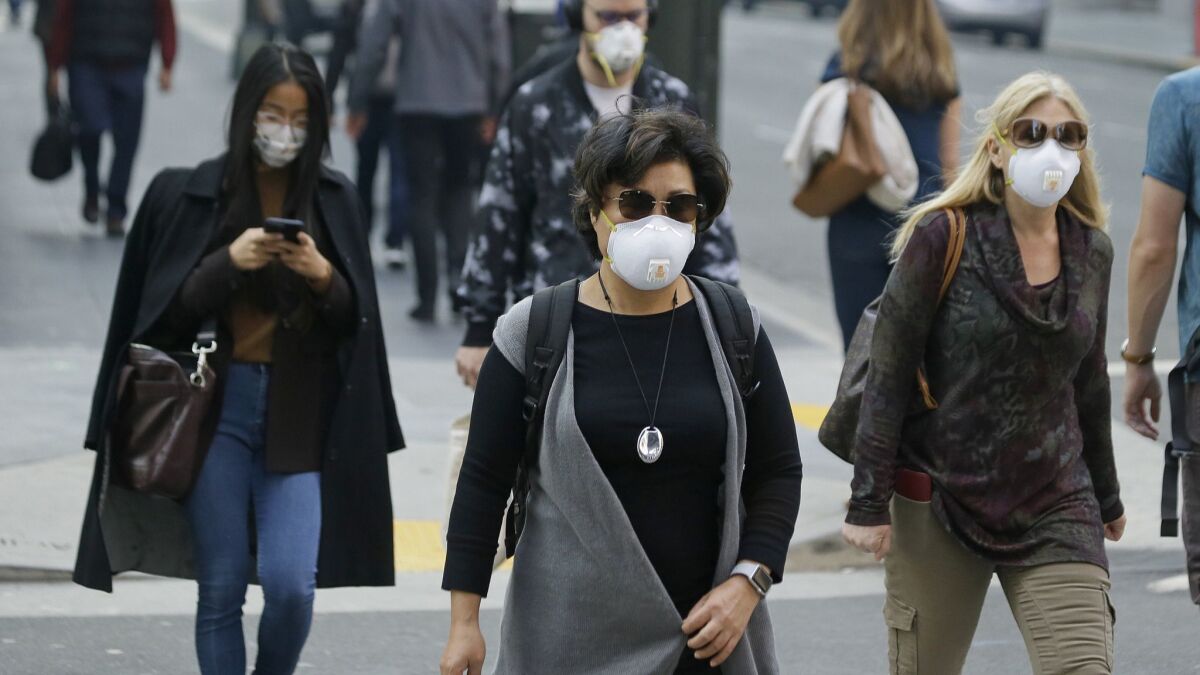 Reporting from Sacramento —
Toby Lewsadder stepped outside an Ace Hardware store in Sacramento wearing a simple one-strap dust mask. He knew it wasn't the right defense against the wildfire smoke lingering in the air, but it was all he could find.
The stores he checked didn't have the more substantial respirator mask that public health officials recommend to defend against the harmful wildfire smoke that is blanketing communities across California.

For the record:
9:40 p.m. Nov. 15, 2018Because of an editing error, a previous version of this article said that N95 masks are too small for most children. The N95 masks are too large for most children.
"No one has them," said Lewsadder, 41, who was visiting the state capital from Los Angeles for an information technology conference. So, for now, the dust mask would have to do: "Something is better than nothing," he said.
Unfortunately, Lewsadder is wrong.
The type of mask you wear matters very much if you don't want to inhale harmful pollutants, experts say.
As deadly fires continue to rage in Northern and Southern California, millions of people outside the burn zones are exposed to the dangerous smoke that's billowing into their communities and settling like dark shrouds. Health professionals and firefighters are fitted for the right mask, but the general public is not.
Wildfire smoke is dangerous because it contains fine particulates that can lodge deep in the lungs, causing or worsening respiratory issues such as asthma. Some groups of people are especially vulnerable, including children and senior citizens.
The particulate matter floating across much of Northern California in the past week has registered at levels more than 18 times those recommended by the World Health Organization. Such levels can trigger acute symptoms like difficulty breathing and headaches — even in people who are otherwise healthy.
Health experts agree that the best defense is to stay indoors.
But many also suggest that if you must go outside for a prolonged period, it's best to wear the right kind of mask — especially if you have a health condition such as asthma, heart problems or emphysema.
What kind of mask is the best?
Not the dust mask that Lewsadder was wearing. Or the surgical masks that loop around your ears. You can also forget wearing a bandana or holding a tissue over your mouth — those won't protect your lungs.
The California Governor's Office of Emergency Services and the California Department of Public Health recommend N95 respirators or P100 masks, both of which are approved by the National Institute for Occupational Safety and Health for use by healthcare workers and firefighters.
Those simple-yet-sophisticated masks are intended to block at least 95% of the tiny particulate matter — known as PM2.5 — that spews from wildfire smoke. Measuring 2.5 microns or less in diameter, these particles can't be seen by the naked eye, said Dr. John Balmes, a professor of environmental health sciences at UC Berkeley's School of Public Health. (For comparison, a thin human hair can measure 16 microns in diameter.)
Once you have the right kind of mask, it's also important to wear it correctly.
The mask should have two straps — one placed below the ears and one above. And it should seal tightly to your face.
"The efficiency of the mask is all about how well it fits the contours of your face," said Keith Bein, a researcher with the Air Quality Research Center at UC Davis. "If there's a gap, air will come through the gap."
But if you have difficulty breathing or become dizzy, remove the mask.
When a disposable mask gets dirty on the inside or you have trouble breathing, throw it away.
The N95 masks are too big for most children. Balmes said he tells his colleagues that they can put adult masks on their children, but he can't promise they will work.
Since the Camp fire devastated the Sierra Nevada foothills town of Paradise and charred 140,000 acres, the typically blue skies over Sacramento appear overcast. In reality, it's a smoky haze that has settled over the trees and buildings, leaving an acrid taste in people's mouths and irritating their eyes.
Air quality levels in the region have been in the "unhealthy," "very unhealthy" or "hazardous" ranges for much of the week.
Area residents have received mixed messages about whether to wear masks. Sacramento County's public health division said in a statement that only those living near the fire need wear masks because they restrict airflow and can make it more difficult to breathe. Meanwhile, the city of Sacramento is distributing free masks to the public at fire stations.
"There is confusion, and I think one of the problems is there is not enough evidence-based medicine on whether healthy individuals should be putting on these masks and when it's effective," said Dr. Mary Prunicki, who studies the effects of air pollution on the immune system at Stanford University's Sean N. Parker Center for Allergy and Asthma Research. "That's something we're actually trying to investigate."
Despite the poor air quality, many people in the state capital appear to be going about their business as usual.
Leland Gilmore, 77, who was walking his dog, Ruff, in McKinley Park near downtown, didn't think the smoke "was bad enough" to stay inside. Neither did the people shooting hoops, playing tennis and jogging at the same park.
When Sisco Martinez, who doesn't suffer from any asthma or respiratory issues, felt some chest pain, he visited a Sacramento fire station for a mask.
"I work indoors, but still, I wasn't feeling too well, so I thought I'd better go get one," the 19-year-old said.
Experts acknowledge that the masks don't block all the toxins in the air, such as the chemicals released into the atmosphere when fire consumes some construction materials, cars, paint and consumer goods that people use every day.
"The masks are only removing particulate matter," Bein said. "It doesn't remove the toxic gases."
Still, he said, the proper masks are "still working better than nothing."
This article was produced by Kaiser Health News, which publishes California Healthline, a service of the California Health Care Foundation.
Get our free Coronavirus Today newsletter
Sign up for the latest news, best stories and what they mean for you, plus answers to your questions.
You may occasionally receive promotional content from the Los Angeles Times.