Nouveau Napa
Greg Cole, owner of Celedon, left, pours wine for patrons Adrienne Graves, center, and Rosemarie Vertullo in his restaurant in Napa, Calif.
(Bryan Chan / LAT)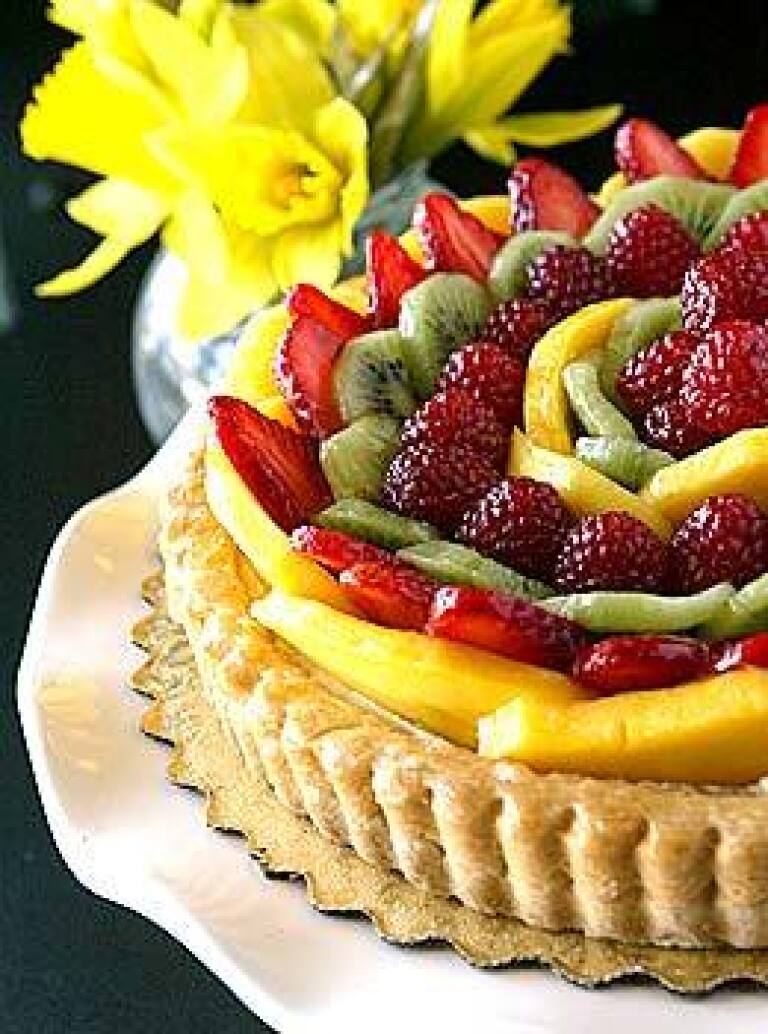 Fresh fruit tart at Sweetie Pies in Napa, Calif.
(Bryan Chan / LAT)
Main Street in Napa, Calif. At right is the Winship building that was built in 1888.
(Bryan Chan / LAT)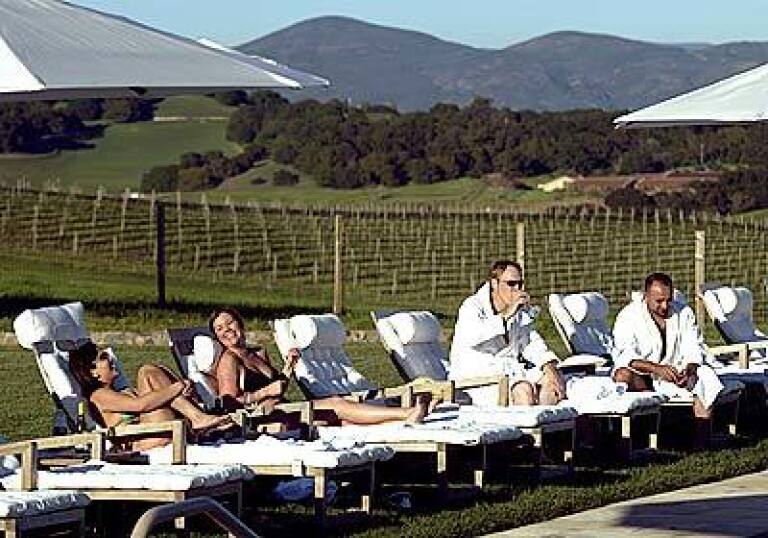 Guests Nelva Samiee, left, Char Scott, Dave Bradley and Tony Hussein lounge by the hilltop pool at the Carneros Inn that opened in Nov., in Napa, Calif. Vineyards are in the background.
(Bryan Chan / LAT)
Diners eat diner along the Napa River at Angele in Napa, Calif.
(Bryan Chan / LAT)
Times Staff Writer
There's Napa, the valley. And then there's Napa, the city.

Napa, the valley, is the realm of chef Thomas Keller's French Laundry in Yountville and Francis Ford Coppola's Niebaum-Coppola winery in Rutherford, of the luxe Meadowood resort in St. Helena and the mud baths of Calistoga.

And Napa, the city? That's been another story. What I remembered most from visits years ago were empty storefronts and a polluted river that flooded. Polite people called the place scruffy. Honest people called it something worse. As the ugly duckling of Napa Valley, the city had such image problems that hotels in town were dodgy about their location. "We're on First Street in Napa Valley," some would say.

Today, though, the name game has changed. Walk around town and you'll hear people speak of Robert Mondavi and Julia Child, backers of Copia, the culinary theme park that's the centerpiece of the local renaissance. You'll hear of the Rouas family, owners of the vaunted Auberge du Soleil resort up-valley, who chose downtown Napa for Angéle, their hot new restaurant. You'll hear Coppola's name too and details of the 1937 Uptown movie theater he's helping to transform into a performing arts palace.

As unlikely as it seems, this city finally has some backers and some buzz.

I visited a month ago and found it the most surprising — and pleasing — destination in the valley. New lodgings, restaurants and galleries, plus a historic opera house that recently reopened after decades of neglect, are transforming this place into a hamlet of fine food and culture. While the rest of the valley is increasingly derided as overdeveloped and overrun by tourists, Napa doesn't yet suffer from its successes. Crowds are smaller, pretensions fewer. The city impresses by not trying to impress.

"In the old days, Napa was a pariah. It was not part of Napa Valley," said Garret Murphy, who opened a co-op wine-tasting room called Vintner's Collective a year and half ago. "But in the next few years, Napa Valley will be proud to have this city. Actually, I think it already is."

A view of the rooms

Napa's history as an overlooked region dates to 1823, when the first Europeans to arrive, Don Francisco Castro and Father José Altimira, passed on Napa as a mission site. Not until 1848, two years after farmers staged the Bear Flag Revolt against Mexican authorities, did Nathan Coombs formally lay out a town called Nappa City, the name thought to have derived from a Wappo Indian village in the area.

In the decades that followed, the town did see some change: incorporation in 1872, the dropping of one "p" from its name, the building of tanneries and fuel-loading docks along the Napa River. But as the rest of the valley evolved into the nation's premier wine country, Napa remained a sleepy bedroom community for the low-paid vineyard and restaurant workers, removed psychologically and set back geographically from California 29, the valley's main highway.

I pulled into town in a driving rain late one Wednesday night, and it was hard to tell whether times really had changed. The business district clustered around Main Street was deserted, as was the Napa River Inn, a 66-room midscale lodging that's a key component of redevelopment. The hotel, two restaurants, a bakery and a general store occupy what used to be a grain mill, and at first glance the low-slung brick facade and steel and tin silos of the 19th century structure looked like a sad ghost of Napa's industrial past.

Then it happened. Though the storm had knocked out power throughout town, the new Napa began shining through.

Hotel staff dispersed quickly in the dark, making sure emergency lights and guests' electronic keycards still worked. A bellman offered flashlights and apologies, as though he had any control over Mother Nature.

Come morning — every morning, actually — breakfast arrived precisely as ordered, exactly at 9:30. And my room was pleasant, with chablis-colored walls and a balcony overlooking the Napa River.

The other new lodgings in town were equally impressive. The highest-profile project is the Carneros Inn, opened in November and touted as the first newly constructed resort in Napa Valley in almost 20 years. The biggest surprise here isn't that its San Francisco financiers obtained the building permits in a growth-wary community, but that they have chosen this end of the valley for 86 pricey bungalows.

To see what $425 (the cost of a standard king-bed cottage) buys in the new Napa, I drove five miles to the Carneros Inn security gate and pretended to be a tourist looking for a place to sleep.

Inside, I felt as though I was entering a mirage. The hilltop infinity pool, with its vineyard views and neat rows of cushy chaise longues, looked almost too pretty to plunge into. Bungalows had Brazilian cherry floors in the bedroom, heated slate floors in the bathroom, a Jacuzzi tub and two showers (one alfresco), a wood-burning fireplace, a plasma TV …

All this? In Napa?

I found more luxury across town at Milliken Creek, a 12-room inn that opened in 2001 and last year added luxury suites carrying nightly tariffs starting at $525. I couldn't see those — they were booked — but I did see some less expensive rooms, which were spacious and decorated with refined rusticity and Asian touches, a sort of Ralph Lauren-meets-Dalai Lama mélange that somehow felt chic but not cheeky.

I even liked the rooms at the more humble River Terrace Inn, which opened five months ago with introductory rates starting at $99. (Brochure rates start at $139.) Though the location on busy Soscol Avenue is less than prime, the standard rooms are nicer than those of most midprice hotel chains, and affordable prices leave more money for dining out.

Places to go, food to eat

That's crucial because restaurants have breathed some night life into a formerly comatose town. The first to gain notoriety was Celadon, opened in 1996 by chef-owner Greg Cole, a graduate of the Culinary Institute of America.

"People wrote me off. They thought I was crazy," Cole said. "The parking problem was that there were no cars. I used to stand at the window of Celadon, look for a single car and hope it would stop."

Eventually, diners not only stopped but they also followed Cole when he moved Celadon to the Napa Mill complex, next to the Napa River Inn. Tables are still packed with locals and out-of-towners feasting on an eclectic menu: baby calamari flash-fried and served with a chipotle chile glaze and Asian pickled ginger, pan-seared Hawaiian escolar and my favorite, a Moroccan-inspired lamb shank that was fall-off-the-bone tender.

For dessert, I headed around the corner to Sweetie Pies bakery for its eye-popping, mouth-watering extravagances. I pondered a miniature Kahlua mousse cake and a "creamsicle" surprise, white chocolate cake with scarlet pastry cream and orange butter cream, before finally choosing a rich cappuccino cake with chocolate ganache filling.

A few doors down, the country French restaurant Angéle opened 1 1/2 years ago to much acclaim. The house specialty — blanquette de veau, an old-fashioned veal stew — is the kind of fare you couldn't find in the Napa of old.

"There are new restaurants opening left and right," managing partner Bettina Rouas said. "I grew up here…. Never would we go to Napa. Now, at night, you'll see people walking around. They're dressed up. They're going to the opera."

After a $14-million refurbishment, the Napa Valley Opera House reopened in August after its stage was dark for an epic 89 years. The theater opened Friday, Feb. 13, 1880, with Gilbert and Sullivan's "H.M.S. Pinafore" and went on to play host to light opera, vaudeville and community events until declining attendance forced it to close in 1914. It was used as a warehouse, then sat vacant until preservationists saved it from demolition.

These days, the 500-seat venue plays host to opera, jazz, dance and other entertainment. At an evening lecture by San Francisco Chronicle film critic Mick LaSalle, I found the theater disappointingly modern inside. But with only 16 rows of seats, it was intimate.

The bigger surprise was Copia, the maligned "American Center for Wine, Food & the Arts" built for $55 million, $20 million of which came from Napa Valley legend Robert Mondavi, chairman of the nonprofit's board. Some critics have called the center — equal parts food museum, tasting room, restaurant, market, art gallery and gardens — unfocused and overpriced. I disagree.

The $12.50 adult admission is less than the ticket price at some L.A. movie theaters, and anyone who dedicates at least three hours to Copia will find their time and money well spent. My only disappointment was lunch at Julia's Kitchen, named in honor of Julia Child and operated with her blessing. I'm all for subtle nuances in flavor, but here the concept was taken to an extreme, and the chicken breast in a carrot-ginger broth was pretentiously bland.

Elsewhere, however, Copia succeeded, especially with its monthly theme, chocolate. At a tasting station, I could sample Dagoba's organic, exotically flavored chocolate bars: lavender, rosemary mint, chile. Later, staff member Lenny Rice lectured on cocoa beans and showed the audience a raw cocoa pod, a freakish creation that looks like a dirty yam and grows on the trunks of cocoa trees. I knew the core of the beans inside were used to make chocolate, but I didn't know the husks could be used as garden mulch. That's why, Lenny said, when the sun comes out after a spring rain, you can walk out into Copia's garden and detect a chocolate aroma.

From Cocoa 101, I moved upstairs to Copia's "Forks in the Road" exhibit, which chronicles the history of cooking from a 4000 BC Egyptian alabaster feast bowl to a section of Child's kitchen in Cambridge, Mass.

An exhibit featuring the art of Sandy Skoglund was equally amusing. Her installations and photographic works employed raw ground beef, Cheez Doodles and an obscene amount of bacon. I had trouble digesting Skoglund's social commentary because I wasn't sure whether to be hungry or nauseated.

Wine with your chocolate

That didn't stop me from moving on to the wine-tasting counter. The day's selections: tawny and ruby Ports.

"It's really wonderful if you sample some Port, then taste those chocolates," the woman pouring said, pointing to the Dagoba table I had ravished earlier. "Then sample the Port again." So I did. Twice.

Copia isn't the only tasting spot in town. Because anti-growth regulations prohibit wineries from establishing new tasting rooms on county land, entrepreneurs flocked within Napa city limits, and now these tasting rooms are some of the hottest gathering spots in town.

My favorite was Vintner's Collective, housed in the city's oldest commercial building, an 1875-built brewery and, later, a saloon and brothel. Here visitors can sample 18 wineries, some of which release wines in remarkably limited quantities (as few as 75 cases) and high prices (up to $75 a bottle). For novices, it's a chance to sample expensive, obscure wines. The diRosa Preserve, the popular art collection in the Napa countryside, has opened an offshoot on Main Street called Off the Preserve! Other galleries have popped up too, including Liz Lopez's Glass Gallery and textile artist Cheryl Cohn's space next to the Uptown Theater, where owner George Altamura is restoring the Art Deco glory with financial backing from Coppola.

Back by the Napa Mill project, the city is building a private dock for Gondola Servizio owner Angelino Sandri. By summer he expects to be shuttling passengers along the Napa River in 37-foot gondolas crafted in Venice, Italy.

The river itself is getting a makeover, a $255-million project to revamp a six-mile stretch of water. Dikes and levees are being removed, land is being acquired, bridges are being replaced and soil contaminated by the tanneries and fuel-loading stations of eras past has been cleaned up. The work won't be finished until 2007 at the earliest, but by then the Napa River will have been cleaned up and the water allowed to follow its natural course.

"It's like watching time working backward," said Jim Brandt, a former San Francisco restaurateur who moved to Napa in 1999 and, with wife Jill opened the Napa General Store less than two years ago.

"We moved here just as Copia was getting underway. That made me think: If Robert Mondavi can get people to find downtown Napa, maybe something will become of this place."

*

(BEGIN TEXT OF INFOBOX)

Next stop, Napa

GETTING THERE:

From LAX, nonstop service to Oakland is offered on Southwest and United, and connecting service (change of planes) is available on Alaska and America West. Restricted round-trip fares begin at $78. The drive from Oakland to Napa is about 45 miles.

From LAX to San Francisco, nonstop service is offered on American and United, and connecting service (change of planes) on Delta and Alaska. Restricted round-trip fares begin at $99. The drive from San Francisco to Napa is about 55 miles.

WHERE TO STAY:

Napa River Inn, 500 Main St.; (877) 251-8500 or (707) 251-8500, https://www.napariverinn.com . A midscale hotel built partly in a converted 19th-century grain mill downtown. Rates begin at $179.

Carneros Inn, 4048 Sonoma Highway; (707) 299-4900, https://www.thecarnerosinn.com . Opened in November five miles from downtown. Eighty-six cottages with a metropolitan sensibility in a country setting. Some are crammed too close together, considering nightly rates start at $375, but the smart design provides privacy. Infinity pool overlooks vineyards. Spa and restaurant on site.

Milliken Creek Inn, 1815 Silverado Trail; (888) 622-5775 or (707) 255-1197, https://www.millikencreekinn.com . A 2 1/2-year-old, 12-room luxury inn that expanded last year. Park-like bluff along a river and contemporary décor with Asian influences make for a peaceful retreat. Doubles from $295.

River Terrace Inn, 1600 Soscol Ave.; (866) 627-2386 or (707) 320-9000, https://www.riverterraceinn.com . This 106-room hotel opened in November. Its location and public spaces are inferior, but the rooms are nice. Doubles start at $139.

Blackbird Inn, 1755 1st St.; (888) 567-9811 or (707) 226-2450, https://www.foursisters.com . A nice, 2 1/2-year-old Craftsman alternative to the plethora of Victorian B&Bs. Doubles from $135.

1801 First, 1801 1st St.; (707) 224-3739, https://www.the1801inn.com . A pleasant Victorian renovated in the last two years under new ownership. Main-house suites from $250, cottages from $225.

WHERE TO EAT:

Angéle, 540 Main St. (Napa Mill complex); (707) 252-8115, https://www.angele.us . Country French cooking and a charming riverside setting. My steak bordelaise was the best meal of the trip. Entrees $11-$24.

Celadon, 500 Main St. (Napa Mill complex); (707) 254-9690, https://www.celadonnapa.com . Eclectic menu; I had a wonderful braised lamb shank with almond-and-golden-raisin couscous. Entrees $14-$23.

Belle Arti, 1040 Main St.; (707) 255-0720. A casual Italian restaurant hidden behind the Napa Valley Opera House. I had a nice panino for lunch on the creek-side patio. Lunch entrees from $8.

WHERE TO TASTE:

Copia, 500 1st St.; (888) 512-6742 or (707) 259-1600, https://www.copia.org . Nonprofit center celebrates food, wine and art with cooking demonstrations, tastings, lectures, lunches, gardens and galleries. Consult the daily schedule (available online) and plan to spend at least three hours. Adults, $12.50; students 13-17 and seniors 62 and older, $10; children 6-12, $7.50; children 5 and younger, free. Wednesdays are half price.

Vintner's Collective, 1245 Main St.; (707) 255-7150, https://www.vintnerscollective.com . Co-op representing 18 small wineries.

Bounty Hunter Rare Wine & Provisions, 975 1st St.; (800) 943-9463, https://www.bountyhunterwine.com . Tasting counter and wine store. Open until 2 a.m. on weekends.

TO LEARN MORE:

Napa Valley Conference & Visitors Bureau, 1310 Napa Town Center; (707) 226-7459, https://www.napavalley.org .

— Craig Nakano
---
Get our free Coronavirus Today newsletter
Sign up for the latest news, best stories and what they mean for you, plus answers to your questions.
You may occasionally receive promotional content from the Los Angeles Times.