Shohei Ohtani showed off his speed and Angels manager Mike Scoscia wants to see it some more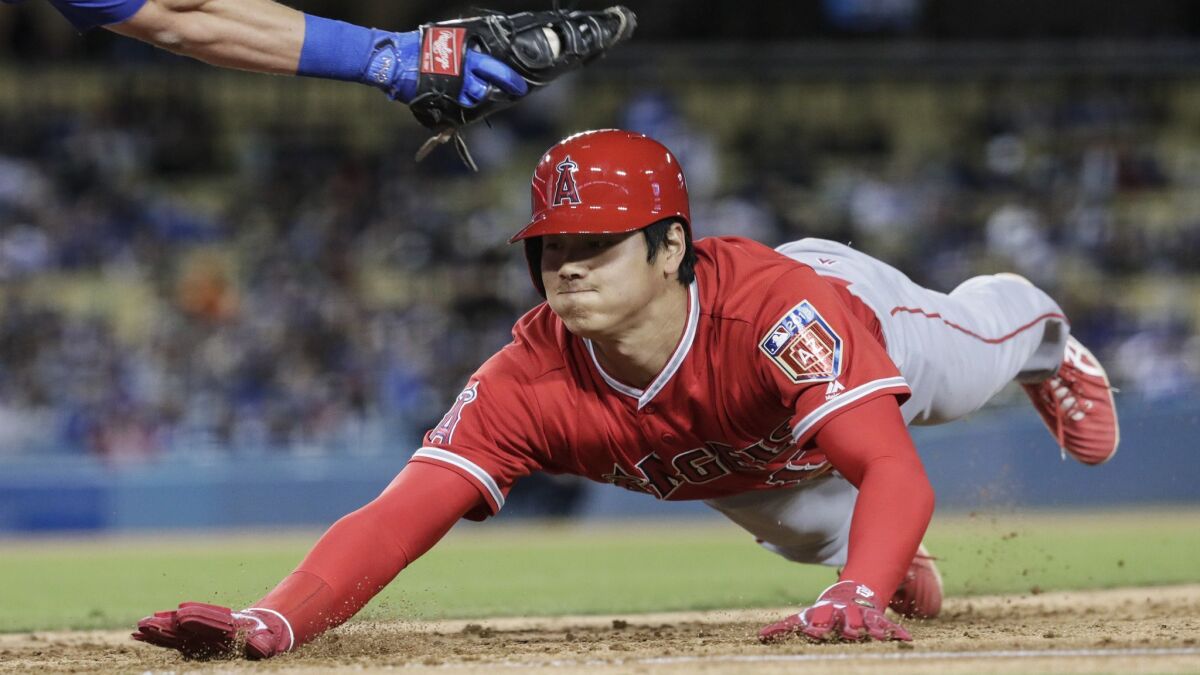 Despite getting a jump from first base that gave the Dodgers no chance to throw him out, despite forcing an errant toss from Yasmani Grandal that trickled into center field that let him advance to third base, and despite scoring the tying run in the Angels' walk-off win over the Dodgers on Friday, Shohei Ohtani doesn't view himself as a base-stealing threat.
Angels manager Mike Scioscia disagrees.
"I think any time we've given him opportunities to run he's gotten good jumps, so the speed's there," Scioscia said Saturday. "I haven't noticed any of those flaws that he might perceive."
Scioscia said the template devised to address Ohtani's pitching and hitting abilities also includes baserunning, from reading pitchers to getting better jumps to running first to third and sliding. Even though Ohtani said he'll only run when he's close to 100% sure he'd be safe, Scioscia sounded confident that the star Japanese rookie is being modest.
Ohtani is two for two in stolen bases. Asked whether Ohtani could steal 15 or 20 bases in a season, Scioscia said the potential is there. It's just a matter of getting him enough at-bats.
Scioscia estimated Ohtani would get a little more than half the at-bats of players who don't also pitch, so the chances of Ohtani evolving into a 20-base stealer aren't ideal. But Scioscia also emphasized that although Ohtani may not be the perfect candidate to become a prolific base stealer, he's the ideal player to become a clutch base stealer.
"He definitely has the technique and speed to steal a base when it's important," Scioscia said. "And it's not always how many you're stealing. If you're stealing them at the right time, you can influence the game like he did last night."
Getting noticed
Since arriving in the major leagues June 12, Angels rookie David Fletcher has ingratiated himself with timely hitting, most obviously his score-tying single just past the glove of Dodgers shortstop Chris Taylor on Friday night.
Scioscia said he has taken notice of Fletcher, who's hitting .283 in 53 at-bats.
"I think that any time a player plays well, obviously they're gonna win more at-bats and win more playing time," Scioscia said. "He's definitely doing that."
Fletcher has hits in seven of his last eight games, including a two against the Baltimore Orioles on June 30.
The Angels selected Fletcher, who played at Loyola Marymount, in the sixth round of the 2015 draft. He broke in with three hits in his debut but, as for an uptick in playing time after his heroics Friday, he's slamming the brakes.
"I really don't think about it that way," he said. "I just try to show up every day and try to do what I can to help the team win, honestly."
On the verge
Luis Valbuena was 0 for 2 on Saturday and has only four hits in his last 32 at-bats. But Scioscia thinks the third baseman may be coming around.
"There's been little signs in the last couple weeks of [Valbuena] maybe finding it," he said, "and when he finds it, he keeps it for a long time, as you saw in the second half of last season."
Valbuena raised his batting average from .185 to .213 in the second half of 2017. He also increased his RBIs from 23 to 46 and his home runs from six to 16.
He's hitting .211 this year with nine home runs and 30 RBIs. With the Angels trying to get back into contention for a playoff spot, Scioscia said Valbuena's potential emergence could be crucial.
"We need him," Scioscia said. "We need that power. We need that presence, that left-handed bat in our lineup, and hopefully, he's gonna start to show that consistency that he has to to be productive."
Tropeano pitches
Nick Tropeano, who started 10 games before suffering shoulder inflammation and going on the disabled list June 15, gave up two hits in five scoreless innings for Class-A Inland Empire in a rehab assignment.
---
Get the latest on L.A.'s teams in the daily Sports Report newsletter.
You may occasionally receive promotional content from the Los Angeles Times.