Angels ride more strong pitching, balanced offense to dominant sweep of the Royals
The Angels' best homestand of the season started with two dramatic, nerve-racking wins, the offense mounting a massive late-game rally in one and closer Raisel Iglesias producing a six-out save in the other.
It finished Wednesday night with a third straight one-sided victory, a 6-1 defeat of the Kanas City Royals in which the Angels (30-32) earned their first three-game series sweep of the season and finished the seven-game homestand with five wins.
On the mound, Griffin Canning pitched a season-high 6 ⅔ innings and gave up only one run to the Royals. At the plate, seven starters recorded hits in a balanced display. And in the dugout, manager Joe Maddon watched on in delight, his team winning its 11th game out of its past 16 to inch a little bit closer back to .500.
"It was another formulaic win, very impressive," Maddon said, later adding: "It's the starting rotation going more deeply, the bullpen settling in better because they don't have as many innings to cover. I think we're doing a lot better catching the ball … There's a lot of little subplots coming together that are making for this pretty good moment right now."
So decisive was this series, in which the Angels outscored the Royals 22-5, that Iglesias pitched in a non-save situation during the ninth inning Wednesday because of a lack of work in recent days -- the bullpen hardly needed for leverage situations after Angels starters pitched into or through the sixth inning on three-straight nights.
This time, it was Canning who excelled, producing not only his longest outing of the campaign but perhaps his best one too.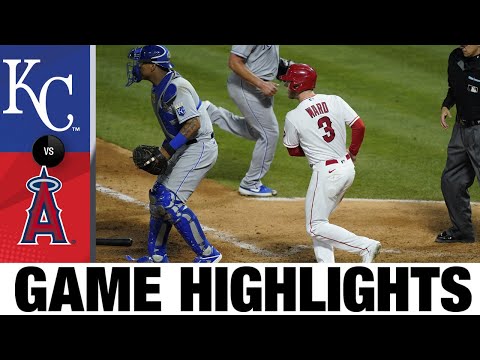 Highlights from the Angels' 6-1 win over the Kansas City Royals on Wednesday.
"I felt like I actually pitched today, which was fun," Canning said. "It's the flow of the game, understanding what they've done in the past, what they're trying to do. Just getting in that rhythm."
In 89 pitches, Canning gave up only five hits and two walks while striking out six.
After escaping a bases-loaded jam in the first without surrendering a run, he allowed only two more men to reach scoring position the rest of the night — when the Royals (29-31) scored their lone run in a fourth inning that included two infield singles and a down-the-line double.
Canning had retired 10 in a row after that before giving up a single with two outs in the seventh, when Maddon summoned Mike Mayers from the bullpen to finish the inning.
Thanks in large part to the success of his secondary pitches — he got 14 swing-and-misses combined with his slider, curveball and changeup — Canning's season ERA dropped to 5.22, its lowest in almost a month.
"He had the rugged start, then righted himself and then went back out and really fulfilled the game plan," Maddon said. "He was really unpredictable."
Offensively, Anthony Rendon opened the scoring with a two-run double in the third inning, driving the ball over the head of Royals right fielder Hunter Dozier and off the wall to complete a two-out rally that started with a Justin Upton walk and Shohei Ohtani single.
"We need to get some good baseball coming our way to stay on a nice roll, and getting him going is going to be very large," Maddon said of Rendon, who is still batting just .232 on the season but now has 10 hits (including four doubles) in eight games this month after slumping through the end of May. "I think he's going to do that. It was a big knock right there."
The Angels pulled away with three more runs in the sixth. Jared Walsh walked and Max Stassi singled — one of two hits in what was his third straight start behind the plate — to lead off the inning. José Iglesias doubled home one run with a line drive into right. Then Kean Wong plated a couple more by slapping a two-run single over the shortstop's head.
A Juan Lagares ground ball led to another insurance run in the eighth, stamping one last exclamation point on a sweep that seemed surprisingly easy.
"You can see, it's a totally different team … when it's five, six, seven guys [who are hitting well] on a nightly basis," said Iglesias, who went two for three Wednesday and had a hit in each game of the series. "Bottom to top in the lineup, everybody is doing their job and doing their thing."
Added Maddon: "There's just a different vibe completely right now. I'm really proud of the way our guys have hung in there to this point. We got a lot of work left. But this is starting to look and feel like it should."
Angels hit season-high five home runs in 8-1 win over Royals
The Angels skipped batting practice Tuesday afternoon.
They made an 8-1 win against the Kansas City Royals look like a BP session instead.
The Angels hit a season-high five home runs on Tuesday night, including four against Royals starter Kris Bubic in the opening four innings en route to a series-clinching blowout in front of 9,387 at Angel Stadium.
Shohei Ohtani opened the scoring with a two-run moonshot in the first, clobbering his 17th of the season a projected distance of 470 feet — the longest of his MLB career, according to the league's Statcast system.
Max Stassi launched a missile in the third, driving his third home run in the last four days out to left after Ohtani began the inning with a double.
In the fourth, José Igleisas and Justin Upton had solo home runs three at-bats apart, Iglesias lifting a rainbow into the left-field bullpens for his fifth of the season before Upton lined his 14th of the year just over the left-center field wall.
Taylor Ward tacked on a couple more with a blast to left in the eighth. But by then, the Angels had long pulled away on a night starter Andrew Heaney surrendered just one run in 6 ⅔ innings.
The Angels (29-32) have now won 10 of their past 15 games and are assured of a winning record on this seven-game homestand -- their first winning homestand since the opening week of the season.
Ohtani's home run set the tone, the two-way star turning on a belt-high changeup after Justin Upton drew a leadoff walk. It moved Ohtani into a tie for third place on MLB's home run leaderboard this season, one back of co-leaders Ronald Acuña Jr. and Vladimir Guerrero Jr.
After leaving the bat at 111.7 mph, the ball landed almost 20 rows deep in the right-center field seats, the longest hit by any Angels player other than Mike Trout since the Statcast tracking system launched in 2015.
"That's the farthest ball I've seen hit here," Angels manager Joe Maddon said. "I've never seen one hit there before."
Ohtani -- who entered Tuesday coming off a pair of three-walk games for the first time in his career -- took advantage of another mistake from Bubic in the third, lacing a double into the right-center field gap that had an exit velocity of 112.6 mph.
Stassi continued his recent hot streak two at-bats later, barreling up another Bubic changeup while serving as the cleanup hitter for the first time in his Angels career.
Iglesias and Upton also hit their home runs on changeups from Bubic, who had given up only two long balls in 34 innings this year entering Tuesday.
"There's so many nice things that occurred tonight," Maddon said. "That's the more formulaic game you're always looking for."
Heaney was a big part of that equation. Throwing 82 fastballs in a 109-pitch outing -- his second-straight start throwing his four-seam more than 70% of the time -- he yielded just six hits and two walks while striking out seven.
"When my fastball feels like that, it makes the off-speed stuff feel like icing on the cake," said Heaney, who has won his last three starts and lowered his season ERA to 4.37. "Especially when I have a two-run, five-run, five-run, six-run lead, you're always going to want to pitch with your fastball. And that just plays right into my hands."
The Royals (29-30) threatened to rally in the seventh, after Hanser Alberto chased Heaney from the game with an RBI double and reliever Steve Cishek loaded the bases with a walk and a hit by pitch.
But then Cishek induced a grounder to end the frame and Ward padded the lead with his sixth home run of the season an inning later, helping the Angels match their most lopsided winning margin of the year.
"We've proven as a team, when we can go out there and put up a zero in the top half, our offense is more often than not going to put up runs in the bottom," Heaney said. "When you can start playing with a lead, it's always going to help both from the offense and pitching side of things. That's the game script every pitcher dreams of."

Angels observations: Dylan Bundy bounces back, Max Stassi continues hot streak and Shohei Ohtani masters the walk
Speaking to reporters on Monday afternoon, injured Angels center fielder Mike Trout gave a simple evaluation of his team's performance in recent weeks.
"It seems like some games, we score a lot of runs and then the next game it's pretty quiet from an offensive standpoint," he said.
Monday night was definitely the former.
In an 8-3 win over the Kansas City Royals, the Angels scored four runs in the first inning en route to a series-opening victory at Angel Stadium.
Max Stassi had three hits, including a home run and double, and three RBI. Anthony Rendon, José Iglesias, Juan Lagares and David Fletcher all drove in runs, as well. And Dylan Bundy gave up only two runs in 5 ⅔ innings to earn his first winning decision of the season.
The Angels are now 28-32 and need just one more victory this week to clinch a winning record on their seven-game homestand.
Here are three observations from the team's win:
Dylan Bundy bounces back
In the month of May, Bundy went 0-4 in five starts with a 9.70 ERA. He struggled with home runs and failed to find consistency. And in his first outing of June on Monday night, it looked like he was headed toward another clunker again.
Bundy needed right fielder Kean Wong to rob a home run in the first inning, then gave up two runs in a second inning that might have been worse if not for his defense turning a double-play.
When Bundy returned to the dugout, Angels manager Joe Maddon had reliever José Suarez warming up in the bullpen.
"Started out rugged," Maddon said. "I didn't know where it was going."
But then, Bundy bounced back, retiring nine of his next 10 batters before being lifted with two outs in the sixth. It was Bundy's first start allowing fewer than four earned runs since May 2 and lowered his ERA, which was once as high as 6.50, down to 6.16.
"I think it's a great game for him to build off of," Maddon said, adding: I saw a sharper curveball, I saw a better changeup. And the fastball got progressively better in-game."
Usually, Bundy's versatile array of pitches is his strength.
"If one pitch isn't working," catcher Max Stassi said, "you can go to some other ones."
But entering Monday, Bundy said he had been working on all his pitches between starts, trying to rediscover his form from a solid 2020 season.
It took a couple innings Monday for the versatility to finally show up again. In a 72-pitch outing, he got a called strike or whiff more than one-third of the time with his changeup, slider, sinker and curveball.
He still gave up a lot of hard contact that his defense handled -- "I don't know if it was actually me getting better or if it was them missing the ball and hitting it right to people," he quipped -- but avoided the big innings that had doomed him last month.
"That's just one of the things, you trust your vet, rely on him," Maddon said. "I believe the latter part of today's game is the kind of Dylan Bundy game we've been used to and you can expect in the future. I want to believe it's a really good game for him to build off of."
Max Stassi continues hot streak
Since returning last week from a month-long absence because of a concussion, Stassi is seven for 15 with two home runs, two doubles and 5 RBIs -- providing an instant reminder of his potential at the plate when healthy.
"That's why I popped him up there in the five-hole," Maddon said after batting Stassi fifth for only the second time this year. "There's a lot of offense in there. I think he's becoming a more knowledgeable hitter. I think he's understanding himself a little bit better."
Maddon was most impressed with Stassi's two-run home run in the fifth inning, an opposite field laser to right on a fastball over the outer half of the plate.
"The pitch location, to go opposite field, that's what I was really happy with," Stassi said. "My strength is right-center and I got a good pitch to hit."
During a rehab assignment with Triple-A Salt Lake last month, Stassi said he focused on "shortening up my swing, trying to keep it compact and keep my balance."
The results?
"So far, so good," he said.
Shohei Ohtani drawing walks
In 307 major-league games entering Sunday, Shohei Ohtani had never walked three times in a single contest.
By the end of Monday night, he'd done it in back-to-back games -- continuing a recent trend that has seen the two-way star draw 17 free passes (plus two more intentional walks) in his last 69 plate appearances.
Is Maddon noticing a difference?
"Absolutely," he said. "They're not throwing him strikes."
It might sound simple, but it's the discipline Ohtani has shown that Maddon appreciates. With fewer good pitches to hit, Ohtani has just four home runs during the 17-game stretch. Yet, his on-base-plus-slugging percentage has climbed from .901 to .924, best on the team among qualified hitters.
"I like the idea that he's not up there expanding the strike zone," Maddon said, adding: "The big thing is that he maintains his patience and doesn't start coming out of the zone too much. You've seen great hitters in the past who have walked a lot, and sometimes you just have to persevere through that moment."
Angels vs. Royals updates: Angels win 8-3
Live updates as the Angels open a three-game series against the Kansas City Royals...
Top 1st, no score: Angels starter Dylan Bundy has struggled with giving up home runs recently, but was bailed out in the first inning against the Royals by his right fielder, Kean Wong.
Playing just his third-ever MLB game at the position, Wong jumped and robbed Carlos Santana of a solo shot to keep the game scoreless early on.
Bottom 1st, Angels lead 4-0: Shohei Ohtani's home runs have captured the attention of the baseball world this year. But his ability to draw walks has maybe been his biggest improvement as a hitter since the start of the season.
After walking just six times in his first 37 games (158 plate appearances), Ohtani has drawn 15 free passes (plus two intentional walks) in 18 games (66 plate appearances) since.
His latest led to the Angels' opening run against the Royals, after Ohtani advanced to second on a wild pitch and scored on a single from Anthony Rendon — the 600th RBI of his career.
The Angels tacked on a couple more runs later in the first on RBIs from Max Stassi, José Iglesias and Juan Lagares. Royals starting pitcher Jackson Kowar, who was making his MLB debut, was pulled after getting only two outs in the inning.
Top 2nd, Angels lead 4-2: The Royals cut into the Angels lead after Dylan Bundy gave up a solo home run to Jorge Soler, hit Michael A. Taylor with a pitch, then yielded an RBI double to Hunter Dozier. The Royals might have scored a few more runs too, if not for a double-play started by shortstop José Iglesias and a diving play by Jared Walsh to get the final out at first base.
Bottom 4th, Angels lead 5-2: Juan Lagares got to second base after reaching on a bad throw by Royals second baseman Whit Merrifield (it was ruled an infield single) and advancing to second on a wild pitch that was aided by a bad throw from catcher Salvador Perez. David Fletcher drove him home from there, hitting an RBI single into the center.
Bottom 5th, Angels lead 7-2: Max Stassi grooved a two-run homer to right to extend the Angels lead. The catcher is 6-for-14 with 2 home runs and 5 RBI since returning from a concussion last week.
Top 6th, Angels lead 7-2: After a couple singles by the Royals, Dylan Bundy was relieved by Chris Rodriguez, who escaped the jam with an inning-ending grounder. It marked Rodriguez's first appearance since May 5 because of shoulder inflammation.
Bundy's final line: 5 2/3 innings, two runs, six hits, no walks, two strikeouts.
Top 7th, Angels lead 7-3: The Royals got one run against Chris Rodriguez in the seventh with a two-out rally and threatened for more before Carlos Santana crushed a line drive directly at Kean Wong in right.
Final, Angels win 8-3: The Angels added an insurance run in the eighth and won 8-3, improving to 28-32 on the season.
Mike Trout's injury rehab going well, but return date remains unclear
It might be the most common way to describe an MLB season: A grind.
But over the last three weeks, that word has taken on a different meaning for Angels center fielder Mike Trout.
Out since May 17 because of a Grade 2 calf strain, the three-time MVP has traded in a nightly assortment of at-bats for a couple rounds of daily rehab. He still partakes in hitter's meetings, but only to share insights on his past matchups with opposing pitchers. When he goes down to the batting cages, he can only cheer on others.
And while his return to action is likely still at least several weeks away, he's already missing the routine of taking the field everyday.
"It's a grind sometimes," he said Monday, chatting with reporters before the Angels' series-opener against the Kansas City Royals.
"Because every game you see the guys go out there, you want to be out there. It's frustrating not being out there with them. Just doing as much as I can to help the team win."
While tedious, however, Trout said he has been "very happy with my progress so far" in his recovery.
Monday marked exactly three weeks since Trout sustained his injury while running the bases in a game.
Originally expected to miss six-to-eight weeks, Trout still isn't sure exactly what his timetable is yet -- though Angels manager Joe Maddon said Saturday that Trout might not be back until after next month's All-Star break, which would be the longest injury absence of Trout's 11-year career.
Trout is off of crutches and out of a walking boot, but still hasn't resumed any baseball-related activities. He has done low-intensity walks on a treadmill, and hopes to begin jogging at some point soon -- a key step that should give him a better idea of when he might be able to come back.
But for now, his rehab process is still dependent upon how his leg is feeling and what his body will allow him to do.
"First week and a half went really good, seeing a lot of progress," he said. "Then there was a little period where I was feeling the same soreness for a couple days. Today was probably my best day yet, tolerance-wise … The progress the last couple days, it's been good."
In the meantime, he has tried to stay engaged in daily team meetings and while watching from the dugout during games. He usually spends the first couple innings on the bench before returning to the clubhouse later in contests for more scheduled treatment.
"Our conversations are all over the place," Maddon said. "He's engaged, talking to everybody. He's there to pick everybody up."
Since Trout went down, Maddon has repeatedly reiterated the need for the Angels to "win series and win weeks until Mikey gets back," hopeful that Angels will still be in the playoff race when their star center fielder returns.
Entering Monday, the Angels were 9-10 since Trout's injury -- a stretch in which their lineup has averaged 4.68 runs per game despite batting just .236 as a team.
"It seems like some games, we score a lot of runs and then the next game it's pretty quiet from an offensive standpoint," Trout said of the team's recent performance. "We've got a great offensive team. We never give up. You saw [Sunday], we tried to make that comeback late in the game. You can't take anything away from the guys. They're fighting. Just going through a stretch where you put a lot of games together and win a couple ballgames."
Angels vs. Royals betting lines and odds for Monday
The Los Angeles Angels have given up at least five runs during nine of their past 10 home games and enter Monday's game with the Kansas City Royals with the American League's worst ERA.
Angels starter Dylan Bundy has given up at least four runs in each of his last four starts and has given up seven home runs in his last three starts, spanning 12 innings. Bundy faces a Royals lineup that is striking out the second-fewest times per game this season and leads the American League in stolen bases.
The Royals will give Jackson Kowar his first career start at the MLB level after tearing it up for AAA Omaha, going 5-0 with a 0.85 ERA in five starts. Between his college team, the Florida Gators, and the minor leagues, Kowar is allowing just 0.7 home runs per nine innings.
The Angels have scored four runs or fewer in eight of Bundy's 10 starts and are 2-7 in his last nine starts. Bundy has a lifetime 6.17 ERA with two home runs and 2.9 walks per nine innings surrendered in 16 appearances at Angels Stadium.
The Angels have played 21 of their 31 home games over the total, the most in the American League while just nine of the Royals 26 road games have gone over the total, the fewest of any team in the MLB.
VSiN, the Sports Betting Network, offers more expert sports betting content in a free daily email at VSiN.com/email.