Clippers introduce Jerry West as team consultant
Clippers news conference to announcing the hiring of Jerry West. (Claire Hannah Colins / Los Angeles Times)
Doc Rivers shared a stage with Jerry West to his left and Lawrence Frank to his right, the three forming a partnership they hope will someday deliver the Clippers an NBA championship.
They officially joined forces Monday when Rivers introduced West as a consultant to the Clippers and a voice to provide wisdom and knowledge to an organization seeking success in the playoffs.
Rivers, the team's coach and president of basketball operations, and West, whose advisor role will be similar to the one he held with the NBA champion Golden State Warriors the last six seasons, are the prominent figures in this relationship. Frank, vice president of basketball operations, will be around to provide input.
According to Rivers, he first thought about bringing West on board when Rivers was promoted from senior vice president of basketball operations to his current position in 2014.
"It's something honestly when I first got the job as president, I started throwing out feelers," Rivers said during a new conference at the Clippers practice facility. "I just thought Jerry would be a perfect fit for me. And I think him and Lawrence working together, they are going to be terrific. They are going to be terrific for me."
West, who said he was going to be with the Clippers "for two years," said he just wants to provide the insight of an executive who made the Lakers into a top-notch championship franchise, the Memphis Grizzlies into a consistent playoff participant and the Warriors into today's powerhouse.
"I am not going to be someone who is going to be someone second-guessing anything you do," West said to Rivers and Frank. "I am going to give you my opinion if they ask. I know the pecking order here."
Managing egos can be tricky in sports, something West touched on when asked how he plans to work with Rivers.
"I would like to think the people I work with, if they think I'm going to have an ego, I'm not," West said. "I'll give my opinion, but somebody's going to make a decision. But in this case, I'm not making a decision, which I'm fine with. I will not be a shrinking violet when giving my opinion. But at the end of the day, I'm not making that decision. I just hope I can help make a difference here."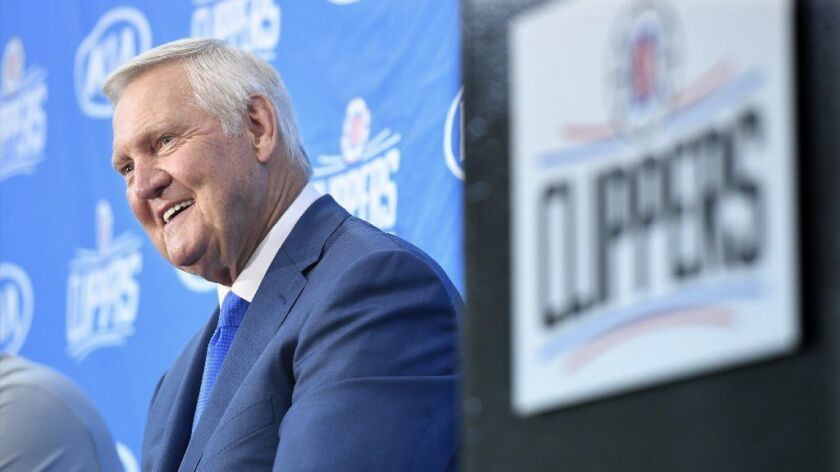 West didn't shy away from answering questions about the Lakers, with whom he became famous as a Hall of Fame player and preeminent executive.
History has credited West with making the Lakers into a dynasty that won five NBA championships in the 1980s and then rebuilding them into a team that won three consecutive titles from 2000-2002.
West left the Lakers after they won the 2000 championship, was hired as general manager of the Grizzlies in 2002 and joined the Warriors in 2011.
West admitted in a recent interview that he would have liked to return to the Lakers, who instead hired Magic Johnson as president of basketball operations and Rob Pelinka as general manager.
"Earvin Johnson, I admire a lot," West said. "I want him to do well. But I hold no animosity to them at all. Absolutely not. And honestly I think the fans have to just put it to rest. Enough is enough, OK?"
The Clippers big three of Chris Paul, Blake Griffin and DeAndre Jordan haven't advanced beyond the second round of the playoffs in six seasons together.
Paul and Griffin could become unrestricted free agents July 1. Paul is expected to opt out of his contract by his due date of June 29, Griffin a day earlier.
West said that Rivers and his staff want to "protect their assets" but will discuss the best way to go forward regarding the big three.
"Change is terrible, it is absolutely terrible," West said. "Sometimes it is necessary, but it's terrible. I like continuity of people I work with. I do know that."
Twitter: @BA_Turner
ALSO
Bill Plaschke: Jerry West, in many ways the ultimate Laker, is officially a Clipper now. That's just weird.
Jerry West explains his move to the Clippers
Inglewood will vote on deal for Clippers to explore new arena
---
Get our high school sports newsletter
Prep Rally is devoted to the SoCal high school sports experience, bringing you scores, stories and a behind-the-scenes look at what makes prep sports so popular.
You may occasionally receive promotional content from the Los Angeles Times.