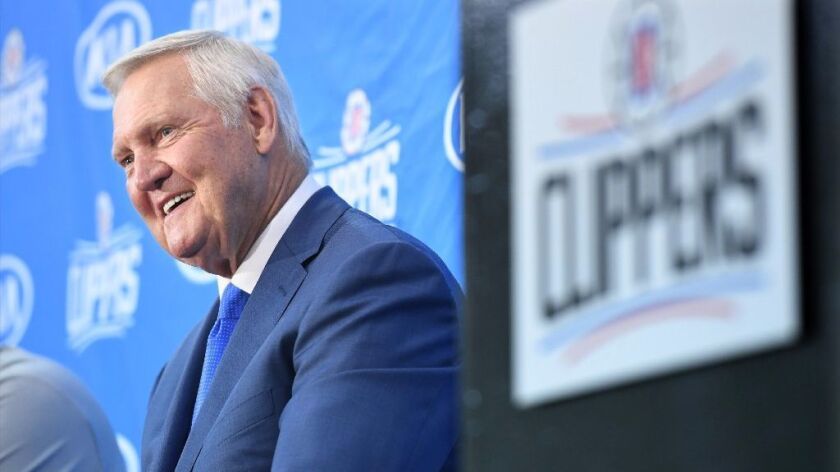 The giant tarp behind his stool was covered in "Clippers."
The microphone in his hand was adorned with "Clippers."
The Pacific Division championship banners hanging in the distance read "Clippers."
But his familiar twang was Lakers. His competitive stare was Lakers. His smooth, steely presence was Lakers.
Yeah, Jerry West's first day at his new job looked pretty weird.
"I hold no animosity to the Lakers at all," West said Monday after being introduced as the Clippers' new consultant. "And honestly I think the fans have to just put it to rest. Enough is enough, OK?"
But, honestly, this was a bit much. To longtime Lakers faithful, the sights and sounds of West's first local media address since he left the team 17 years ago might have felt more like a gut punch than a news conference.
At the beginning of a summer that could dramatically affect the fortunes of both Los Angeles NBA teams, West was sitting next to Doc Rivers, not Magic Johnson. He was speaking in Playa Vista, not El Segundo. And that great owner he was praising was not a member of the Buss family, but Steve Ballmer.
West bragged on his new home, saying, "They've had the best team in town for seven straight years."
West made a sharp promise about his new home, saying, "I think hopefully there's going to be a little bit more of a competitive edge here."
West then offered a conclusion about his new home that he could have been drawing about his old home.
He said, "My last stop along the way, [I want] to be associated with people who are really basketball people, people I have respect for and, more importantly, I think, an, incredible owner."
That last stop for the 79-year-old legend could have been the Lakers, a franchise whose glorious history would not have been possible without him, seven championship rings, the creation of two dynasties. He left them in 2000, eventually wandered to Memphis and Golden State, then decided he would leave the Warriors after this championship season and return to finish his career closer to his westside Los Angeles home.
He publicly said his first choice was the Lakers, but this winter owner Jeanie Buss opted to turn over the team's basketball operations to Johnson and Rob Pelinka, while deciding there wasn't even room for West as a consultant.
"Listen, it was not meant to be," West said Monday. "It was not meant to be."
The Clippers, meanwhile, had room. The Clippers had plenty of room.
"Are you kidding me?" said Rivers, the Clippers coach who also runs the basketball operations. "If you want to win, you got to hire good people. Since I've taken the job, I've been on him about this. C'mon, c'mon. And he finally broke loose."
Give Rivers credit here. After running the Clippers with a tight grip for four seasons — with four earlier-than-expected playoff exits — he appears to be loosening up and amenable to sharing responsibility. He is so loose, he not only shared Monday's stage with West, but also Lawrence Frank, the team's executive vice president of basketball operations.
Frank was one of Rivers' assistant coaches for two seasons before being elevated into a decision-making role last summer, yet when he opened his mouth Monday, it was the first time most members of the Los Angeles media had ever heard him speak. Rivers usually does all of the talking. Already it seems like West's collaborative philosophy is having an impact.
"What's your name? Frank?" West said with a laugh, looking over at the bemused executive, perhaps joking about how much Frank has been hidden.
West called this "the last adventure of my life," and it will be an adventure indeed.
He will have a Playa Vista office and, according to him, two years to make a difference. He will be walking into an organization that could lose three key players to free agency — Chris Paul, Blake Griffin and J.J. Redick — and he clearly doesn't have the patience to recommend rebuilding. It sounds like he will attempt to reshape in hopes of finding the missing piece that can help this Clippers team at last advance to the Western Conference finals.
"Change is terrible, it's absolutely terrible," West said. "Sometimes it's necessary but it's terrible. I like continuity of people I work with."
Next summer for West could be even more important. There is some thought that LeBron James could be looking to make a move to Los Angeles, and that West's aura could be a big factor in his possibly joining the Clippers. Remember, it was West who answered a last-minute phone call from Kevin Durant last summer and ultimately helped convince him to join the Warriors.
"I promise you, behind the scenes they'll get my undivided attention trying to help make a difference," he said.
Meanwhile, I just had to ask, how bad does he want to beat the Lakers? He paused, wrinkled, his brow, tightened his grin, paused some more.
"Just every game we play them," he said.
Get more of Bill Plaschke's work and follow him on Twitter @BillPlaschke
ALSO
Jerry West explains his move to the Clippers
Bill Plaschke: Jerry West's move to the Clippers is another dagger for Lakers
Inglewood will vote on deal for Clippers to explore new arena
---