Why Andrew Friedman's crazy quilt of a managerial search is just fine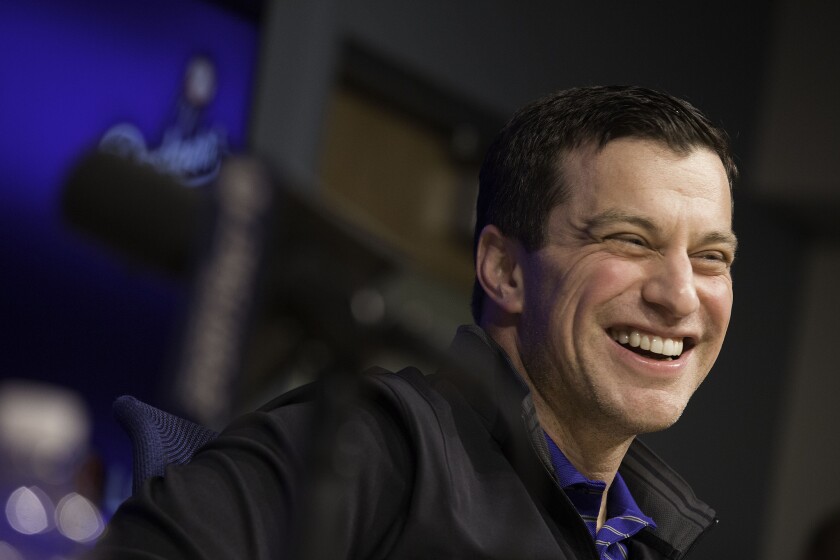 We gotta keep searchin', searchin' …
Getting nervous are you? Concerned Dodgers President of Baseball Operations Andrew Friedman's search for a new manager is spanning the entire globe and a few galaxies far, far away?
He's looking at ex-managers (Kirk Gibson, Ron Roenicke, Bud Black, Bob Geren), bench coaches (Tim Wallach, Dave Roberts, Dave Martinez), a college coach (Darin Erstad), a fitness guru who's the team farm director (Gabe Kapler), Roger Owens the Peanut Man, an usher from Section 125 in the loge level and a Little League coach to be named later.
Feeling left out?
When a guy is searching everywhere, there is a natural suspicion that he doesn't know what he wants.
Hey, figure it out! You want previous managerial experience, an up-and-coming coach, someone out of the box? What exactly is your priority?
And there are those who are impatient with the process.
What's taking so long? The Padres, the Mariners, the Nationals, the Marlins -- they've already announced new managers! What's with the Dodgers? It has been two whole weeks since Don Mattingly organically became a Marlin.
But I have absolutely no problem with any of this. A decent manager in November is not really important. A significant manager next season is.
Friedman said he would cast a wide net in his search for a new manager and that's exactly what he's doing. It's the wise move. He's gathering info on individuals, and in the process, other organizations. And as we all know, Friedman is kinda big on gathering info.
He's only had to do this managerial search routine once before in his front office career, which also might make some uneasy. But you may recall that turned out rather well (Joe Maddon, now considered one of baseball's best managers).
Let him go through his process. There is no particular urgency. Friedman said he hoped to have a manager prior to baseball's winter meetings, still a month away. That might seem slightly excessive, but it doesn't mean he won't come to a decision in a week or two.
If it takes three more, so what? Friedman is doing his due diligence. That's as it should be. Before free agents start signing, he'll have his guy and they'll know if they consider it a plus or a minus.
It would be nice if his choice has some Dodgers roots, but it's not essential. No one aspect is. Which is why for now, he is everywhere. Let it play out.
In the meantime, let him interview and investigate and bounce ideas off people he respects. Let him gather all the precious info he wants. What matters is who is hired, not when.
Twitter: @stevedilbeck
---
Get our high school sports newsletter
Prep Rally is devoted to the SoCal high school sports experience, bringing you scores, stories and a behind-the-scenes look at what makes prep sports so popular.
You may occasionally receive promotional content from the Los Angeles Times.