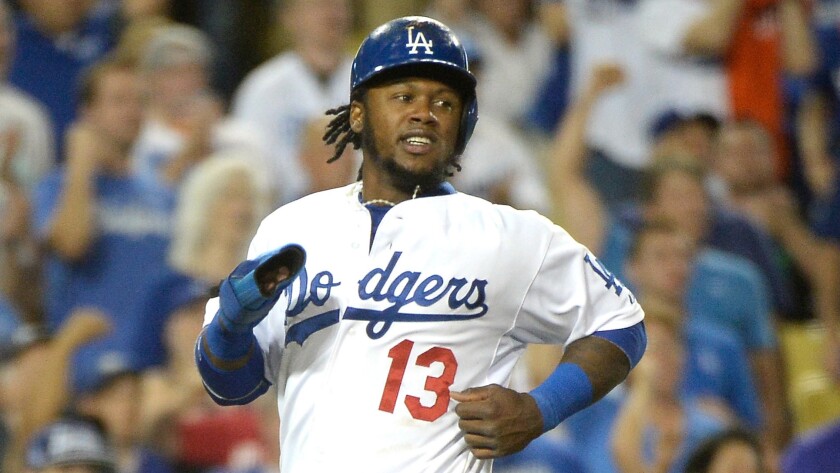 Farewell, Hanley Ramirez, parting is such sweet ... what? Sorrow? Not hardly. Cause for celebration? Not exactly that, either.
Maybe Ramirez goes on to remain healthy the next few years, hits the snot out of the ball and makes everyone around Chavez Ravine lament having not tried to sign him to a long-term deal.
That's certainly the hope in Boston, where numerous sources are reporting the deal with the ex-Dodger free agent is now done. Fox Sports' Ken Rosenthal said it is a four-year deal for $88 million, with a fifth-year vesting option valued at another $22 million.
In what would be a stunning result to the Dodgers, should Ramirez actually stay healthy and earn the option, he would have a five-year deal at $110 million. That's a lot of serious coinage for a player who's been frequently injured and averaged only 116 games the last four seasons.
Ramirez was a different kind of cat. He could be gregarious and filled with charm one minute, and then withdrawn and almost sullen the next. The Dodgers mostly got a lot of the latter in 2014.
No doubt he was frustrated at not being able to sign his monster contract with the Dodgers, but that hardly justified retreating into almost his own little solar system. Certainly, you have to figure the Dodgers grew increasingly exasperated at his long list of injuries. And at some point wondered just how injured he was.
Yet Ramirez cannot be simply written off as some grand experiment gone awry. Quite the contrary, his time with the Dodgers was mostly a success. The trade for Ramirez was the first significant deal then-General Manager Ned Colletti made after the Dodgers were sold to the Guggenheim Baseball Management.
And it made a statement – ownership was here to win, cost be damned.
It set a tone and announced to fans the difficult years under Frank McCourt were over, that things now were truly going to be different. They took on Ramirez and the almost $38 million he was still owed on his contract and didn't blinke.
They backed up claims to immediately make the Dodgers better. It preceded the mega deal for Adrian Gonzalez, Carl Crawford, Josh Beckett and Nick Punto, and the huge jump in payroll that made last year's club the highest-priced team in sports history.
And it's not like when Ramirez played, he was some kind of complete disaster. In the 2 ½ seasons with the Dodgers, he hit .299 with 43 homers, 71 doubles and 31 steals in 278 games. He contributed to two division-winning teams.
Defensively he was trouble, and it's unlikely he'll end up at shortstop with the Red Sox. A team that ironically wanted to unload contracts in that Gonzalez trade, but now has taken more on – they are also reportedly signing Giants third baseman Pablo Sandoval – while reducing the Dodgers' payroll and providing a sandwich No.1 pick in the process.
Not a horrible deal.
The Dodgers now have to figure out what they're going to do at shortstop, but their president of baseball operations, Andrew Friedman, has known this day was coming for some time and no doubt already has options in play. And, of course, it is only November, so there's plenty of time to figure that out.
Ramirez's time here was fairly brief, but hardly insignificant. Now his bat and moods and glove are Boston's problem/blessing. So long, Hanley; you'll always have Los Angeles.
---