Clayton Kershaw might not pitch Dodgers opener in Australia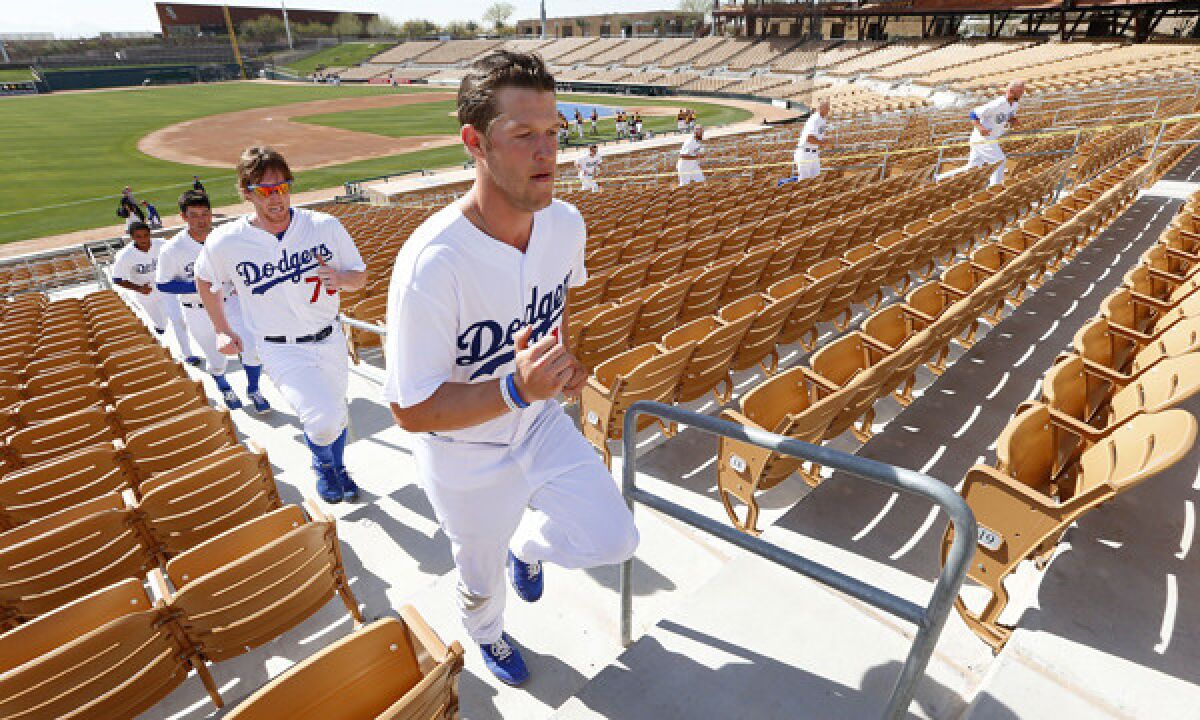 PHOENIX — Clayton Kershaw might not be the Dodgers' opening-day starter this season.
The Dodgers are considering not starting Kershaw in their two-game series in Australia against the Arizona Diamondbacks, according to people familiar with the team's thinking. Under that scenario, Kershaw would be spared a trip to the other side of the world and back, allowing him to better prepare for the domestic opener in San Diego on March 30.
Manager Don Mattingly has become increasingly vague about the team's rotation plans since the first day of spring training, when he strongly intimated Kershaw and Zack Greinke would pitch the two games in Australia on March 22-23.
By Monday, Mattingly was saying, "Everything's a possibility," and went as far to include Matt Magill among the candidates to start the first game of the regular season. Magill had a 6.51 earned-run average in six starts last season.
If Kershaw doesn't pitch in Australia, Hyun-Jin Ryu probably will. From a promotional standpoint, the South Korean left-hander would serve as more than an adequate replacement for Kershaw, as he would increase the event's international appeal. Ryu and Dan Haren are on throwing programs similar to Kershaw and Greinke that are designed to prepare them to pitch in Australia.
Last week, Mattingly spoke at length about the importance of monitoring Kershaw's workload. Kershaw, who signed a seven-year, $215-million contract over the off-season, pitched 2591/3 innings last season, including the playoffs.
Matt Cain of the San Francisco Giants could serve as a cautionary tale. Cain pitched 2491/3 innings in 2012, posting a 2.79 ERA. His ERA soared to 4.00 last year.
PC talk
Greinke has made clear he would prefer the Dodgers not open their season in Australia. Haren was more diplomatic, but not before indicating he shared Greinke's thoughts.
"Which answer do you want?" Haren said with a smile. "The politically correct answer? I think Stan [Kasten, Dodgers president] would probably want me to give the politically correct one."
Haren went on to say, "I think everyone understands why we're doing it, to build the brand."
Haren laughed and said he wouldn't be as direct as Greinke.
"I only have a one-year contract," Haren said.
Rule reckoning
Catcher A.J. Ellis understands why Major League Baseball implemented a rule to eliminate plate collisions.
"I understand that they're trying to make the game safer and I appreciate Major League Baseball's making an attempt to protect the guys who play my position," Ellis said.
Ellis also understands why the league would want to protect star players such as Buster Posey, who underwent season-ending surgery after a violent collision in 2011.
But Ellis doesn't like the new rule. He thinks part of his value as a player comes from his willingness to sacrifice his body, something for which he will now be penalized. He also laments the disappearance of what he considers one of the most exciting plays in baseball.
"It takes away a game-changing play or a game-saving play," he said. "It's something we train for, we prepare for. It's a thing that can be the difference between a win or a loss. To me, it's similar to robbing a home run or turning a tough double play in the middle. Those are both plays that are at risk for injury and I don't see those plays being taken away."
As for the injury risks, Ellis said, "That's part of what we signed up for."
Twitter: @dylanohernandez
Get our Dodgers Dugout newsletter for insights, news and much more.
You may occasionally receive promotional content from the Los Angeles Times.