Dodgers reliever Paco Rodriguez looks for happier ending this season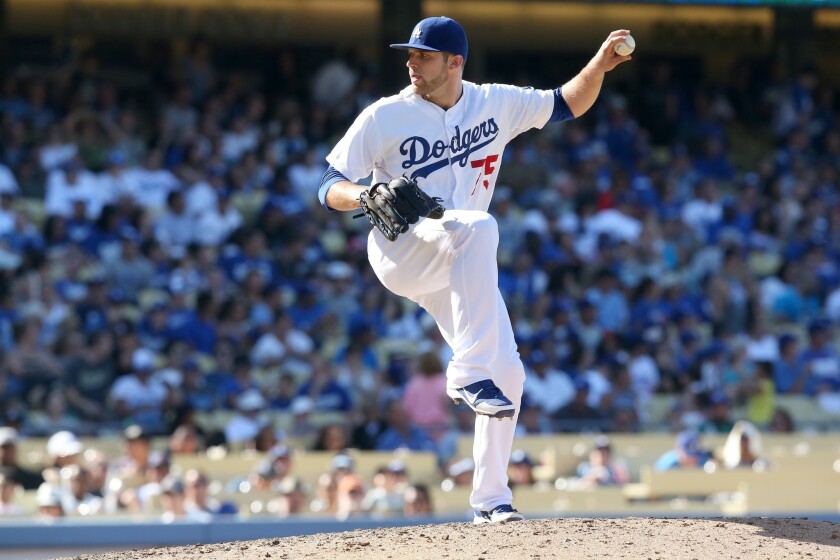 PHOENIX — For a relief pitcher it's not how you start but how you finish that counts.
So it didn't matter that, for five months last summer, Paco Rodriguez was almost unhittable, posting a 1.88 earned-run average and holding opponents to a batting average far lower than that. Because in September and October, when it counted most, Rodriguez was pounded like he was pitching batting practice.
And that pounding left a mark.
"I took it personal," says Rodriguez, whose late-season fade cost him a spot on the Dodgers' playoff roster. "I want to be at my best at the end of the year, not at the beginning where everybody's feeling good. I didn't do my part."
So Rodriguez bottled that hurt, took it back to Miami, and used it to fuel every minute of his grueling winter workouts.
"Grinding that extra rep out — extra sprint, extra shuttle, whatever it is — it's that mind-set of getting that one little extra step," he says. "That extra step might be getting an out."
Rodriguez may need a little extra to regain his place in the Dodgers bullpen this spring. The addition of Chris Perez and the return of Brian Wilson and Brandon League give the Dodgers three former All-Star relievers to set up closer Kenley Jansen. And with situational lefty J.P. Howell and long reliever Jamey Wright also expected to make the team, Rodriguez could find himself in a four-way battle for the final spot on the staff when the Dodgers expand to a five-man rotation in mid-April.
"You're asking me to answer questions about the possibility of something. We're still in spring training," Manager Don Mattingly says of Rodriguez, who pitched a perfect inning Saturday night but has given up two hits and three walks in three Cactus League innings.
Mattingly, who said Rodriguez was one of the best left-handers in baseball last season, certainly wasn't lacking confidence in the reliever then. Although Rodriguez was just a year out of college, the Dodgers used him in 76 games, more than any other left-hander in the majors. And for most of the year he delivered, at one point going 23 appearances and nearly two months without allowing an earned run.
For the season just two National League relievers held opponents to a lower average than Rodriguez's .164, and only five allowed fewer baserunners per inning than his 0.902 WHIP.
As a result the Dodgers came to depend on him more as the season wore on, making his late-season swoon a product of overwork rather than under-preparation.
"He was so good that we were in that situation where the usage was more than it should have been," pitching coach Rick Honeycutt admits.
The previous year, the Dodgers, starved for effective left-handers, may have been just as guilty of rushing Rodriguez to the majors. Three months after leaving the University of Florida, he became the first member of the 2012 draft class to reach the big leagues when he threw three strikes to the Giants' Brandon Belt, retiring him on a grounder to first in an early September game in San Francisco.
He would go on to pitch as many innings in his first seven months in the majors as he threw in his final season in college. So by the end of last summer it was clear he was spent.
Rodriguez, however, refuses to blame anyone but himself.
"At the end of the day, I can't make excuses," he says. "When you make excuses, you're giving yourself a reason to fail. And for me, I don't want to fail.
"I might have been fatigued. I might have been tired. I might have been this and that. But at the end of the day I didn't get the results. And if I don't get the results, then I'm not doing my part."
That maturity, at age 22, and Rodriguez's insistence on owning his struggles have impressed teammates more than anything the pitcher has done on the mound.
"Maybe if I was in his shoes, I would have been pretty bitter. But he handled it like a man and he did what's best for the team," Howell says. "I think that shows you why he's so good, his responsibility. He never points a finger, ever."
And Howell, more than most, knows what it's like to take that quick ride from success to struggle. A first-round draft pick of the Kansas City Royals in 2004, he was in the majors 12 months later, striking out eight in his first start. But he finished the 2005 season with a 6.19 ERA and more losses than wins, leading the Royals to trade him to Tampa Bay in June 2006.
"I went from being awesome to pretty much a failure and people not trusting me," he says. "It was the first time I've ever failed in my life."
Surviving such travails made Howell both smarter and stronger, though. And Honeycutt expects Rodriguez's own challenges will have a similar effect on him.
"That's the ups and downs of this game. You've got to experience different things. Learn. It's part of the process," Honeycutt says. "You've got to make adjustments."
Rodriguez already has. He altered his winter workouts and plans to build in more rest and recovery time — "saving his bullets," Mattingly calls it — during the season. And on the mound he's trying to vary his approach to make his pitching less predictable.
"I took it as a learning experience," he says of 2013. "I had good stretches and bad stretches and that's all part of a season. Now my thing is, coming into this year, just try to be a point under or a point higher depending on the category. To feel that I accomplished something.
"Those are my goals personally: Just to be a little bit better than last year."
Twitter: @kbaxter11
---
Get our Dodgers Dugout newsletter for insights, news and much more.
You may occasionally receive promotional content from the Los Angeles Times.