Dodgers' Ross Stripling is still in the conversation for the rotation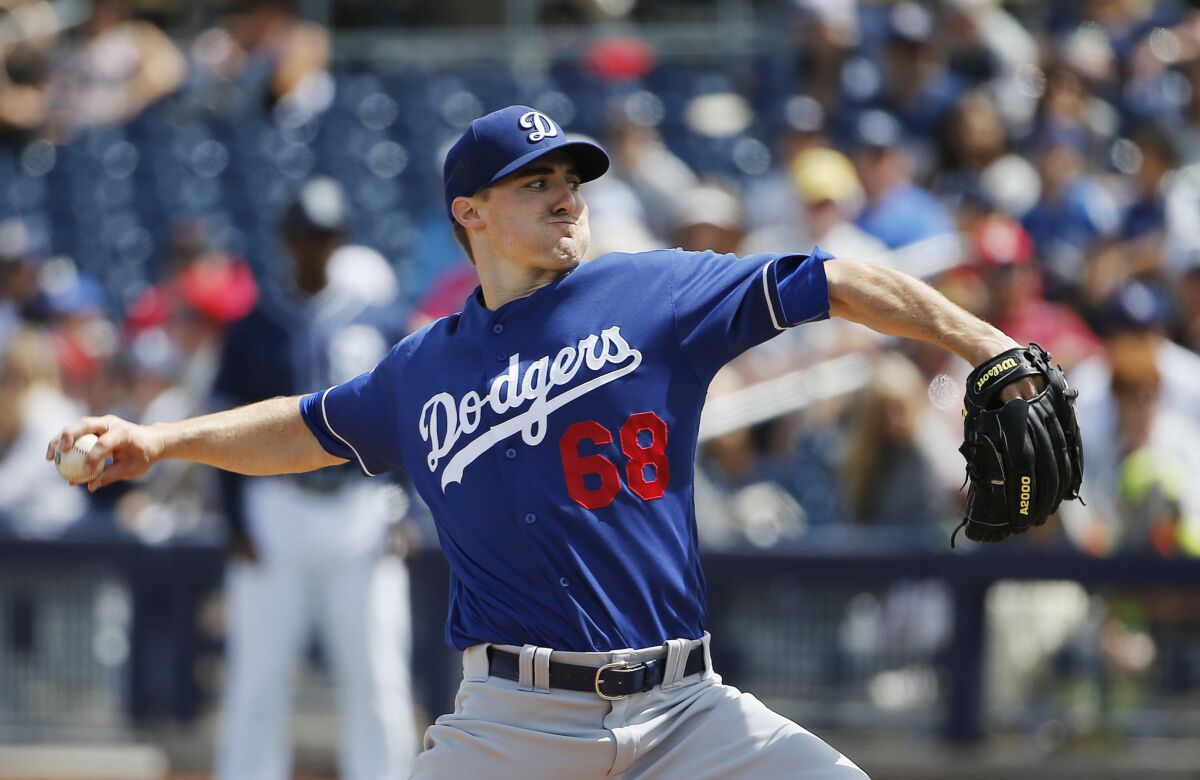 REPORTING FROM PHOENIX —
Across five innings Tuesday, Ross Stripling displayed the qualities that have impressed the Dodgers this spring — and also showed why the club must be careful about installing him as its fifth starter.
Stripling has resided on the periphery of the competition, probably slotted behind Carlos Frias and Zach Lee, because of his inexperience and history of injury. But he also has opened eyes with his performance in the Cactus League.
In the first three innings of an 11-9 loss to San Diego, he retired eight of the first nine batters, striking out four. Then the Padres' lineup turned over. He gave up a trio of home runs, including two in a four-run fifth inning.
See the most-read stories in Sports this hour>>
Even so, Manager Dave Roberts insisted Stripling, 26, who has never pitched above double A, "furthered the discussion" in the competition.
"If it does happen, it wouldn't be the first time it's happened," Roberts said. "You still have to look at [experience], and weigh that into your decision. Absolutely. But also you've got to look at the stuff that plays at the major league level. And his stuff plays."
After a leadoff double in the fifth by outfielder Jose Pirela, Stripling hung a slider and Jon Jay launched the ball over the right-field fence for his second homer of the day. Three batters later, outfielder Wil Myers powered a 92-mph fastball out to center for a two-run shot.
"It was really my first time going through a lineup multiple times," Stripling said. "I think it maybe kind of proved that I needed to change some stuff up the third time through. It seemed like they were hitting balls harder as the game went, so maybe they were figuring some stuff out."
The final inning bothered him, but Stripling still considered his spring a success. He missed all of 2014 and most of 2015 after Tommy John surgery.
He appears to have made an impression: Andrew Friedman publicly mentioned Stripling as a candidate for the last spot in the rotation at a time when Roberts was talking about Frias and Lee. Stripling took solace in re-establishing himself.
"For me, it's still a matter of proving to this front office, coaching staff, pitching staff that I'm healthy, that I can pitch, that I'm ready to go and I can throw 140 innings, whatever, this year," Stripling said. "I think that's my first goal.
"I think I was able to achieve that this spring, make a name for myself a little bit, just prove to everyone that I'm ready to rock and I have some pitchability and we'll see how it happens in the season."
Injuries update
The Dodgers expect Corey Seager to play Thursday night in the first game of the Freeway Series against the Angels, Roberts said. Seager will join his teammates at Dodger Stadium after not appearing in a major league game since sustaining a sprained left knee March 12.
Seager played six innings Monday in a minor league game and was scheduled to do the same Tuesday. He will rest Wednesday before returning to the big league schedule.
Roberts also sounded optimistic about catcher Yasmani Grandal, who has been sidelined with inflammation in his right forearm. Grandal is scheduled to play Saturday at Angel Stadium, and Roberts felt he could be ready for opening day.
Grandal was cleared to throw and take some swings Monday. "It was a step in the right direction," Roberts said. "He came in feeling better today, pretty good after yesterday. And we're going to ramp up the workload today."
Unlike Grandal, Howie Kendrick (calf tightness) is not expected to appear in the Freeway Series. The Dodgers will leave him in Arizona through the weekend. He has not been cleared to take the field. It appears likely that Kendrick will begin the season on the disabled list, eligible to be activated April 9.
"Today's better than yesterday," Roberts said. "But we still don't have him out there doing baseball activities. But we're encouraged that today he feels better."
Follow Andy McCullough on Twitter @McCulloughTimes
---
Get our Dodgers Dugout newsletter for insights, news and much more.
You may occasionally receive promotional content from the Los Angeles Times.