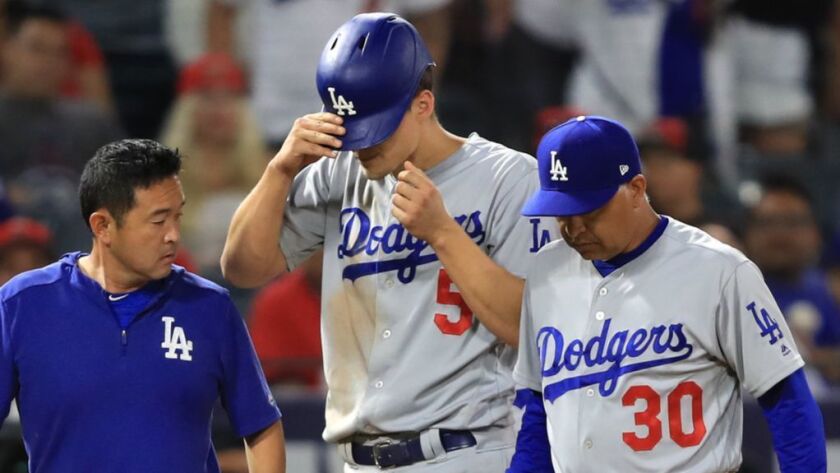 After eight innings of wasted chances and boiling disgruntlement, of waiting and waiting, the Dodgers appeared poised to finally profit on a golden scoring opportunity in the ninth inning at Angel Stadium on Tuesday.
Alex Verdugo cracked a single to center field that the sold-out crowd in attendance assumed would score Corey Seager from second base and halve the Angels' lead with no outs. For an instant, the Dodgers' breakout, which the season's first 10 weeks suggested was inevitable, seemed imminent.
Then Seager pulled up lame as he raced to third base and grabbed his left hamstring in pain, instantly making Tuesday's annoying offensive struggles a trivial concern for a club thinking about October. Within moments, Seager was limping off the field into the visitors' clubhouse and the Dodgers were tasked to forget and regroup. Their attempt was futile.
Kyle Garlick replaced Seager as a pinch-runner. And at third base he remained, watching the next three batters go down in order against the Angels' hard-throwing closer Hansel Robles to conclude a 5-3 loss that began with a swift five-run deficit, featured perpetual offensive letdowns, and ended with their starting shortstop hobbling.
After the game, Dodgers manager Dave Roberts said the early diagnosis for Seager was a Grade 2-plus hamstring strain. Seager is scheduled to undergo an MRI exam Wednesday to determine the extent of the injury, which could send Seager to the injured list for several weeks.
"I don't tweak them every year, but I do a lot to make sure they're OK," Seager said of his hamstrings. "And this one kind of just came out of nowhere."
On Sunday, Max Muncy's infamous solo home run into McCovey Cove off Madison Bumgarner accounted for the Dodgers' only scoring and generated a frenzy. On Tuesday, Muncy's two solo home runs — and David Freese's pinch-hit solo homer in the eighth inning — were side notes amid more uncharacteristic struggles in big spots for these Dodgers.
Resembling the club from last season, the Dodgers (45-23) continued spoiling chances at every turn Tuesday. They left a runner on base in every inning — 15 in total — and went two for 13 with runners in scoring position. For the two-game series, they went four for 25 with runners in scoring position and stranded 22 baserunners. As a result, they lost their first series since dropping two of three games to the San Francisco Giants at the beginning of May.
"We got to be better," Roberts said.
Whatever rhythm Kenta Maeda generated after retiring the first two batters he encountered Tuesday night, including a strikeout of Mike Trout, the best baseball player on the planet, it vanished once Shohei Ohtani's bat connected with his changeup.
By the time the ball landed 416 feet away into the seats to give the hosts a lead, Maeda's trajectory was diverted. As his countryman Ohtani rounded the bases for his seventh home run and one that would garner headlines all over Japan, Maeda took deep breaths. The blow had staggered him. He was flustered and it became apparent in an instant.
The next three batters reached base. The first was plunked. The second walked. The third, Brian Goodwin, poked a single against the shift to drive home a run. That brought up Justin Bour, a slugger making his first major-league plate appearance since he was banished to the minor leagues a month earlier. He pounced on the second pitch he saw — another changeup — and lifted it over the fence in left-center field. He swaggered around the bases. Maeda bent over, resigned to disbelief, and the Angels had a swift 5-0 lead.
"I wasn't able to get some strikes with the first pitch," Maeda said through an interpreter. "Some of the off-speed pitches, I wasn't able to manipulate them in the strike zone."
Sign up for our Dodgers newsletter »
Maeda's pace did not recover from the first-inning struggle, which required 36 pitches to complete. He labored and exited with one out in the fifth inning, after tossing 97 pitches, unable to rediscover much of a rhythm. But he also somehow held the Angels without another run. The strange performance kept the Dodgers within striking distance.
"Even with that start," Roberts said, "we should've won that game."
The Angels (33-35) used Cam Bedrosian out of the bullpen in Monday's win and went to him again Tuesday to serve as an opener for Felix Pena, who hasn't started a game since April 19 but has accumulated 38 innings as a primary pitcher tasked with retiring batters after the first inning. The role has, for the most part, fit the 29-year-old right-hander. Before the Oakland Athletics blasted him for seven runs in a brief outing last week, he had a 3.03 ERA in 32 2/3 innings. On Tuesday, he allowed two runs on six hits in 3 2/3 innings.
The other four Angels pitchers held the Dodgers to one run across 5 1/3 innings on six hits with four walks and six strikeouts. They weaved around multiple threats, none more dangerous than the trouble Ty Buttrey found himself facing in the seventh inning. The Dodgers loaded the bases against the hard-throwing right-hander with one out for Chris Taylor. It did not take long to smother the fire. Taylor struck out on three pitches and Enrique Hernandez grounded into a force out on the second pitch to leave the Dodgers with nothing again.
Two innings later, the Dodgers generated and spoiled their final chance en route to a defeat that pales in comparison to the loss of their shortstop for, potentially, a considerable amount of time.
"Obviously, it's very unfortunate," Roberts said, "with the way he's been playing and what he means to our ballclub."
Twitter: @jorgecastillo
---