Column: Dodgers have a history of making trade-deadline deals and need to deal for another Manny
Matt Kemp was pondering trade deadline possibilities when he saw someone walking across the Dodgers clubhouse who could provide him with some insight.
"Are we getting Manny Machado?" Kemp called out.
Andrew Friedman, the Dodgers president of baseball operations, looked back and playfully furrowed his brow.
"Manny who?" Friedman deadpanned.
So it's that time of the year again, when World Series contenders search for midseason reinforcements who could help them realize their October ambitions.
Kemp was around when the Dodgers made two of the most significant midsummer deals in franchise history.
Standing in front of his locker Friday afternoon, Kemp recalled how the Dodgers acquired Manny Ramirez from Boston in 2008 at virtually no cost.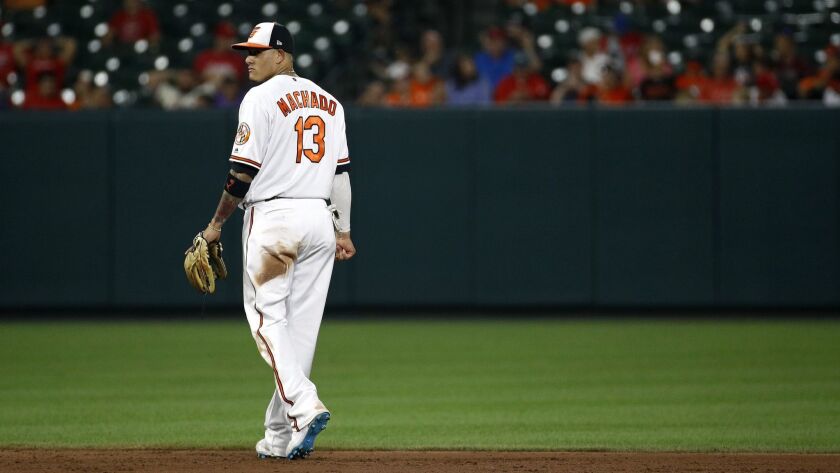 "I thought it was a prank or something," Kemp said.
He also recounted the blockbuster waiver trade four years later, also with the Red Sox, in which the Dodgers added Adrian Gonzalez, Josh Beckett and Carl Crawford.
"That was crazy, man," Kemp said.
Last year, as Kemp battled through an injury-plagued season with Atlanta, the Dodgers pried Yu Darvish from Texas.
There's only one player known to be on the market who could have that impact, and it's the player the Dodgers should do everything in their power to acquire between now and the July 31 non-waiver trade deadline.
It's the same player Kemp asked Friedman about. It's Machado.
"The Dodgers have been known for making some really good trades right before the trade deadline, so I think we're all kind of curious to see what's going to happen," Kemp said.
Weigh the pros and cons of trading for Machado and the pluses clearly outweigh the minuses.
It's true that the team's most glaring shortcomings are in the bullpen and not the lineup. Except this isn't an either-or proposition.
The Dodgers are determined to remain under the $197-million luxury-tax threshold, but that shouldn't be a significant obstacle. They are believed to be around $10 million under that figure, meaning they can add whatever remains of Machado's $16-million salary and still invest in a link from the starting pitchers to All-Star closer Kenley Jansen.
If more capital is required to address the bullpen problems, it can be created by sending another team a well-regarded prospect in exchange for it taking on, say, Logan Forsythe and the remainder of his $8.5-million salary.
The option is a reminder that a farm system can contribute more than homegrown players to a roster.
The reluctance to empty the farm system for a three-month rental such as Machado is understandable, but the fears are misguided. Machado doesn't have to equal a cupboard bare of prospects. The Dodgers traded three of their top 30 prospects last year for Darvish, but still had plenty of talent in their pipeline because they had restocked their farm system over years. They can afford to do the same this year.
And it's not as if the Dodgers have another Walker Buehler or Corey Seager in the minors. They don't have a top-10 prospect or even top-20. According to mlb.com, their most promising minor league player is Alex Verdugo, who is the 27th-ranked prospect.
Though the Dodgers offense isn't a problem now, it could be one in October. They have 126 home runs, the fifth most in baseball. They have eight players with 10 or more home runs, but Kemp is the only one with a batting average higher than .276.
Enrique Hernandez is hitting .227, Yasmani Grandal .240, Cody Bellinger .243 and Joc Pederson .250.
The team's most reliable hitter in recent seasons, Justin Turner, has been slowed by injuries. The team's most explosive hitter, Seager, is sidelined for the rest of the season.
Yasiel Puig could miss a month or more with a strained side muscle.
Machado's career-high .313 average could provide stability and upside. He also has 23 homers.
The Dodgers should also be mindful that this could be their last October with Clayton Kershaw in their rotation. Kershaw has the option of becoming a free agent at the end of the season. This might not seem like a big deal, considering his postseason failures, as well as how the Dodgers have overcome his extended absences in recent seasons. But this is a huge deal and what he means to this franchise will only increase in clarity when the team has to turn to someone else to pitch a postseason opener.
It could be argued the Dodgers aren't real contenders, that they owe their place in the division race to weak competition and that this is a season to regroup. Nonsense. They are obligated to go for it. They owe it to the fans who have waited three decades to watch them win a championship. They owe it to the supporters who can't watch them on television because of their disastrous broadcast deal.
There are no excuses. They have a clear target and they have the resources.
Follow Dylan Hernandez on Twitter @dylanohernandez
---
Get our high school sports newsletter
Prep Rally is devoted to the SoCal high school sports experience, bringing you scores, stories and a behind-the-scenes look at what makes prep sports so popular.
You may occasionally receive promotional content from the Los Angeles Times.