Dodgers again tap Cuba connection, agree to sign IF Hector Olivera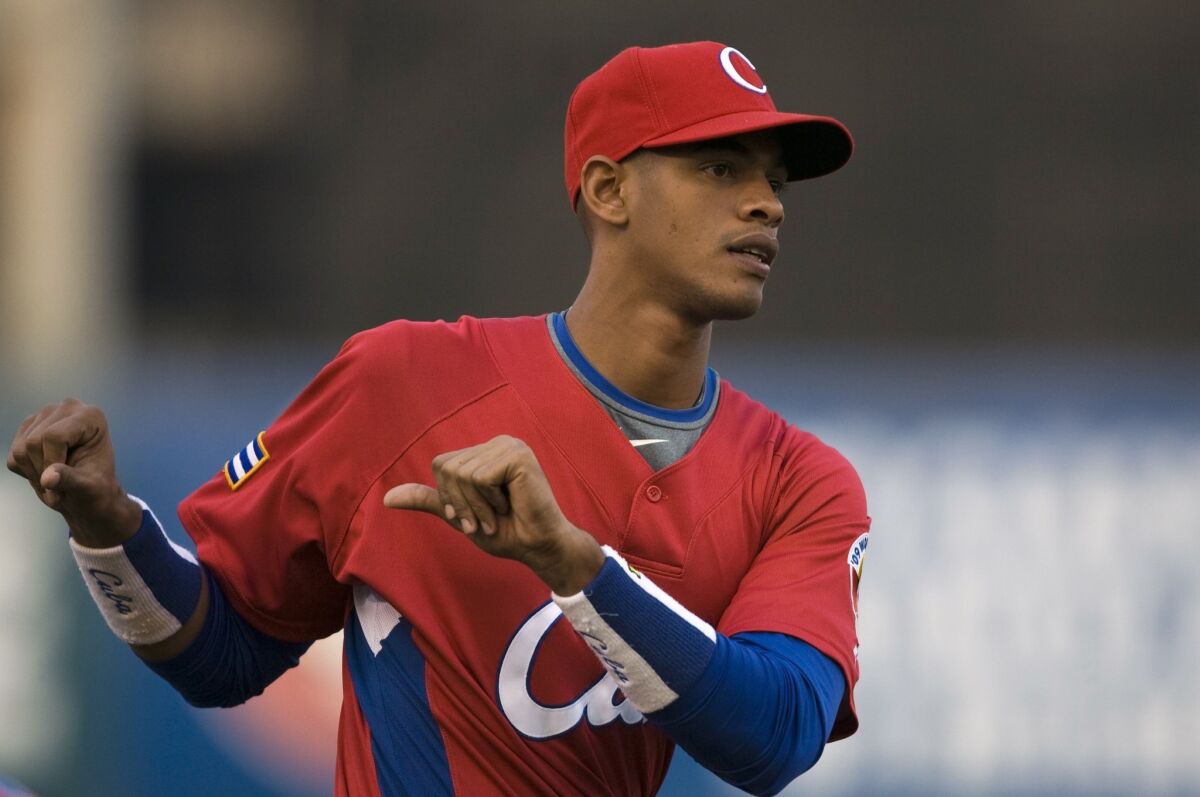 Reporting from PHOENIX —
Over the last three years, the Dodgers have spent more than $160 million to sign players who have escaped from Cuba.
Their latest addition from the communist island nation is their most expensive to date: former Cuban national team infielder Hector Olivera, whom they agreed to sign to a six-year contract worth $62.5 million. That figure includes a $28-million bonus, said Olivera's agent, Greg Genske.
The Dodgers wouldn't confirm the deal, which is pending a physical examination.
If the contract is finalized, the 29-year-old Olivera would become the fourth Cuban player with no previous major league experience to land an eight-figure commitment from the Dodgers, following Yasiel Puig (seven years, $42 million), Alex Guerrero (four years, $28 million) and Erisbel Arruebarrena (five years, $25 million).
The Dodgers also recently agreed to an $8-million minor league deal with 25-year-old right-hander Pablo Millan Fernandez.
But in addition to being the most expensive player in the group, Olivera also might be the most mysterious, which is why his physical examination is expected to be more than a formality.
Olivera was sidelined for the entire 2012-13 season because of what was reported to be a blood clot in his left arm. He returned during the following season, but played the majority of the time as a designated hitter rather than at his regular position, second base.
Furthermore, questions have surfaced in baseball circles about the condition of Olivera's right elbow. There were enough concerns about that for his deal with the Dodgers to include a $1-million team option for a seventh season if he has to undergo an elbow operation.
Still, Olivera was said to have looked impressive at the plate in recent showcases in the Dominican Republic. Even before that, he was long considered one of the best hitters in Cuba.
When he represented his country at the 2009 World Baseball Classic, he was ranked the fourth-best prospect on his team. The three players ranked ahead of him were Aroldis Chapman, now the closer of the Cincinnati Reds; Yoenis Cespedes, now an outfielder with the Detroit Tigers; and Yulieski Gourriel, a third baseman who remains in Cuba.
Olivera is viewed as a potential second or third baseman, but at this point the Dodgers remain uncertain of exactly how he fits into their plans, and not only because of his potential elbow problems.
Olivera still has to secure a visa to enter the United States, after which he would presumably have to get into playing shape in the minor leagues.
The Dodgers' starting infield for this season is already set, with Adrian Gonzalez at first base, Howie Kendrick at second, Juan Uribe at third and Jimmy Rollins at shortstop. Guerrero, Justin Turner, Darwin Barney and Enrique Hernandez are among the infielders competing for bench roles.
But at the end of the upcoming season, there will be multiple vacancies, as Kendrick, Uribe and Rollins will be free agents. One of them is expected to be replaced by top prospect Corey Seager, an oversized shortstop who could be moved to third base.
As for why the Dodgers continue to invest in Cuban players, the answer is simple: It's one of the few parts of the player-acquisition market that remains relatively unregulated, making it a place where a big-market team can exploit its financial advantage.
Provided that Cuban defectors establish residency in a country other than the United States, they are not subject to the draft, where bonuses are determined by a slotting system. Those 23 or older who have five or more years of experience in Cuba's top-flight league also aren't classified as international amateurs, which would limit how much major league teams could spend on them.
The result is that veteran players from Cuba are complete free agents. The main obstacle in acquiring such players becomes money, of which the Dodgers have plenty.
Ryu update
Andrew Friedman, the Dodgers' president of baseball operations, acknowledged that he doesn't know when left-hander Hyun-Jin Ryu will be available to pitch for the Dodgers but said he views his shoulder injury as a "relatively short-term" problem.
Ryu, who previously was ruled out for opening day, underwent an MRI examination on his left shoulder Monday. Dr. Neal ElAttrache said there were no structural changes to the shoulder from when Ryu signed with the Dodgers in 2012 and prescribed two weeks of rest and rehabilitation.
"Talking to Dr. ElAttrache, I'm optimistic that when we get to that two-week marker, he'll be able to pick up his throwing progression and put himself in position to return to us as quickly as possible," Friedman said. "But I don't know the exact timeline."
Ryu missed six weeks last season because of inflammation in the same shoulder — three weeks in April and three in September.
Provided the other four members of the rotation remain healthy, the Dodgers are expecting to have to find another starting pitcher for only two games in April — on April 13 or 14 against the Seattle Mariners and on April 23 or 24 against the San Francisco Giants.
Twitter: @dylanohernandez
Get our Dodgers Dugout newsletter for insights, news and much more.
You may occasionally receive promotional content from the Los Angeles Times.