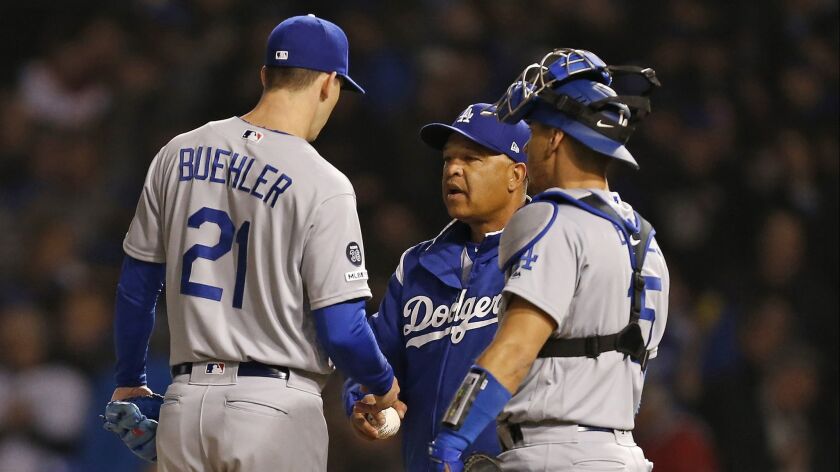 Reporting from Chicago —
Barreling baseballs against Walker Buehler wasn't a problem for the Chicago Cubs in their 7-6 win over the Dodgers on Wednesday night. Buehler's velocity was eye-popping — his fastball touched 99 mph — but the Cubs were hitting the ball hard consistently and he didn't have a strikeout through five innings. Yet, Buehler danced around the noise as the Dodgers built a three-run lead in his first career start at Wrigley Field.
He finally produced his first strikeout to start the sixth inning. From there, the inning became a debacle for the visitors.
After Daniel Descalso singled and Kris Bryant flied out, Buehler walked Anthony Rizzo after going up 1-2 to put two on with two out for Javier Baez. Again, Buehler jumped out ahead, this time 0-2 on a pair of fastballs. The next pitch to the notorious free swinger was a slider. Catcher Austin Barnes stationed himself over the outside corner. He held his glove lower than usual. The objective was to get Baez to swing at a pitch out of the strike zone. The slider, however, floated up and in. Baez lifted the misfire over the brick wall for a three-run home run to tie the score.
"I'm pretty pleased with the way the ball is coming out of my hand," Buehler said. "Just can't make a bad pitch to a good hitter like that."
The blast ended Buehler's night after 5 2/3 innings. It didn't end the Cubs' two-out surge. Left-hander Scott Alexander replaced Buehler and gave up a double to pitch-hitter David Bote. With first base open, the Dodgers elected to intentionally walk Willson Contreras, a right-handed batter, to have Alexander faced Jason Heyward, a left-handed batter. The strategy floundered when Alexander, a sinker ball specialist who must live low in the strike zone to succeed, left a sinker high. Heyward launched the mistake over the brick wall in straightaway center field for another three-run homer to give the Cubs the lead.
The barrage rendered the Dodgers' meticulous work against the Cubs' Cole Hamels irrelevant. Hamels allowed three runs and walked six in 51/3 innings. The veteran had issued three walks in 26 innings across his first four starts this season.
The labor was rewarded in the fourth inning when Chris Taylor's two-out infield single on a routine groundball to first baseman Rizzo, which he cinched with a headfirst slide into first base, broke a scoreless tie. It was the Dodgers' first hit. Two innings later, Cody Bellinger lofted Hamels' 112th pitch into the basket just over the left-field wall for a two-run home run. The homer was Bellinger's 12th this season, pulling him within one of Christian Yelich for tops in the majors.
"I think staying with our plan and doing what we've been doing offensively, attacking pitchers we think we can hit," Bellinger said of the Dodgers' ability to work walks against Hamels. "I think one through nine we got a bunch of guys who are aggressive but will take their walks so it's hard to pitch to."
The hill grew slightly steeper for Los Angeles in the seventh inning when Joe Kelly plunked Kris Bryant on the first pitch with two outs before Rizzo slashed a 97-mph fastball for an RBI double. The run proved to be the difference once Alex Verdugo, who entered the game as a pinch-hitter in the sixth inning, walloped the game's third three-run home run, off Steve Cishek in the eighth.
Kelly's appearance Wednesday was his 10th as a Dodger. He's logged two clean outings — a one-third of an inning April 5 that abruptly ended when he took a comebacker off his wrist and a perfect inning 11 days later. Otherwise, the right-hander, who signed a three-year, $25-million contract during the offseason, has constantly stumbled. Kelley emerged from Wednesday's appearance having allowed 12 earned runs in 11 innings this season. Only Buehler and Kenta Maeda, two starting pitchers, have given up more runs for the Dodgers this season.
"I thought that it seems like when he goes out there, the stuff's good," Dodgers manager Dave Roberts said. "But he hasn't had that clean outing."
Ideally, Kelly's troubles would've been a footnote on a night when Buehler, the Dodgers' confident fireballer, toes the rubber. But after a limited spring training in which he made just one three-inning appearance, Buehler's sophomore campaign has gotten off to an inconsistent start. Wednesday was just the second time he's pitched beyond the fifth inning in five outings.
Roberts pointed to Buehler's inability to consistently command his secondary pitches as the source of his inability to put batters away Wednesday. In all, he induced seven swing and misses, and the Cubs smacked 10 balls off him with an exit velocity of at least 97 mph. The one that mattered the most jumped off Baez's bat and landed 369 feet away.
Sign up for our Dodgers newsletter »
Twitter: @jorgecastillo
---