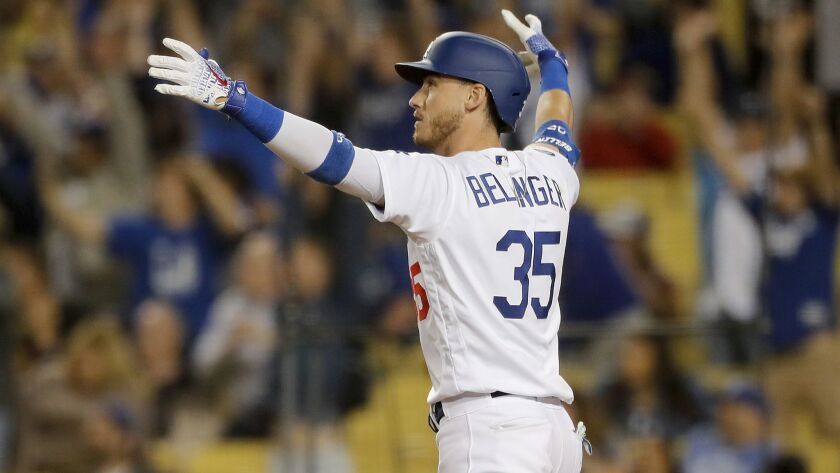 The chants of "M-V-P, M-V-P, M-V-P!" descended from the stands while the Eagles' "Hotel California" blared in the background in the 10th inning Wednesday night.
The combination has claimed a slot on this summer's soundtrack at Dodger Stadium, signaling Cody Bellinger is approaching the batter's box and danger looms for the opposition. In the 10th inning Wednesday, it meant the inevitable — another walk-off win for the Dodgers — was an instant away, that with one swing Bellinger, a frontrunner for National League MVP, could supply another round of late-inning magic.
A night after his walk-off walk completed an improbable finish, Bellinger provided more dramatics, hammering a fastball from Yoan Lopez into the right-field pavilion to give the Dodgers a 5-4 win and their fifth straight walk-off victory at home. The five straight walk-off wins are the most since the Oakland Athletics in 2004 and moved the Dodgers to 36-9 at home.
For Bellinger, it was his 29th home run —- the most in Dodgers history before the All-Star break — and second on the night.
"We just don't feel like we're out of it," Dodgers manager Dave Roberts said. "You get to a point where you expect to win. When you're at home and obviously when you've played through it, you expect a walk-off. You just wonder: 'Who is going to be the next hero?' Tonight it was Cody's night."
The latest edition of late-game theater commenced in the ninth inning with the Dodgers (59-29) down by a run after Kenley Jansen surrendered a homer to Carson Kelly in the top of the frame.
Enrique Hernandez crushed a fastball from Greg Holland off the wall in right field for a double. Two pitches later, Matt Beaty smacked a line drive down the first base line to score Hernandez and knot the game at 4-4.
"It speaks to our depth," Dodgers starter Walker Buehler said. "To put together innings like that, especially late, especially off of high-leverage guys, I think it speaks to the depth of our team and our lineup."
Beaty took second base on a wild pitch that bounced in front of home plate and past catcher Kelly with Justin Turner pinch-hitting.
Turner struck out looking at a 3-2 pitch he thought was outside, bringing Russell Martin, another pinch-hitter, to face Yoshihisa Hirano. Martin worked a walk and so did Joc Pederson, loading the bases for Alex Verdugo. With a chance to win the game, Verdugo grounded into an inning-ending double play, temporarily deflating the building.
Making his first start since he was named a National League All-Star, Buehler resembled one. He wasn't as dominant as his last outing at Dodger Stadium, when he compiled a career-high 16 strikeouts without a walk in his first career complete game, but he held the Diamondbacks to three runs across seven innings. He threw first-pitch strikes to 26 of the 30 batters he faced. All were either a four-seam fastball, two-seam fastball or cutter. Peppering the strike zone with that frequency helped produce nine strikeouts without a walk.
But Merrill Kelly, while not matching Buehler's ability to overpower, matched Buehler for six innings. The right-hander retired 12 straight hitters after surrendering three runs in the second inning.
Bellinger generated the first of the three runs with a 436-foot blast to dead center field. Los Angeles tacked on two more runs on back-to-back RBI singles by Buehler and Pederson to take a 3-0 lead.
Arizona began chipping away at the lead in the fourth inning. Christian Walker, hammered a 97-mph fastball over the wall in center field for a two-run homer, continuing his atypical power flashes against the Dodgers. It was Walker's 15th home run this season and fifth off Dodgers pitching. Seven of his 21 career home runs have come at the expense of Los Angeles.
The Diamondbacks tied the score in the seventh inning with two outs, beginning with Jarrod Dyson's double down the left-field line. One of the fastest players in baseball, Dyson sprinted home on Ketel Marte's single to shallow right field.
"I gave up a few more hits than I like, a few more runs than I like," Buehler said. "But I felt good."
The score remained knotted until the ninth inning, when Jansen entered after a five-day layoff. He retired the first hitter, Nick Ahmed, with one pitch, inducing a fly ball to center field, before stumbling.
The pitch wasn't a strike — it was a cutter above the zone — but Kelly launched the baseball a few rows deep beyond the left-center field fence. Jansen let out a roar in disgust as Kelly rounded the bases to put the Diamondbacks ahead.
But it was not a matter of if the Dodgers would find a way to win. They tied the score in the ninth inning with the bottom of their lineupm and Joe Kelly, finally stitching together shutdown appearances, logged a perfect 10th frame to give the Dodgers another shot with the score tied.
With one out, Bellinger pounced on the second pitch he saw. He dropped his bat and raised his arms the instant he connected. He pumped his chest after it landed 442 feet away, igniting another late-night celebration.
"I think it's just pretty crazy what we've been doing," Bellinger said. "There's not too many words you can say to describe it. Being part of it is special."
Sign up for our Dodgers newsletter »
Twitter: @jorgecastillo
---