Dodgers Dugout: The 25 greatest Dodgers of all time, No. 14: Steve Garvey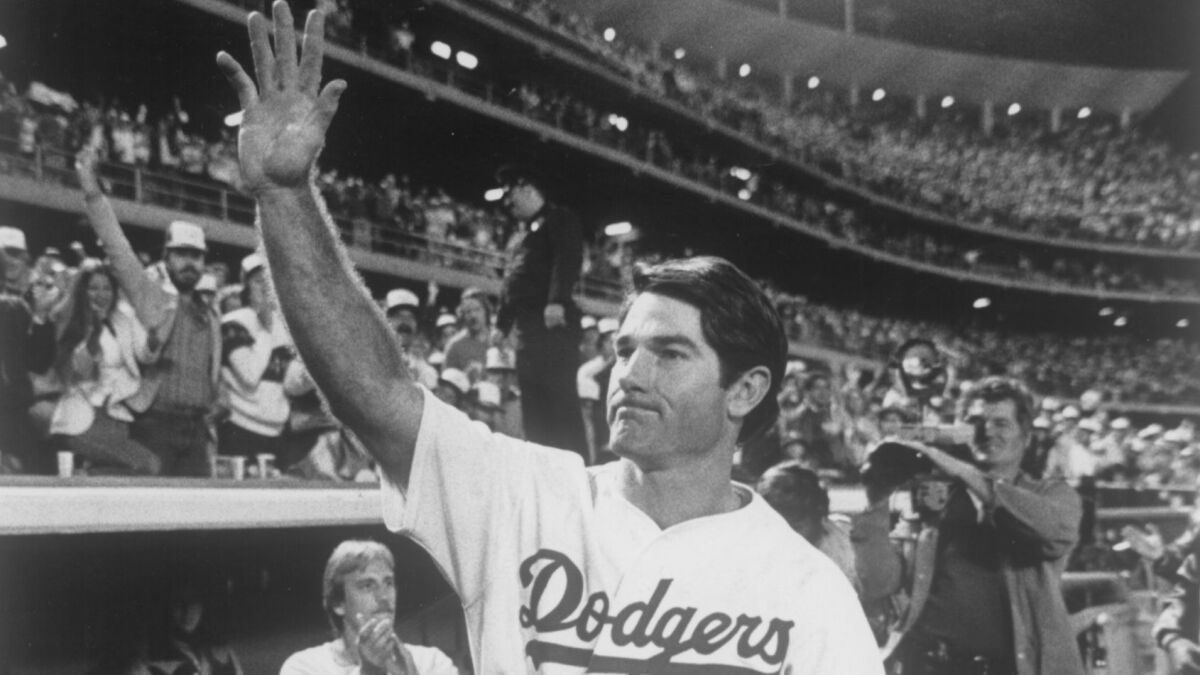 Hi, and welcome to another edition of Dodgers Dugout. My name is Houston Mitchell and let's get right to No. 14 in our countdown.
The 25 greatest Dodgers, No. 14: Steve Garvey (17 first-place votes, 9,219 points)
One of the most beloved Dodgers while he was playing, Steve Garvey was an integral part of the longest-lasting infield in baseball history, the Garvey-Lopes-Russell-Cey infield, and is the only member of that infield to make the top 20.
Garvey played for the Dodgers from 1969 to 1982 and was an eight-time All-Star with the team, winning the All-Star game MVP award in 1974 and 1978. He was also named NL MVP in 1974 as the Dodgers made it to the World Series before losing to Oakland.
Although fans loved him during his tenure, Garvey was a polarizing figure among teammates, getting into a highly publicized fight with Don Sutton, and also disliked to some extent by other teammates over the years for what was described as a "phony" attitude and a perceived pandering for fan and media attention. But no one questioned his commitment and focus on the field.
A lot of Dodgers fans believe Garvey should be in the Hall of Fame. With 75% needed for induction, Garvey never got higher than 42.6% of votes on the Hall of Fame ballot, back in 1995. Some Dodgers fans mistakenly believe he is already in the Hall.
"I do a lot of motivational speaking, and they even introduce me as a Hall of Famer. I kind of look," Garvey said in an interview two years ago. "I'm a little shaken. You don't want to correct them right there. I say, 'Thank you and still hopeful.' But there's a general perception that I'm in the Hall of Fame, which is very interesting."
Although the Dodgers only retire the numbers of people who make the Hall of Fame as Dodgers, they did not hand out Garvey's No. 6 after he signed with the San Diego Padres before the 1983 season until Jolbert Cabrera was given the number in 2003. Curtis Granderson was the last to wear the number.
The list
Note: I received 8,382 ballots from newsletter readers who sent me their choices for the top 10 Dodgers of all time. Points were assigned based on ranking, with the first-place choice getting 12 points, second place getting 10, third place eight, down to one point for 10th place. After tabulating the ballots, I will be presenting the top 25 in points. We will be counting down Nos. 25 to 11, one each weekday, for the next three weeks. Then we will time the top 10 so No. 1 unveils March 29, the day the season opens. There will be separate newsletters for any news that comes out of spring training.
Stupid is as stupid does
In Part 2 of my breakdown of the Dodger roster, I made a couple of mistakes. First, if a reliever allows two of three baserunners to score, that would be 67%, not 75% (and I was good at math in school, honest). Second, Julio Urias had shoulder surgery, not elbow surgery. My apologies for the errors.
And finally
No. 13 was a member of the famed "Boys of Summer" Dodgers. Who is it? Find out Wednesday.
Have a comment or something you'd like to see in a future Dodgers newsletter? Email me and follow me on Twitter: @latimeshouston.
---
Get our Dodgers Dugout newsletter for insights, news and much more.
You may occasionally receive promotional content from the Los Angeles Times.