Dodgers Dugout: 2017? It feels more like 1988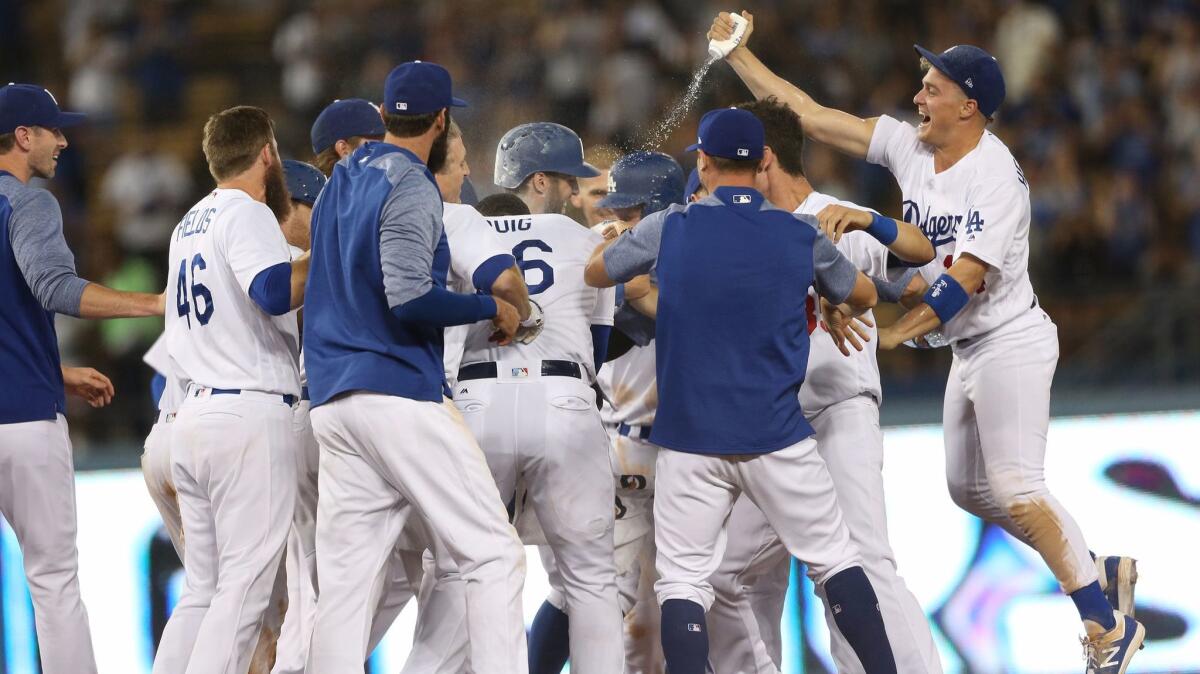 Hi, and welcome to another edition of Dodgers Dugout. My name is Houston Mitchell and I remember when the All-Star game was your only chance to see some great players on TV.
Smooth sailing
Almost lost in all the All-Star talk this week is the fact the Dodgers swept Arizona, their nearest division rivals, have the second-best record in baseball and lead the NL West by 5 ½ games.
Thursday night's win was thrilling. Trailing 4-1 going into the bottom of the ninth, the Dodgers got a leadoff single from Yasiel Puig off of Diamondbacks closer Fernando Rodney. Joc Pederson and Cody Bellinger walked to load the bases. Rodney then walked Logan Forsythe to make it 4-2. Corey Seager singled to center, scoring two runs. Justin Turner was walked intentionally to load the bases again. Arizona then replaced Rodney with T.J. McFarland, who promptly gave up the game-winning single to Chris Taylor.
"It feels like we're never out of the game," Taylor said after the win.
The Dodgers are clearly the best team in the National League right now and have that magical feel to them, much like the 1988 team did. It was the 22nd comeback victory for the team, and they are now on pace to win 108 games.
Don't blame the TV deal
When no Dodgers were voted by fans into the starting lineup of this year's All-Star game, reliever Kenley Jansen blamed the fans. Many of those same fans took to email and social media to say that it's not the fault of the fans, it's because about 70% of fans in the area still can't watch the team on TV. But is that correct? Let's take a look at Dodgers All-Star voting history since 1970 (when fan voting for the All-Star game starters resumed after 12 years in which the players voted) until the TV deal began before the 2014 season.
1970s
This decade was somewhat similar to the current problem: Not every game was on TV, yet it was the most successful decade for Dodgers All-Star starters, with 13 overall, including a campaign by Dodgers fans to get Steve Garvey elected as a write-in candidate in 1974.
1970-73: None
1974: Ron Cey, Steve Garvey, Jimmy Wynn.
1975: Ron Cey, Steve Garvey, Jimmy Wynn.
1976: Steve Garvey
1977: Ron Cey, Steve Garvey
1978: Steve Garvey, Rick Monday
1979: Steve Garvey, Davey Lopes
1980s
The 80s started with a bang, with fans voting four Dodgers into the starting lineup in 1980, which is also the last time Dodger Stadium played host to the game. But only two other Dodgers were voted into the lineup in the ensuing years.
1980: Steve Garvey, Davey Lopes, Bill Russell, Reggie Smith
1981: Davey Lopes
1982: None
1983: Steve Sax
1984-89: None
1990s
Only five times were Dodgers voted into the lineup in the 1990s. Mike Piazza accounted for four of them.
1990: Mike Scioscia
1991-93: None
1994: Mike Piazza
1995: Mike Piazza
1996: Mike Piazza
1997: Mike Piazza
1998-99: None
2000s
Almost every game was available for the majority of fans to watch in the 2000s, but only two times were Dodgers elected. In 2009, Matt Kemp was part of the Final Vote but lost to Shane Victorino of Philadelphia.
2000-04: None
2005: Jeff Kent
2006: None
2007: Russell Martin
2008-09: None
2010s
In 2011, Andre Ethier was part of the Final Vote but lost to Victorino. In 2013, Adrian Gonzalez and Yasiel Puig were part of the Final Vote, but lost to Freddie Freeman of Atlanta.
2010: Andre Ethier
2011: Matt Kemp
2012: Matt Kemp
2013: None
Before the 2014 season began, the Dodgers' new channel began showing their games, with 70% of Dodgers fans not being able to watch them. Despite that, Dodgers fans elected a player to the starting lineup in 2014 and in 2017, they added Justin Turnerto the roster after the Final Vote. In 2015, Clayton Kershaw was part of the Final Vote, but lost to Carlos Martinez of St. Louis.
2014: Yasiel Puig
2015-17: None
So what conclusions can be drawn? Blaming the TV deal for the lack of starters is shortsighted. Does it help? Of course not. But I think there is more at play here than just that.
I got many emails saying fans just aren't reminded enough to vote or don't know how to vote because they can't see the team on TV. However, despite those obstacles, Turner won the fan vote this year, with 20.8 million votes. So fans indeed can find out how to vote for the Dodgers without seeing them on television.
The TV deal is a horrible thing for Dodgers fans. The fact most of us still can't watch the games on TV is an embarrassment. The Dodgers do a horrible job of acting like they care about the situation. There's plenty of blame to go around among them, Spectrum SportsNet and the providers that don't show the station. But it's not why the Dodgers don't have All-Star starters.
Here's what I blame:
1. The Dodgers don't really push All-Star voting like most other teams do. I remember in the 1970s, when fans still voted with those punch out ballots, ushers would go up and down the aisles handing out ballots with the names of the Dodgers already punched. Nowadays, there really isn't a concerted effort at games to get fans to vote. When the Dodgers do put out a concerted effort, like they did with Turner, fans somehow figure out how to vote despite not seeing the games on TV.
2. Dodgers fans don't really care who starts the All-Star game. And why should they? The game is meaningless. Dodgers fans are more interested in ending the World Series drought.
3. Dodgers fans are actually smart voters who vote for the best player that season at each position. You can make a strong argument that Zack Cozart is having a better season so far than Corey Seager. Same for Nolan Arenado over Turner. Heck, the players themselves didn't even vote Turner onto the team.
So, yes, I am sure the TV deal costs a few votes, but not enough to make a difference. The evidence just doesn't back it up.
Wood should replace Kershaw
Clayton Kershaw will start Sunday, which means he won't be able to play in the All-Star game Tuesday. The general consensus is that MLB will select Alex Wood to replace him, and really, Wood should have been on the team to begin with. He is 10-0 with a 1.67 ERA and a 2.04 FIP this season, with an 0.893 WHIP and 97 strikeouts in 80 2/3 innings.
After giving up five runs in five innings against the Giants on May 2, he was 2-0 with a 3.28 ERA. Since then, Wood has gone 8-0 with a 0.96 ERA in 56 innings. In those nine starts, he has given up no more than one run eight times.
He became the first Dodgers starter to open a season 10-0 since the team moved to Los Angeles. The last Brooklyn Dodger to do it was Don Newcombe in 1955. "You've got to pinch yourself sometimes," Wood said after Wednesday's win over Arizona.
Bellinger slumping
If Cody Bellinger hits a second-half slump, please keep one thing in mind before blaming the Home Run Derby: He is hitting .152 in his last 10 games, with 14 strikeouts and no home runs in 40 plate appearances.
Comparison
The Dodgers are trying to win their fifth consecutive division title. Let's take a look at this year's record and how it compares to the same point in the last four seasons.
2017: 58-29, first place in NL West, 5 1/2 games ahead of Arizona
2016: 48-39, second place, 6 games behind San Francisco
2015: 49-38, first place, 5 1/2 games ahead of Arizona and San Francisco
2014: 48-39, second place, 1 game behind San Francisco
2013: 42-45, second place, 4 1/2 games behind Arizona
Ask Ross Porter
Miles asks: I've noticed a spike in home runs. What is your take, Ross, on the juiced ball conspiracy?
Ross: In 2014, scoring was its lowest since 1976. New baseballs were put into use after the 2015 All-Star break. Since August of 2015, the homer rate has risen. Last year's rate was the highest ever. A home run record for a single season will be shattered this fall. In 2000, 5,693 were hit and this season over 6,100 will clear the fences. Last month, a record 1,101 were crushed. From 2014 to 2016, players with 20-plus homers increased from 57 to 111.
Why? All kinds of theories. Bouncier, lower seams and smaller-circumference baseballs, improved wood bats, bigger and stronger hitters, extreme lift in swings, added pitch velocity, a major jump in batted ball exit speed, and less emphasis on making contact. Strikeouts have set records for nine straight years, and this season will be a new mark of more than eight strikeouts per team per game.
And yet, Miles, a recent major league baseball comprehensive study confirmed by independent experts showed that extensive testing of the baseballs found no changes.
Ross answers reader questions every week. Email me and I will pass your question on to him.
Next series
Friday, 7 p.m., Kansas City (Jason Hammel, 4-7, 5.08) at Dodgers (Kenta Maeda, 6-4, 4.56)
Saturday, 4:15 p.m., Kansas City (Ian Kennedy, 3-6, 4.44) at Dodgers (Brandon McCarthy, 6-3, 3.25)
Sunday, 1 p.m., Kansas City (Danny Duffy, 5-4, 3.51) at Dodgers (Clayton Kershaw, 13-2, 2.19)
Note: Pitchers are subject to change
And finally
Are juiced baseballs to blame for Rich Hill's blisters? Read all about it here.
Have a comment or something you'd like to see in a future Dodgers newsletter? Email me and follow me on Twitter:@latimeshouston.
Twitter: @latimeshouston
Twitter: @latimeshouston
Get our Dodgers Dugout newsletter for insights, news and much more.
You may occasionally receive promotional content from the Los Angeles Times.