As spring training approaches, Dodgers still searching for Matt Kemp's new home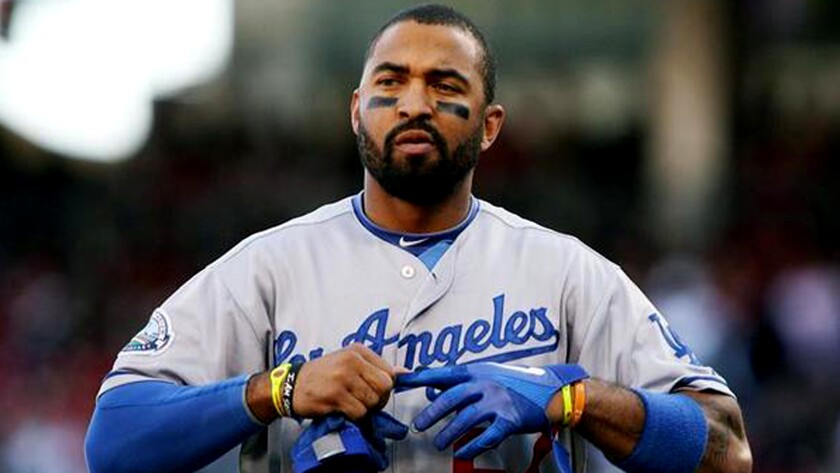 A week ago, Dodgers manager Dave Roberts reached out to Matt Kemp. He repeated the message he had relayed in December, when the team engineered a convoluted trade to reacquire Kemp.
"Just wanted to reiterate to him, 'Be open-minded,' " Roberts said at the team's FanFest at Dodger Stadium on Saturday. "It's a different clubhouse than when he left. There's a lot of good players. He just assured me that all he wants to do is be on a winner. The opportunity to come back to Los Angeles is a dream that he never thought could happen."
The dream is far from reality. The possibility of Kemp opening the season on the Dodgers roster remains remote, according to people familiar with the situation. The Dodgers did not invite Kemp to FanFest because the organization did not want to put him in the awkward position of answering questions about his status, according to a team official. But with spring training only three weeks away, Kemp looks bound for Camelback Ranch.
On Dec. 16, the Dodgers traded first baseman Adrian Gonzalez, pitchers Brandon McCarthy and Scott Kazmir, and infielder Charlie Culberson to Atlanta. The primary motivation for the trade was financial. The Dodgers reset their luxury-tax payroll beneath the $197-million threshold, which will allow them to be more aggressive when pursuing free agents next offseason. A byproduct of the trade was Kemp, who made two All-Star teams during a nine-season stint with the Dodgers.
During the last six weeks, the Dodgers have attempted to send Kemp elsewhere. The organization does not seek a hefty haul of prospects in return. They are merely looking for a team willing to accept a sizable portion of Kemp's contract, which counts as $20 million toward the luxury tax payroll for 2017 and 2018. The executives have yet to find a landing spot.
"He's going to be one of our guys in camp," general manager Farhan Zaidi said. "We've got a little bit of an open competition in left field, and I think he's going to be part of that competition."
The Dodgers view Yasiel Puig, who sparred with Kemp during their first tenure as teammates, as the primary right fielder. Chris Taylor looks like the starting center fielder, though he may play some second base. Joc Pederson and Enrique Hernandez can play both center field and left. Other candidates for left field include Andrew Toles, who is expected to be ready to play on his surgically repaired right knee, and Alex Verdugo, the organization's top position-player prospect.
Kemp, 33, will join that logjam. His bat is still useful: He hit 19 homers in 115 games with Atlanta last season. His defense is less reliable: He ranked 205th in Ultimate Zone Rating among the 208 outfielders who played at least 100 innings in 2017, according to FanGraphs.
Earlier this month, Kemp visited Dodger Stadium to work out and meet with team officials. His physique had become an issue in Atlanta, but members of the Dodgers training staff were impressed by his condition. Kemp also reconnected with some of his teammates, including closer Kenley Jansen.
"To have Matt back is awesome," Jansen said. "I'm looking forward to seeing him in spring training. Whatever happens, happens. That's the position the front office has to take. But, to me, I believe he can help us tremendously. He's in great shape."
The Dodgers appear willing to give Kemp a chance to showcase himself. The team does not want to exhaust its young outfielders during the spring, so there will be at-bats available. The risk for the organization looks small. If Kemp performs, perhaps an American League club will be convinced to absorb some of his salary. If Kemp runs afoul of his teammates, the organization can cut him loose without worry.
"A motivated Matt Kemp can help a lot of teams in baseball, including us," Zaidi said. "I think it's our responsibility to keep our options open and let this play out. And if he proves to be somebody who can help us on the field, that's what everybody here wants."
Reunion with Yu Darvish still looks unlikely
During an interview session in front of fans Saturday, Zaidi received a question about Yu Darvish. The crowd began to boo. Zaidi defended Darvish, who collapsed in two World Series starts, including Game 7, by stressing how important Darvish was in helping the team win its first pennant since 1988.
The affinity between Darvish and the Dodgers remains strong, despite the ugly ending. Yet, Darvish still appears unlikely to return in 2018 given the financial complications.
To re-sign Darvish, who is reportedly also being pursued by the Chicago Cubs, Milwaukee Brewers and Minnesota Twins, the Dodgers would need to shed salary elsewhere to avoid the competitive-balance tax. The Dodgers have about $18 million in luxury-tax payroll to use, but need to maintain flexibility for both player bonuses and additions at the trade deadline.
"There's a few players who we're still in touch with," Zaidi said. "I don't know if I'm going to go into the full CBT lecture right now. I don't have my PowerPoint ready. But there would be some hurdles for us to add any significant contracts at this point."
No timetable for Julio Urias
Julio Urias, the left-handed wunderkind who debuted as a teenager in 2016 and underwent career-altering surgery in 2017, expects to begin throwing in the next few weeks for the first time since undergoing a repair of the anterior capsule in his left shoulder last summer.
Urias indicated he was not sure when he might be able to pitch for the Dodgers in 2018. Zaidi said he did not expect Urias to pitch off a mound at any point during spring training.
"Until you start getting on the mound, and really start getting some game activity, those are some real hurdles to clear," Zaidi said. "And those are still pretty far down the road."
Short hops
The Dodgers are still interested in bringing back veteran infielder Chase Utley, who has been working out at the ballpark, Zaidi said. … After serving as Austin Barnes' backup during the playoffs, catcher Yasmani Grandal is "expecting to win his job back," Roberts said. They are expected to split time behind the plate.
Twitter: @McCulloughTimes
---
Get our Dodgers Dugout newsletter for insights, news and much more.
You may occasionally receive promotional content from the Los Angeles Times.