Joe Kelly comes home to the Dodgers, in a role he feels is perfect for the postseason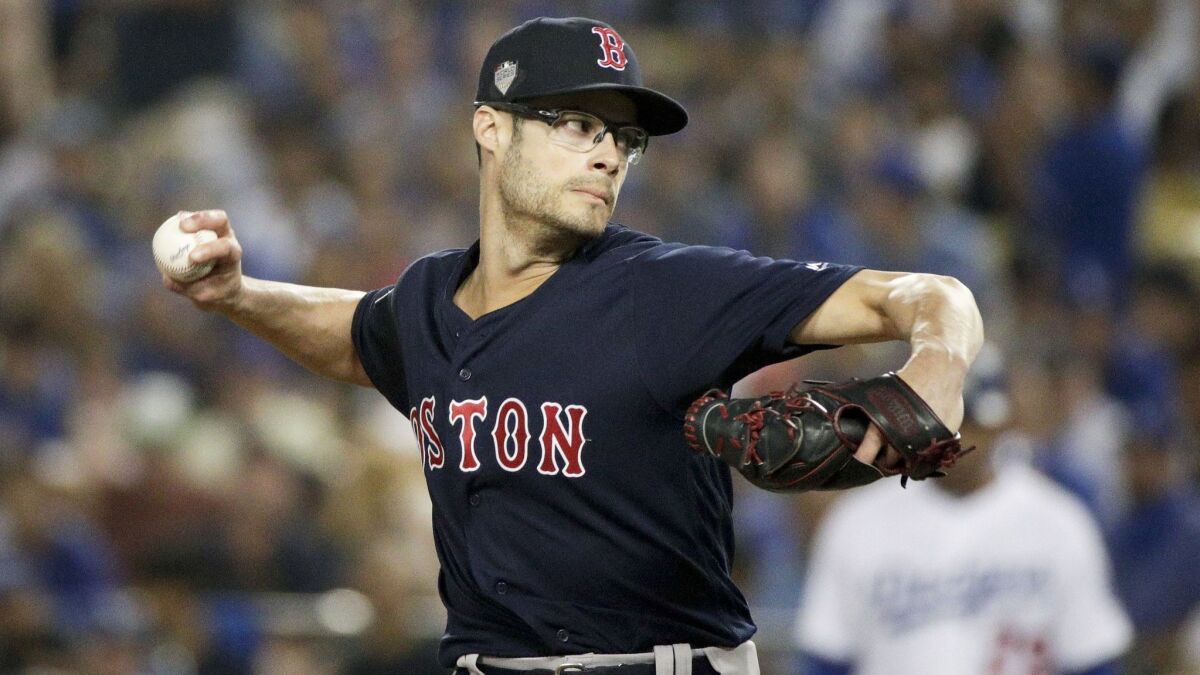 Joe Kelly's first memories as a baseball fan include sitting in the left-field pavilion at Dodger Stadium chomping on a Dodger dog. But none features the Dodgers winning a World Series.
He was four months old when the Dodgers last pulled it off, too young to store any of the images. Three decades later, after helping extend the Dodgers' drought another year for the Boston Red Sox in the World Series, Kelly decided to return home to play for his boyhood club, signing a contract with the Dodgers that guarantees him $25 million over the next three seasons.
"I still feel young," Kelly said in a conference call with reporters Friday, when the Dodgers made his signing official. "I'm 30 years old. But I wanted to be local. I've missed so much with baseball. Family. Birthdays. Summers. Weddings. And I just wanted to be able to stay at home and enjoy all those things while being able to win every single day and be ready to win a World Series. That was obviously the ultimate goal."
Kelly's deal ends with a $12-million team option or $4-million buyout for 2022. He was given a $1-million signing bonus and will have a base salary of $3 million next year before making $8.5 million each of the next two seasons. The contract also includes incentives for games finished each season, which can reach $2 million if he finishes at least 60 games.
However, Kelly wasn't signed to finish games. That's Kenley Jansen's domain. The Corona High and UC Riverside product will be assigned a less rigid role, and he prefers it that way. A failed starter, the hard-throwing Kelly often will be asked to secure more than three outs at different stages of games, a job that surely would expand in the postseason when bullpen usage becomes more aggressive.
"When I moved to the bullpen, there was no role for me so I just went out there and pitched," Kelly said. "And that was when I performed my best. During the playoffs, I think, that's huge. It can be the first inning or the third inning. And that's something me and the Dodgers spoke about. I'm not dedicated to any role. I think if you wanted to name a role, I think it's me being able to pitch whenever the big outs are. And that's when I perform the best and that's when I feel the most comfortable."
Kelly was at his best in October, when he completed an inconsistent season with a dominant postseason. After posting a 4.39 ERA in 73 appearances during the regular season, Kelly gave up one run in 11 1/3 innings across nine playoff outings. He pitched in all five World Series games against the Dodgers, tossing six scoreless innings and striking out 10 of the 22 batters he faced. He walked none.
Kelly credited the dominance to adjustments he made to his mechanics and pitch arsenal in September. Mechanically, he positioned his glove down toward his hip to get to the plate quicker and modified his arm slot. He ditched his curveball and slider, instead throwing what he called a slurve and using his changeup more to complement his 100-mph fastball.
The Dodgers are banking on the belief that the Kelly they signed is closer to the one from October than the one who posted an 8.35 ERA between June and July.
"It's not often in free agency," president of baseball operations Andrew Friedman said, "where you can get real upside."
Twitter: @jorgecastillo
---
Get our Dodgers Dugout newsletter for insights, news and much more.
You may occasionally receive promotional content from the Los Angeles Times.