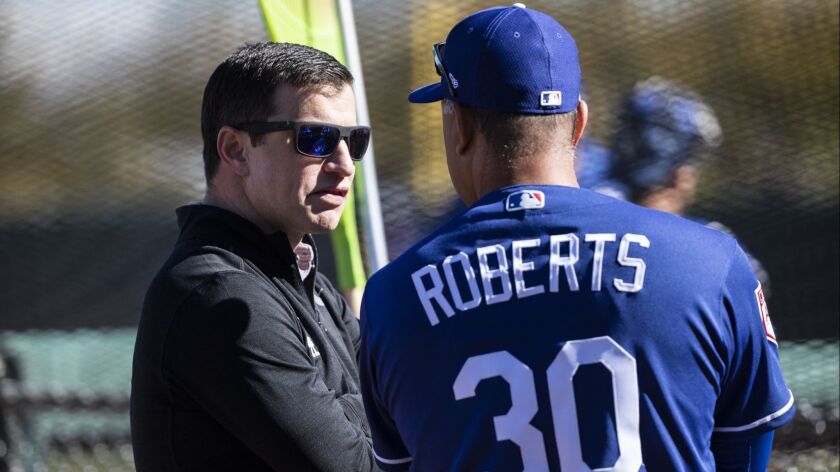 While the big league club is off to its best start since 1983, the Dodgers front office's focus will be on replenishing the farm system fueling that success in Major League Baseball's three-day draft beginning Monday.
The Dodgers own two first-round selections — No. 25 and No. 31 — and three of the first 78 picks. They have an additional first-rounder after they failed to sign their first-round choice last year — right-hander J.T. Ginn. As a penalty for signing A.J. Pollock, they forfeited their original second-round pick — 65th overall — but gained the 78th overall selection after Yasmani Grandal signed with the Milwaukee Brewers. Draft pick compensation was attached to both free agents after they declined qualifying offers.
After months of preparation, which nowadays includes scouring video on social media for extra looks at players, the Dodgers will start adding to their organization Monday.
"The two picks together, within five or six, is nice," Dodgers director of scouting Billy Gasparino said. "Signing Pollock, we lost our second-round pick so I think we lost like eight to 10 spots. It's not a big deal. I think A.J. is going to be more than worth it. But as scouts, we get selfish and like every player and pick. And that's a big gap. We're prepared to lose a lot of players we like in that section."
This year's draft crop, Gasparino explained, is strongest in high school pitching and college position players. Baseball America's latest mock draft predicts the Dodgers will select Quinn Priester, a high school shortstop from Illinois, at No. 25 and Brennan Malone, a right-handed pitcher from IMG Academy in Florida, with the 31st pick. Other publications project a variety of scenarios.
"On Day 1, having two first-round picks, it's really about lining up the top 31 names and just being prepared," Dodgers president of baseball operations Andrew Friedman said, "and letting the draft board dictate which direction we go."
Friedman said the team doesn't apply any "hard-and-fast rules" to its process other than selecting the best player available regardless of perceived needs. The Dodgers have taken chances with that approach since Friedman took over.
In his first draft with Los Angeles in 2015, Friedman's front office picked Walker Buehler in the first round out of Vanderbilt knowing he would need Tommy John surgery immediately. In 2016, they took Gavin Lux, a high school position player from Wisconsin, far from a baseball hotbed, as the first of their three first-round selections. Last year, they selected a player who ultimately didn't sign.
"We're trying to get as many talented players as we can," Friedman said. "And it's about how to balance shooting the moon on talent and the risk associated with it."
The strategy has spawned prospects. Buehler established himself as a rotation mainstay last season. Baseball America, which recently ranked the Dodgers' farm system as the ninth-most talented in baseball, lists Lux as the organization's second-best prospect. Will Smith, another first-round pick in 2016, debuted last week and has a walk-off home run on his resume. Dustin May, the Dodgers' third-ranked prospect according to Baseball America, was a third-round choice in 2016. Tony Gonsolin, a right-hander who impressed in spring training and could make an impact for the Dodgers in 2019, was a ninth-round pick that year.
Sign up for our Dodgers newsletter »
The Dodgers, in addition to seeing prospects graduate to the majors, have also used prospects as capital in trades for upgrades to their big league roster during playoff pushes. They'll attempt to use the next three days to restore the cupboard with top-end talent and continue churning out prospects.
"We feel like we have a lot of depth, even with the trades we've made," Gasparino said. "So there's been maybe an uptick in mind-set in aggressiveness this year. I think you may see that. We'll see how it plays out, but I know we can be a little more aggressive. We feel like we have good depth."
---