Could Dodgers deal Matt Kemp, Andre Ethier or Carl Crawford?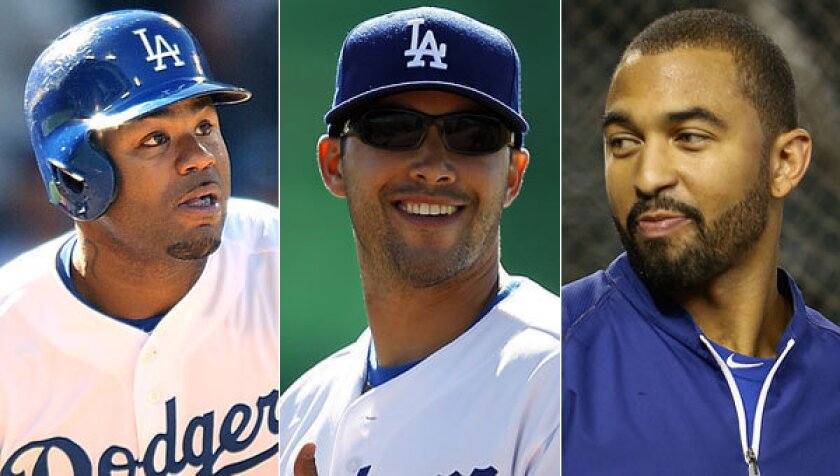 ORLANDO, Fla. — Can Matt Kemp or Andre Ethier be traded? Can David Price be added to a rotation that already includes Clayton Kershaw and Zack Greinke? What about Japanese right-hander Masahiro Tanaka?
The Dodgers expect to get an idea of what's possible, and what isn't, at the three-day general managers' meetings that start Monday.
"In a week, we should have some more definition," General Manager Ned Colletti said. "Will it be clearer? Yeah. Will it be definitive? I don't know."
The Dodgers will listen to trade proposals for any of their players, but are particularly interested to see what kind of market exists for their three veteran outfielders — Kemp, Ethier and Carl Crawford. The team can afford to move one of them because of the emergence of Yasiel Puig, who turns 23 next month and might be the club's most marketable player.
Kemp, Ethier and Crawford all have worrisome medical histories and large contracts.
Kemp, who underwent a major shoulder operation last year, played in only 73 games and is now recovering from left-ankle surgery. He is still owed $128 million over the next six years.
While Ethier drew praise for his play in center field in Kemp's absence, he has hit 12 or fewer home runs in two of the last three seasons. He is under contract over the next four years for $69 million.
Crawford missed a month with a hamstring injury, a disconcerting sign for a player who is heavily reliant on his speed. He has $81.5 million and four years remaining on his contract.
The assumption is that to move one of them, the Dodgers will have to pay a significant portion of the contract. However, whatever money they save could be directed toward Hanley Ramirez, whom they will try to sign to an extension. Ramirez's current deal expires at the end of next season.
The Dodgers also figure to reach out over the next few days to the Tampa Bay Rays, who are expected to entertain offers for their ace, Price.
Price won't become a free agent until after the 2015 season. To acquire him, the Dodgers probably would have to part ways with one or more of their top-tier prospects in the minor leagues — infielder Corey Seager, teenage pitcher Julio Urias, outfielder Joc Pederson, right-hander Zach Lee. Such a trade would appear to go against the team's stated ambition of rebuilding a farm system that was destroyed under former owner Frank McCourt.
As for Tanaka, any team that wants him will have to wait for the implementation of new rules on how Japanese players can move to the United States.
While Major League Baseball and Nippon Professional Baseball agreed on changes to the posting system, the deal has been held up by the Japanese players' union, according to reports overseas.
The proposed changes would lessen the posting fees — the refundable fee paid by a major league team to a Japanese team for the rights to negotiate with a player — but players still wouldn't be able to negotiate with more than one major league team.
Major league teams are expected to gain some clarity on the situation this week.
If or when the 25-year-old Tanaka becomes available, he is expected to cost more than $100 million between his posting fee and contract. He was 24-0 with 1.27 earned-run average last season for the Tohoku Rakuten Golden Eagles of the Japanese league.
Like the Dodgers, the Angels are interested in Tanaka, as they remain in search of pitching. They still have interest in their free agent, Jason Vargas.
The Angels also have some players they could package in a trade for a starting pitcher — including outfielders Mark Trumbo, Peter Bourjos and Kole Calhoun and infielders Howie Kendrick and Erick Aybar. Pitching is a rare and valued commodity, but so is power — and Trumbo has it, evidenced by the 95 home runs he's hit in the last three seasons.
To bolster their bullpen, the Angels could turn to the free-agent market, where the likes of Joe Nathan and Grant Balfour are available.
Twitter: @dylanohernandez
Times staff writer Mike DiGiovanna contributed to this report.
---
Get our Dodgers Dugout newsletter for insights, news and much more.
You may occasionally receive promotional content from the Los Angeles Times.