Column: Dodgers' Matt Kemp making most of limited role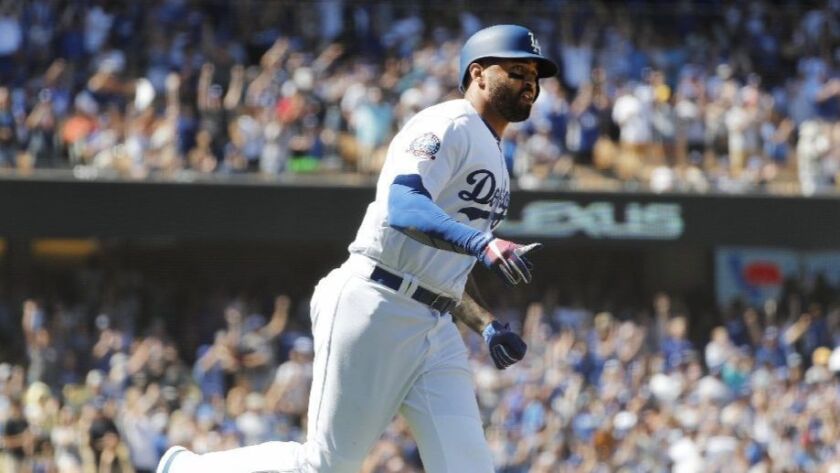 Matt Kemp celebrated his 34th birthday Sunday by driving in the 1,000th run of his career on a solo home run that …
Hold up.
Wait, Matt Kemp is 34?
"Google it," Kemp said with a smile.
Matt Kemp is really 34?
"I don't even want to talk about it, man," he said. "It's getting up there."
Kemp chuckled.
Laughs were rare in his last few Septembers, so Kemp will take this, even if some jokes are made at his expense.
In the wake of a 14-0 victory over the San Diego Padres, the Dodgers are 1½ games ahead of the second-place Colorado Rockies in the National League West with seven games remaining. Their magic number to win the division is six.
"This doesn't get old," Kemp said. "This is something I've missed, this is something I've wanted to be a part of again."
He finished the previous two seasons with the Atlanta Braves, who ended 25 games out of first place last year and 26½ the year before that. His Padres were 18 games out in 2015.
The last time he played in a postseason series was in his last season with the Dodgers, in 2014.
The anticipated return to the Dodgers and October baseball hasn't been all jokes and giggles, however, demanding a sacrifice Kemp is still learning to accept.
He's now a platoon player, which describes every position player on the team outside of Justin Turner and Manny Machado.
Kemp played in his third All-Star game this year, but has been relegated to starting against left-handed pitchers, as was the case Sunday when Joey Lucchesi scaled the mound for the visiting Padres.
The start was Kemp's eighth this month. The Dodgers have played 21 games.
"I think it's tough for all of us, but we all got one common goal," Kemp said. "We got a lot of guys on our team that can play every day anywhere, but when you got weapons like we do, sacrifices have to be made."
He recognizes he isn't the only one being asked to do something out of the ordinary, pointing to how starting pitchers such as Kenta Maeda have moved to the bullpen.
"Listen, I still want to play every day," Kemp said. "We all want to play every day. But it is what it is. Everybody's contributing, everybody's doing what they need to do. The main thing is to get to the playoffs and get back to the World Series."
In Kemp's case, the decrease in playing time was a reflection of a sharp decline in form after the All-Star break.
But even when he performed well, he wasn't awarded any additional playing time.
His three-run home run on Sept. 1 reversed a 2-0 deficit against the Arizona Diamondbacks, who were leading the NL West at the time. A day later, he came off the bench to deliver a walk-off victory over the Diamondbacks with a two-run double.
Kemp started only one of the next four games.
Given that Kemp was an everyday player for the majority of his career — he once played in 399 consecutive games — manager Dave Roberts has made it a point to speak to him frequently about his playing schedule.
"We've had many conversations and his buy-in has been incredible," Roberts said. "Does he like it? Probably not. But he understands and he accepts it."
And he's making the most of it. Kemp is batting .318 this month with three home runs and 13 runs batted in.
His second-inning blast against Lucchesi was his 21st home run of the season.
He led off the fourth inning with a double. The Dodgers batted around that inning, which gave him the opportunity to drive in two runs with a single to left-center field, this time against reliever Trey Wingenter.
He finished the game 3 for 4 with two runs and three runs batted in.
Considering Kemp isn't as fleet-footed as he was when he was, say, 24, where would he have had to hit the baseball to get the triple he needed to complete his cycle?
Kemp laughed.
"I don't know," he said. "You tell me."
Roberts intimated that playing less has allowed Kemp to avoid the disabled list.
"He's stayed healthy," Roberts said. "He's strong. He's fresh."
Which could be why he's able to play meaningful games at this stage of the season.
"This is fun, man," Kemp said. "It's fun to be able to be playing for something. The past couple years, it's been a little rough going into September, just playing baseball and not playing for the postseason."
The most important games of a memorable season could still be ahead.
Follow Dylan Hernandez on Twitter @dylanohernandez
---
Get our Dodgers Dugout newsletter for insights, news and much more.
You may occasionally receive promotional content from the Los Angeles Times.