Chase Utley's return to Philadelphia comes with a wallop in Dodgers' 15-5 win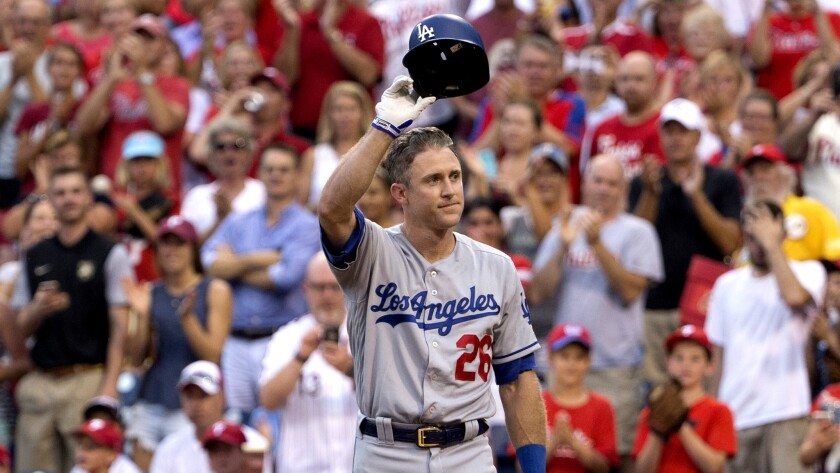 Reporting from Philadelphia —
As each home run took flight, a sea of red rose to salute a player wearing the visiting gray of the Dodgers. The sports fans of this city carry a reputation for a charming blend of passion and poison, but they have never been considered traitorous. Only one player can make them root against their own.
They know Chase Utley as "The Man" in this town, a nickname bestowed upon him a decade ago by legendary broadcaster Harry Kalas, and his return to Citizens Bank Park in a 15-5 Dodgers victory incited a series of wonders. Utley spent 15 years inside the Phillies organization, and the crowd rewarded him with unceasing adulation.
The first ovation he received delayed the game's first pitch. The \crowd showered him with cheers whenever he appeared at the plate. The gratitude extended to absurd levels later in the evening, after Utley launched a solo homer in the fifth and a grand slam in the seventh. The fans did not jeer or groan — they jumped to their feet and remained standing until Utley completed a curtain call from the visitors' dugout.
"It's completely overwhelming," Utley said. "The standing ovation before my first at-bat was something that I'll never forget, to be honest with you."
The night belonged to Utley, who appeared here for the first time since the Phillies traded him last August, but his teammates aided his cause. The Dodgers (66-52) mashed three home runs off Philadelphia starter Vince Velasquez. Kenta Maeda limited the Phillies to two solo homers during six innings. Yasmani Grandal reached base four times, and launched a two-run homer in the sixth inning that, for a brief moment, took some attention away from Utley.
"It was an honor and an amazing experience to be part of something like this today," Maeda said.
Added Howie Kendrick, who hit a go-ahead homer in the fifth: "That's something that was truly special."
Utley was rehabilitating an injury last season when Jimmy Rollins, his longtime partner at shortstop here, visited with the Dodgers. Utley watched some video of the reception before this week. He admitted the prospect of Tuesday impeded his usual tunnel vision. "It's something I've been looking forward to for a long time," Utley said.
The city feted Utley like a visiting dignitary. CSN Philly filmed his arrival at the Dodgers hotel Monday evening. Fans mobbed him for autographs along the left-field line. A member of the local media asked about the status of his residence here.
"We still have a place," Utley said during a news conference before the game. "We're working on selling it. So if anybody in this room is looking for a nice condo downtown, come talk to me."
When Utley led off in the top of the first inning, the public address announcer introduced him with gusto, as the strains of his longtime walk-up song, "Kashmir" by Led Zeppelin, pealed through the ballpark. The standing ovation lasted 81 seconds.
Utley doffed his cap and saluted the panorama around him. At first base, his longtime teammate Ryan Howard beamed. He entered the batter's box, but the applause did not end. His face bore an expression that resembled a grimace flirting with a smile. He stepped back out, waved and pumped his fist.
"It was probably one of the most nervous at-bats I've ever had, at any level," Utley said.
The cheers did not end so much as segue into another pop, this one registering a strike thrown by Velasquez. Still searching for an inner calm, Utley struck out. He flied out his next time up.
For his third appearance, Utley came to the plate shortly after Kendrick's homer. He waited for the cheering to fade and feasted on a fastball from Velasquez. His blast caused the crowd to gasp, a moment of shock followed by an extended roar. Utley sprinted around the bases.
"It doesn't faze him," rookie shortstop Corey Seager said. "He doesn't change one way or the other. He has zero heartbeat."
Utley ducked his head inside the Dodgers dugout as his teammates enveloped him. The group implored him to greet the crowd, so Utley climbed the steps to wave his helmet.
In the seventh, as the Philadelphia bullpen self-immolated in an eight-run inning, Utley faced reliever Michael Mariot with the bases loaded. He ripped a fastball over the fence in right. His pace resembled the one he embarked on during his first hit in the majors, a grand slam at Veterans Stadium on April 24, 2003.
Thirteen years later, The Vet is a parking lot and Utley resides on the opposite coast. A fan seated near the dugout held a sign that read "A Phillie Forever." Wearing the blue and gray of his new club, Utley took a second curtain call for a second gesture of thanks. As he retreated to be among his new teammates, Manager Dave Roberts slapped him on the backside.
"His pulse is unparalleled," Roberts said. "I'm glad he's a Dodger."
andy.mccullough@latimes.com
Twitter: @McCulloughTimes
---
Get our Dodgers Dugout newsletter for insights, news and much more.
You may occasionally receive promotional content from the Los Angeles Times.