After a lost weekend in San Francisco, Dodgers aren't planning any big bullpen changes ... yet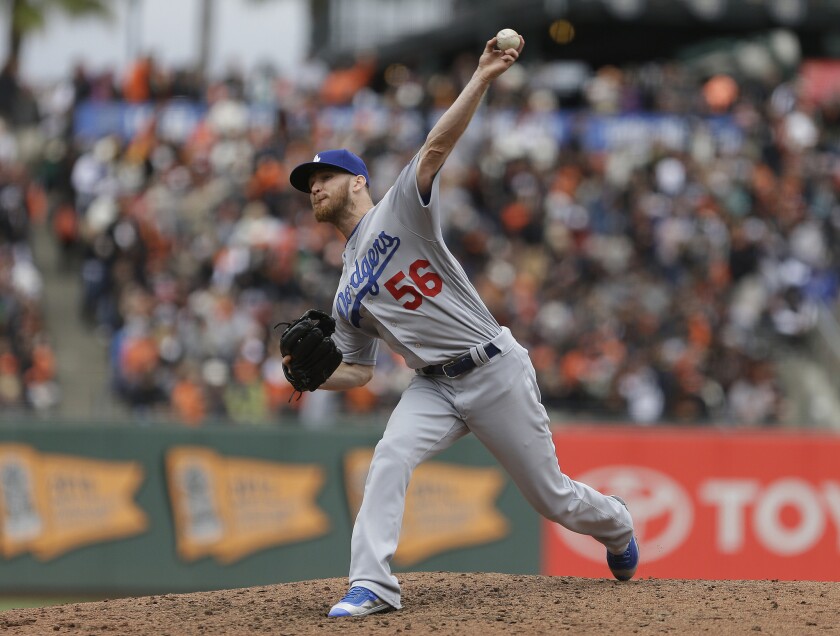 The agony of a lost weekend, one in which he faced six batters and saw all of them score, showed on J.P. Howell's face. But his voice conveyed why it is probably premature to attempt to evaluate the Dodgers after one shoddy series.
"When you're here, you stay in the league for a long time because when you go through struggles, you stay the same," Howell said. "You don't adjust right away. You trust what you've been doing. And then when it happens a couple more times, then it's time to adjust."
As the Dodgers (4-3) approach their home opener on Tuesday against the Arizona Diamondbacks, the relievers are eager to erase the sting of three losses in four games to San Francisco. Yimi Garcia played a role in Thursday's implosion. Chris Hatcher served up a game-tying homer Friday. Howell and Louis Coleman could not maintain a tied game on Sunday.
So the series with the Giants placed a red flag on the team's bullpen. And the shortcomings of the rotation also place a burden on the relievers. Scott Kazmir absorbed a battering and blew a five-run lead Sunday. Alex Wood has yet to tame a lineup on the third turn through the batting order. Ross Stripling will operate on a strict pitch limit, as demonstrated by his early removal despite a no-hit bid Friday.
Manager Dave Roberts saw little reason to panic after Sunday's defeat. Like Howell, Roberts looked weary after weathering the Giants' storm. He called their offense "a clinic." His own bullpen?
"I think the 'pen's going to be fine," Roberts said. "We can't always be hitting on all cylinders." He added, "No concern."
During the course of a season, bullpens do not just evolve. Sometimes they mutate. The group could have an entirely different hierarchy in September compared to the initial projections of April.
In the eyes of rival evaluators, the Dodgers possess the talent to upgrade internally and the resources to pursue help as the trade deadline approaches. The quantity of quality arms in the organization persuaded the team, once trade talks for Aroldis Chapman fell apart, to avoid making many additions during the off-season. But already this season, the team has signed three relievers — Dale Thayer, Sam LeCure and Sean Burnett — to minor league contracts. The team is also hoping Luis Avilan can rebuild his confidence with triple-A Oklahoma City.
Hyun-Jin Ryu could return to the rotation by June. Brandon McCarthy could be back in July. August looks reasonable for Brett Anderson. With each return, the Dodgers could slot a younger starter, such as Wood or Stripling, into the bullpen. Other minor league prospects such as Jharel Cotton or Frankie Montas could contribute in relief. Even Julio Urias or Jose De Leon, the organization's top pitching prospects, could aid the major league club.
Of course, the use of prospects would represent something of a strategic shift for Andrew Friedman's front office. So a more likely avenue for improvement would involve the trade market. Given the team's financial heft, finding additions would not be difficult, according to rival executives.
But first, the Dodgers must get to the summer, when other clubs start to sell. Kenley Jansen dominated in two save opportunities last week. Hatcher rebounded Saturday with an encouraging outing. Pedro Baez struck out six of the 11 batters he faced.
Howell is the lone left-hander in the bullpen. He will turn 33 later this month. His average fastball velocity has sat at 85 mph this season, down from 87 mph in 2015. He experienced some poor luck against the Giants, but he also struggled to finish at-bats against left-handed hitters.
For now, the Dodgers will hope Howell and the rest of the relief corps can recover from one unfortunate weekend. This early in the year, the team has little other choice.
"It's tough," Howell said. "It's a tough situation to start the season."
Twitter: @McCulloughTimes
---
Get our Dodgers Dugout newsletter for insights, news and much more.
You may occasionally receive promotional content from the Los Angeles Times.