Dodgers' Yasiel Puig in line for MVP seasons, says Mark McGwire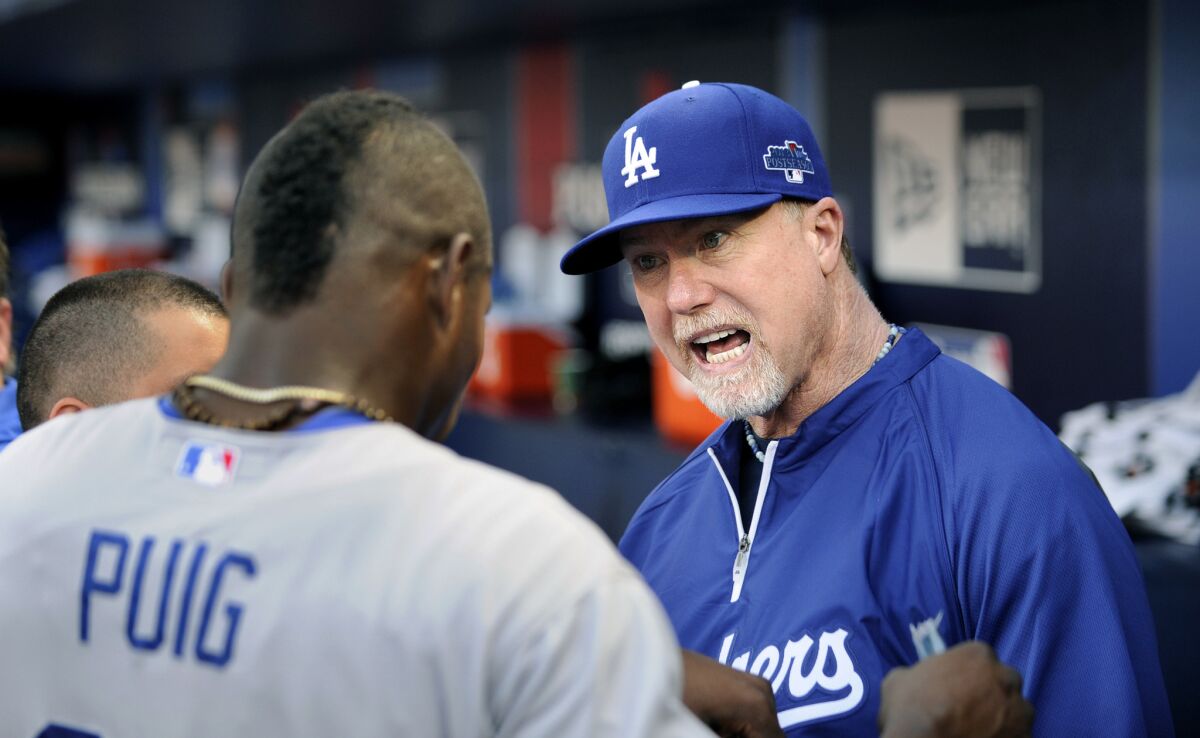 Yasiel Puig tied for 37th in the National League with 16 home runs last season. He tied for 33rd with 69 runs batted in. On the day the Dodgers were eliminated from the playoffs, he spent most of the game on the bench.
The up-and-down season prompted a few skeptics to wonder whether Puig would realize his full potential.
Dodgers hitting coach Mark McGwire wasn't among them. "He's definitely an MVP candidate from day one," McGwire said of Puig.
McGwire didn't stop there.
He went on to predict during a recent interview that there would be multiple most-valuable-player awards for the 24-year-old Cuban outfielder, saying consistency was his only obstacle.
"If we can put a full season together and if that lull toward the end of the season is not there — he has a big September, big playoffs — there's no question he's going to have several MVPs," McGwire said.
In his first two seasons in the major leagues, Puig has failed to sustain early season momentum.
As a rookie in 2013, he batted .214 in September. Last season, he made the All-Star team but hit only four home runs in the two months that followed.
"He's had such great first halves, first three-quarters of the season, and things have tailed off toward the end of the season," McGwire said. "We have to work on something like that."
In addition to mental and physical fatigue, McGwire believes Puig was affected by pressing when he was in contention for the National League batting title. Puig batted .323 average through Aug. 3. He finished the season with a .296 average.
"He saw where he was close to the batting title and people were talking about it," McGwire said. "He was trying to do too much instead of staying with the same approach he had in the first three-quarters of the season. When he gets impatient, his numbers go down."
Puig acknowledged as much last month while participating in the Dodgers community caravan.
"Consistency is what will take you to what you want," he said.
McGwire is confident it will come, reminding that last season was Puig's first full season in the major leagues.
"Another year of growing up, another year of maturing," McGwire said. "We expect big things out of him."
As the Dodgers prepare to open spring training later this week, McGwire is less certain about where Puig should bat in the lineup.
"I like him at the top of the lineup to set the tone, and I like him in a RBI situation," McGwire said.
As for the other parts of the lineup, McGwire likes what the team's new front office has done with the roster. McGwire was a record-setting power hitter as a player, but he said he doesn't mind the trade-off the Dodgers made by replacing departed home run threats Matt Kemp and Hanley Ramirez with Jimmy Rollins and Howie Kendrick.
"We're going to have line-drive, gap-to-gap hitters," McGwire said. "My thought is we're going to be a manufacturing offense and get guys in when we're supposed to get guys in."
He didn't feel that was always the case last season.
"I personally thought that we struck out a little too much," he said.
With fewer than two outs and a runner on third base, the Dodgers scored 50% last season, which was below the major league average. The St. Louis Cardinals, who eliminated the Dodgers from the playoffs, scored 56% of the time.
McGwire believes that was the reason why the Dodgers failed to reach the World Series in 2013. They lost the first two games of the National League Championship Series to the Cardinals by scores of 3-2 and 1-0.
"We're in St. Louis, where we should have manufactured runs and we could have left St. Louis up 2-0," he said. "Instead, we came back 0-2 because we didn't manufacture runs."
McGwire thinks the team is better suited to do that now.
"I personally like guys putting the ball in play, because when you put the ball in play things happen," he said. "People move. The ball hops. You never know what's going to happen, especially when you have one or less outs with a man on third base. A simple ground ball gets a run in. Early in the game, that's huge, especially with our pitching staff."
McGwire doesn't think the changes to the lineup will affect Adrian Gonzalez, who often batted behind Ramirez and in front of Kemp when he led the majors in RBIs last season.
"Adrian's Adrian," McGwire said. "He's so good. He doesn't really let that stuff bother him.
"I haven't really talked to Donnie about what he's going to do in the lineup," McGwire said of Manager Don Mattingly. "Let's say you have Puig hitting in front of Gonzo and Kendrick hitting behind him. Those are two pretty good hitters. If they pitch around Gonzo to get to Kendrick, he's a proven gap-to-gap hitter."
Twitter: @dylanohernandez
---
Get our Dodgers Dugout newsletter for insights, news and much more.
You may occasionally receive promotional content from the Los Angeles Times.