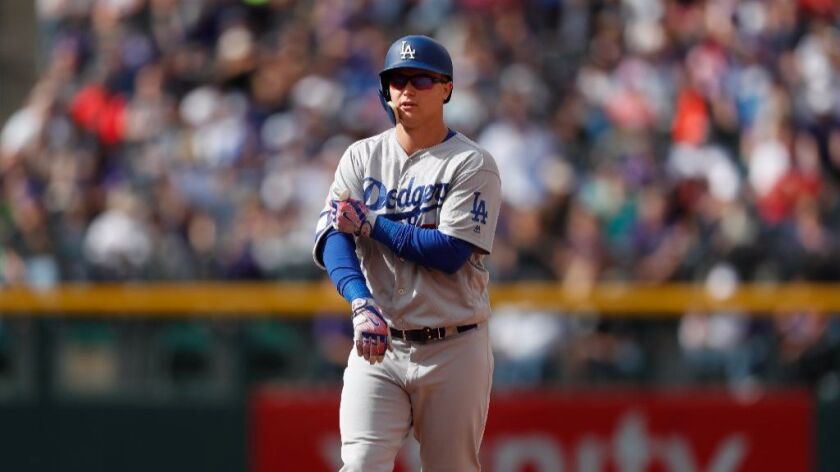 Joc Pederson recorded four hits in September. So it was no surprise that the Dodgers left him off the 25-man roster in the National League division series against Arizona.
But in the NL Championship Series against the Chicago Cubs, Pederson not only made the roster, he might start in center field against right-handed starting pitchers in the third and fourth games.
Shortstop Corey Seager's lower back strain forced the Dodgers to adjust. Charlie Culberson, another NLCS addition to the roster, started at shortstop for Game 1 against left-handed starter Jose Quintana, with Enrique Hernandez and Chris Taylor in the outfield.
When the Cubs start right-handers Jake Arrieta and Kyle Hendricks when the series moves to Wrigley Field, either Hernandez or Taylor is likely to play shortstop.
If Taylor leaves center field for the infield, that could shift Pederson into the starting lineup.
"Joc just gives us versatility," manager Dave Roberts said. "The ability to play all three outfield spots, the athleticism on the bases. But also just to have that at-bat. So whether it's off the bench, or to start, he just gives us that versatility."
Pederson was demoted to the minor leagues Aug. 19 after batting .156 during a 28-game stretch after the All-Star break. His departure coincided with the acquisition of Curtis Granderson, who replaced Pederson in the lineup.
In triple A at Oklahoma City, Pederson's performance did not improve. He hit .143 in 14 games. The Dodgers recalled him when the rosters expanded in September, but he mostly stayed on the bench.
Better safe than sorry
There was more to the Cubs decision to start Quintana on Saturday in Game 1 than his throwing 12 pitches in relief against the Washington Nationals two days earlier.
Quintana's wife, Michel, experienced irregular heartbeats on the team's flight to Los Angeles on Friday, prompting the Cubs' chartered 767 to make an unscheduled stop in Albuquerque.
The plane spent five hours on the ground, because FAA regulations required there be a change of pilots. The Cubs ordered Chick-Fil-A and waited it out.
"Nobody complained. It was an empathetic moment. Everybody understood what's going on," Cubs manager Joe Maddon said before Saturday's game. "As a human being, you're concerned for other human beings. So I thought our guys were wonderful the way we handled the entire situation.
"Q got off the plane. He spent some time, our team doctor, everything seems to be well. Q got his rest. We contacted him. He felt good about pitching today. So we're ready to rock 'n' roll."
The Cubs arrived in Los Angeles on Friday around noon. Quintana and his wife arrived in the evening, after she was examined.
Quite a catch
With the Cubs starting left-handed Jon Lester in Game 2, catcher Austin Barnes is expected to start for the Dodgers at catcher for the fourth game in a row.
Barnes has supplanted Yasmani Grandal as the team's primary catcher, and Rich Hill, who is scheduled to start for the Dodgers on Sunday, raved about the Riverside product's development.
Barnes is "a guy who works every day, who wants to learn, who talks to pitchers and understands the strengths of each pitcher, and where they want to go in the situations when it means the most," Hill said.
Barnes also hit .289, and was consistently productive against both right-handed pitchers and left-handed pitchers. He came to the Dodgers in an eight-player, December 2014 that sent Dee Gordon to the Miami Marlins.
Scouting report
Hill was asked whether having fellow left-hander Clayton Kershaw pitching in front of him, and watching how the Cubs react, would influence his strategy in Game 2.
"My approach isn't going to change as it has been all year," Hill said. "It's just attack and continue to throw strikes. Make them swing the bat.
"That's something that, for me, that's what I enjoy, is that aggressive, attack mentality, where you can see it reciprocated from the hitter. Two people out there just competing.
"I will be watching and paying attention, obviously, pretty closely tonight. But again, it's not going to really change my approach as far as pitch sequencing or how I'm going to attack these hitters because I'm pretty plain and simple:
"Here it is, hit it."
Short hops
The Dodgers removed reliever Pedro Baez from the 25-man roster to make room for Culberson and Pederson. Baez did not pitch in the NLDS. … Justin Turner entered Saturday's game with a career playoff on-base-plus-slugging percentage of 1.105, the highest among active players. His .377 batting average was second behind Hanley Ramirez's .380 among active players.
Twitter: @McCulloughTimes
Twitter: @MikeHiserman
---