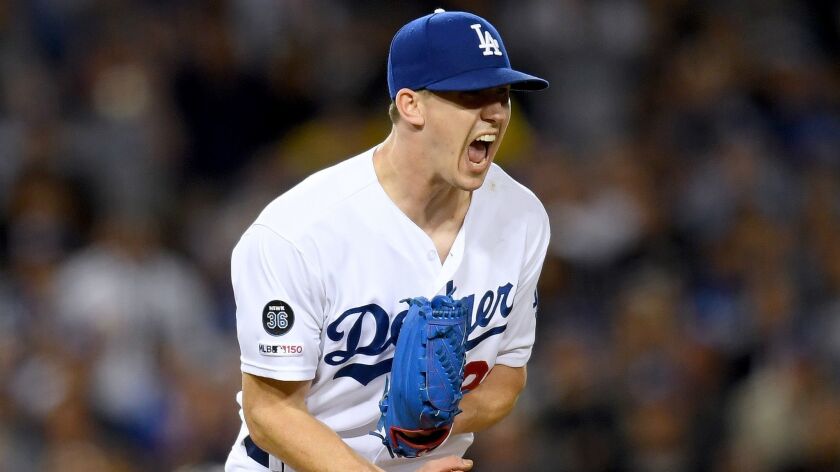 Walker Buehler completed his complete-game gem in the Dodgers' 4-2 win Friday night with a fist pump and a roar, excitement prompted by Nolan Arenado's swing through a 97-mph fastball. The whiff gave Buehler a career-high 16 strikeouts over a career-high nine innings.
He was dynamite. And he walked off the mound with Dodger Stadium's decibel level bursting unsure if his work was enough.
The score was tied. While Buehler was utterly dominant, German Marquez had been just as stingy, matching Buehler over eight innings. It was up to the Dodgers' offense, muzzled for a couple of hours, to avoid extra innings against the Rockies bullpen.
A rally was unlikely once Jairo Diaz retired the first two batters he faced. But Max Muncy battled to work a seven-pitch walk to bring up Matt Beaty, who had been optioned to the minors Thursday but returned Friday to fill a vacancy on the roster. Instead of taking his booked flight to Oklahoma City, he was in the Dodgers' starting lineup and provided the finishing blow, a two-run, walk-off home run over the center-field wall to give the Dodgers their fourth straight victory.
"It just felt like I was floating around the bases," said Beaty, who had one career home run before Friday. "Just tried to soak it in."
For the first time since the Dodgers seized for the National League West title in Game 163 last October, the Colorado Rockies visited Dodger Stadium on Friday night. The confrontation featured the same pitching matchup from October: Buehler for the home team, Marquez for the visitors.
Buehler claimed that duel with seven scoreless innings. He was even better Friday in an encounter between the two hottest teams in the National League over the last two months. The right-hander accumulated his 16 strikeouts without issuing a walk while allowing three hits on 111 pitches.
In four starts since allowing five runs in five innings against the New York Mets on May 29, Buehler has given up three runs in 31 innings with 42 strikeouts to one walk while surrendering 13 hits.
"It's just checking another box for me," Buehler said.
The Dodgers (52-25) initiated the scoring against Marquez in the second inning. Max Muncy led off with a single to reach base for the 30th straight game. He took third base on an error by shortstop Brendan Rodgers and scored on Chris Taylor's sacrifice fly. Cody Bellinger whacked a ball to straightaway center field in the fourth inning for his 25th home run — a total he reached in Game 163 last season.
Moments later, home-plate umpire Chad Fairchild ejected Justin Turner from the dugout for arguing balls and strikes.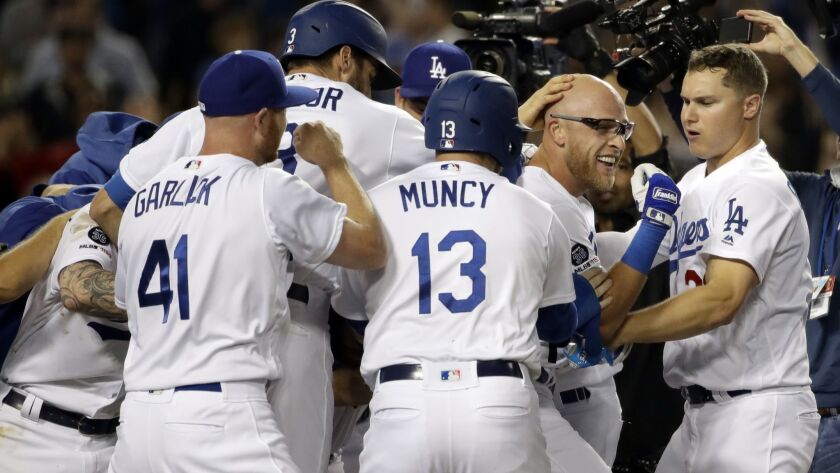 "Not really sure what happened," Turner said. "He looked in the dugout and said, 'That's enough' or whatever. And I kind of smiled and waved to him and said, 'Hi.' Apparently, that was offensive in some way."
The Rockies (40-35) countered with home runs from their hottest hitters. First, Arenado lifted a fly ball that landed on top of the left-field wall and bounced over in the fourth inning. Two innings later, Charlie Blackmon blasted a fastball down the right-field line to extend his on-base streak to 31 games.
Sign up for our daily sports newsletter »
Arenado was the first baserunner Buehler allowed. The right-hander had retired the first 11 batters he faced, with six strikeouts. He added 10 over the next five innings. Of the 16 strikeouts, 15 were swinging. He accumulated 23 swing-and-misses in all.
"That was one of the most dominant pitching performances I've seen, other than, I think, Clayton's no-hitter five years ago," Turner said. "That was special."
The final swing-and-miss elicited emotion and completed Buehler's nine innings. He became the first Dodger to compile at least 16 strikeouts since Hideo Nomo struck out 17 against the Florida Marlins on April 13, 1996.
And yet he walked off the mound wondering if his nine innings would not come with a win, holding his breath until Muncy and Beaty came through.
Twitter: @jorgecastillo
---