Dodgers struggle to balance Corey Seager's zeal for playing with team's concern for rest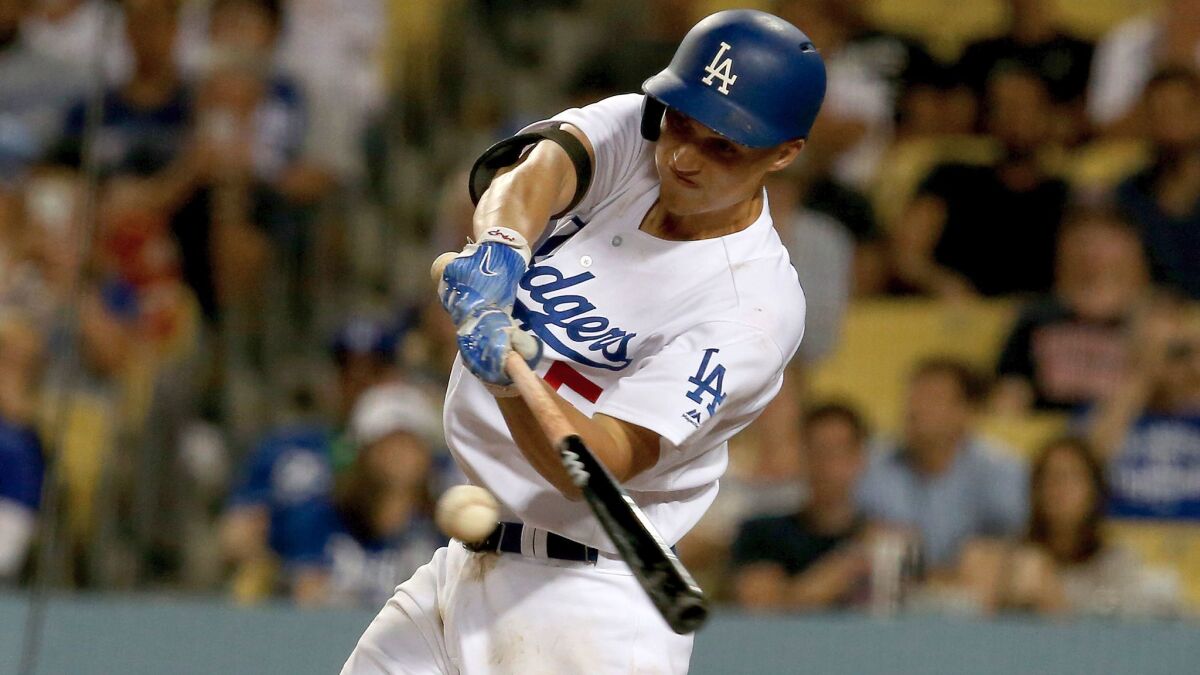 The clubhouse was bereft of ballplayers when Corey Seager walked to his locker Sunday afternoon at Colorado's Coors Field. He swished a bottle filled with orange liquid as he dressed for a flight to Los Angeles. An irksome regular season had come to an end, and Seager already was plotting how to shine during the playoffs this weekend.
Dodgers manager Dave Roberts implored his players to rest on Monday, but Seager had other plans. He penciled himself into the lineup of a simulated game at Dodger Stadium. Seager collected three hits on Sunday, and wanted to maintain his rhythm during four days without baseball.
"That one was my choice," Seager said. "I don't really like off days."
Seager wore a grin. His comment sounded like the innocuous exuberance of a 23-year-old superstar, one who is crucial to the team's hopes of ending a 28-season World Series drought. Yet it also hinted at a lingering source of tension between Seager and the Dodgers, a situation that has frustrated the shortstop and provided a backdrop for his slump-ridden September. At times this season, his pursuit of excellence has clashed with the organization's protective instincts.
Seager creates confidence through repetition. He will swing the bat before batting practice, during batting practice and in the cage during games to synchronize his mechanics. Even before Seager developed inflammation in his right elbow after the All-Star break, his habits invited scrutiny as the Dodgers tried to curtail his activity. He bridled at the restrictions.
"I like to work," Seager said. "That's how I function. I get that you can overwork, but that's what I've always done. It's what I know. It's my comfort zone. The constant battle of taking days off, trying not to go out for B.P., trying to cut your swings down …"
Seager paused to rephrase his point. "Not even a battle, but it's been constant talk about it, constantly."
The discussion often has been contentious, and it has left both sides weary. One day in Philadelphia last month, Roberts hosted Seager in his office for a 45-minute meeting. A few days later, the pair engaged in an animated conversation in the outfield at Dodger Stadium.
Roberts empathizes with Seager's zeal for comfort. Yet the manager cannot ignore the recommendations of the team's medical experts.
"The information that I'm getting from the training staff and from our strength staff is that he works a lot where sometimes they feel it can be to his detriment," Roberts said. "It's the organization's responsibility to try to monitor it."
He added, "You have to let the player find his way, but at what cost for the organization to be quiet? The medical staff, they have jobs to do, to protect the player, and sometimes, from [himself]."
The dialogue started before the season. The Dodgers were delighted by Seager's rookie-of-the-year performance in 2016 but also recognized the flaws. Fatigue engulfed him at the end. His on-base plus slugging percentage sunk to .739 in the final month of the season. He homered four times in the playoffs, but batted only .205 with a .619 on-base-plus-slugging percentage.
Team officials wondered how much of the exhaustion was self-inflicted. As a full-time shortstop, Seager already occupied "the single most taxing role you can have on a baseball team, other than maybe a 200-inning starter," general manager Farhan Zaidi said. Would Seager's penchant for extra work detract from his production?
"It is something we all have to talk about together," Zaidi said. "How to moderate the workload, but still have him feel good about the rhythm he's in."
Those conversations were Seager's constant companion in 2017. He tried to heed the advice of his employers but chafed at his inability to settle on a routine. "You want to do what you do every day, have that routine, go out and do it," Seager said. "Not have to always tinker, always do other stuff."
The overwhelming majority of baseball players only dream of producing seasons like the one Seager just completed. He hit 22 homers and 33 doubles with an .854 OPS. He made his second consecutive All-Star team. He finished seventh among National League position players in FanGraphs' version of wins above replacement.
Seager expected more. He described himself as "a little disappointed" with his production. His cold spells were pronounced. His peaks did not last long enough. While learning to manage the pain in his elbow, he fell into the worst slump of his major league career — an unintended consequence, Seager feels, of the team's decision to rest him for two weeks starting on Aug. 29.
It is hard to dispute the Dodgers' decision, and it hints at the difficulties the organization faced while managing a massive lead in the National League West. By August, Seager's elbow ached with each throw. An MRI revealed "problems," in Seager's cryptic parlance, which could require offseason surgery.
Seager wanted to play through the injury. The Dodgers preached caution. The leaders of the organization would not have been able to forgive themselves had Seager further damaged his elbow and risked his participation in October.
I like to work. That's how I function. I get that you can overwork, but that's what I've always done. It's what I know.
— Corey Seager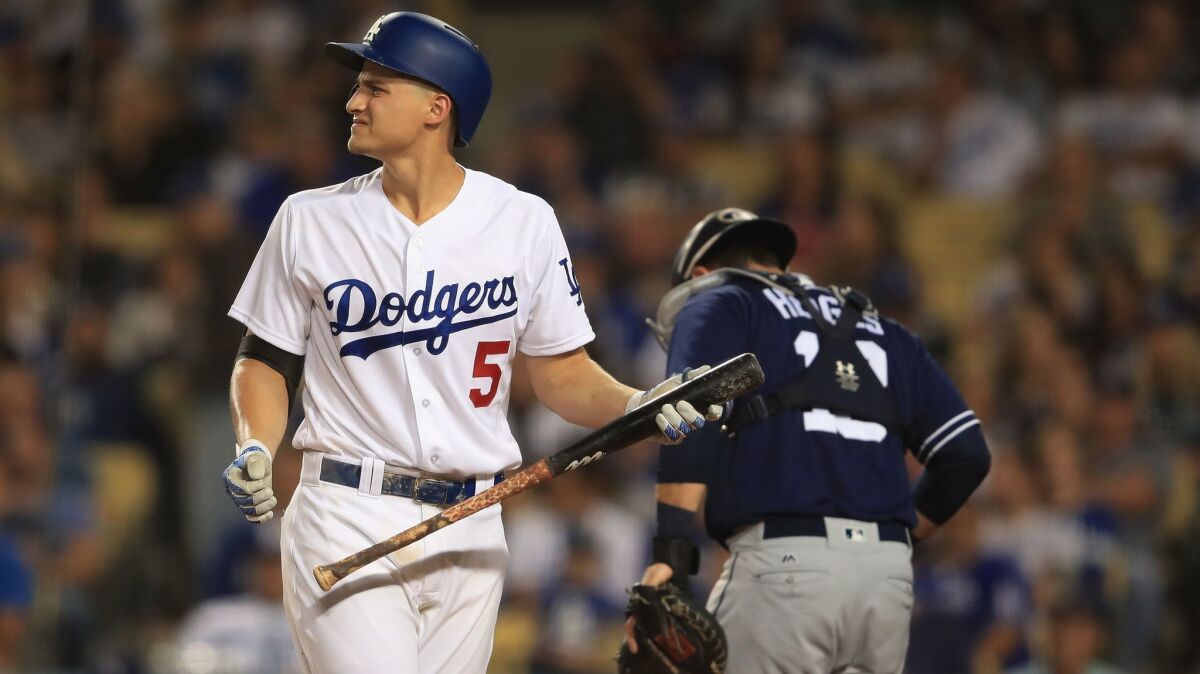 So Seager sat, stewing, asking Roberts each day whether he could play. The team buckled in Seager's absence. By the time he returned to the starting lineup, on Sept. 8, the division lead had shrunk to 10 games. He would not be the savior. He played in 16 games before recording a multiple-hit night.
"Taking that much time off hurt me," Seager said. "I don't even like a single day off. It messes with me. For a while there, I was panicking whether I was going to find it or not, whether it was going to come back."
The caution ensured Seager will play in October. But he does not resemble the hitter he was earlier in the summer. He spent an inordinate amount of time bashing fastballs into the grass. Seager hit .210 in his final 24 games with a .644 OPS.
Roberts said he would consider dropping Seager from the No. 2 spot in the lineup. He diagnosed improper pitch selection as the cause of Seager's slump. "When you're talking about the postseason, he's a guy who teams prepare to not let him beat them," Roberts said. "Until he shows the plate discipline, they're going to continue to go out of the strike zone."
Added one National League scout, "He's not pulling the trigger. He's not seeing it right, and he's not executing right."
In search of an answer, Seager studied film of his first month in the majors in 2015. He adjusted his feet to improve his balance. In the final week of the season, he homered on back-to-back days against San Diego before finishing on Sunday with his first three-hit game since Aug. 23. He felt closer to himself.
For weeks, Seager suggested, the Dodgers operated like a car stuck in neutral gear. The dawning of the playoffs ended that purgatory. In October, there is no need for restrictions.
And a frustrating season still could end in glory.
"It's the end of the year," Seager said. "What you've got, you've got to go out with."
Twitter: @McCulloughTimes
---
Get our Dodgers Dugout newsletter for insights, news and much more.
You may occasionally receive promotional content from the Los Angeles Times.