Dodgers putting their money — and maybe their season — on rookie Walker Buehler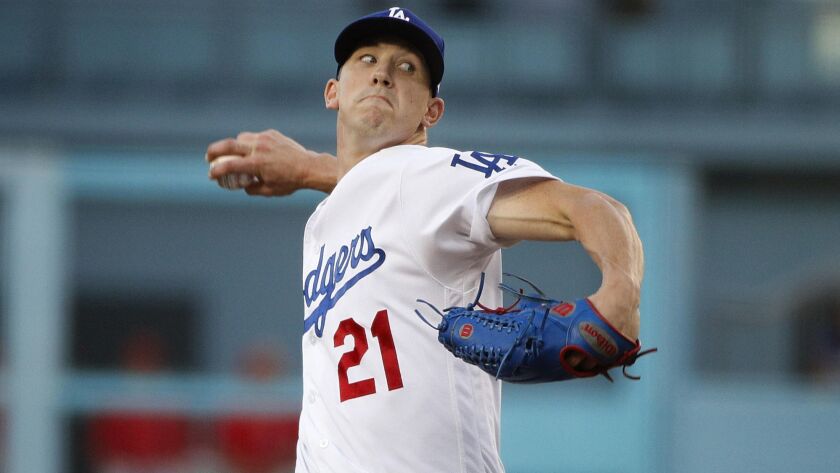 Reporting from San Francisco —
A few minutes before midnight Saturday, the Dodgers announced Rich Hill, not Walker Buehler, would start Sunday at San Francisco. After sorting through the variables and possible scenarios, the club decided saving Buehler for whatever awaited beyond was the right move.
The audible was a nod to Buehler's rise. They were treating Buehler like an ace because he's been one for more than two months, rookie status be damned. They were saving him for whatever was next.
And what lies ahead after the Dodgers and Colorado Rockies trounced inferior foes Sunday is Game 163, played between them Monday at Dodger Stadium for the National League West title. First pitch is at 1:09 p.m.
"Our goal is to win the division," manager Dave Roberts said in confirming Buehler will start after Sunday's 15-0 rout of the Giants at AT&T Park. "Walker [is] rested, having the extra day, and right now he's our best. So I think to win this game, to win this division, it's in our hands at home. To win the division, that's been our goal from the beginning."
Buehler compared the tiebreaker to an NCAA Regional game. It isn't a must-win situation since the loser will play in the wild card game, either in Milwaukee or Chicago, on Tuesday. But by winning a sixth straight division title, the Dodgers would avoid the dangerous one-game playoff on the road and instead host Game 1 of the National League Division Series against Atlanta on Thursday.
The reward is significant. They're putting their money on their young, assertive ace.
"It'd be huge. That's a goal," Buehler said of winning the West. "It's been a long time since we set that goal until now. It all culminates. But at the same time, it's still a regular-season game. It's 163, which is a lot. We don't go home if we lose, and we get a day off if we win. You know it's going to be tough, everything is going to be amplified, and the adrenaline is going to be going, but at the end of the day it's another baseball game."
The decision to holster Buehler demonstrates the Dodgers' confidence in him, a confidence built on his excellent second half. The 24-year-old right-hander has posted a 2.21 ERA in 12 starts since the All-Star break, demonstrating better command with his 98-mph fastball. He's allowed two earned runs over his last three starts.
The last time he pitched against the Rockies, on Sept. 19, he amassed 12 strikeouts and allowed two unearned runs in six innings. Roberts highlighted Buehler pitching into the eighth inning for the first time five days earlier against St. Louis and striking out Matt Carpenter with the tying runs on base as a significant step in his progression.
In the last two-plus months, Buehler has realized his tantalizing potential and he's exuded confidence at every turn.
"Walker's a confident guy so he won't be lacking that tomorrow," third baseman Justin Turner said. "We know that. We're more than happy to have him out there."
Is Turner as confident in Buehler as Buehler is in himself?
"I don't think anyone is," Turner said, "but we're very confident in him."
German Marquez, himself an ascending ace, will take the ball for the Rockies. The 23-year-old right-hander has pitched to a 2.16 ERA in his previous 12 starts. He's yielded six innings in 21 innings across three starts against the Dodgers this season. In his last outing against them, on June 30, he limited them to one run on two hits in eight innings at Dodger Stadium.
"He's pitched us tough," Roberts said. "So it's going to be a battle. We're going to grind and put together good at-bats and I'm sure they're going to do the same thing. But I like our guy."
Their guy never has pitched in a major-league game of Monday's magnitude, but that didn't stop the Dodgers. They're confident in him, so he'll toe the rubber at Dodger Stadium with the division crown on the line.
"It's another game," Buehler said. "I feel good about it."
Twitter: @jorgecastillo
---
Get our Dodgers Dugout newsletter for insights, news and much more.
You may occasionally receive promotional content from the Los Angeles Times.