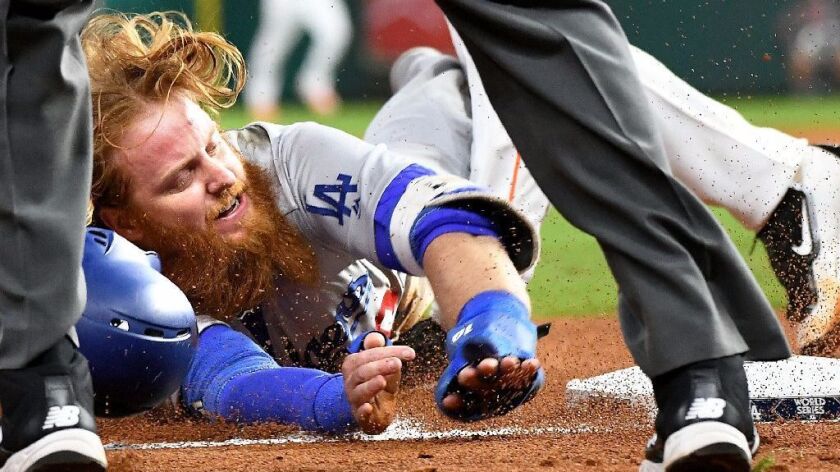 Weary, wounded and trailing in the World Series by a 3-2 margin, the Dodgers straggled onto a plane bound from Houston to Los Angeles in the early hours of Monday morning.
As he surveyed the group, manager Dave Roberts searched for signs of optimism after three harrowing games at Minute Maid Park, a mini-series that concluded with a marathon 13-12 defeat in Game 5 on Sunday.
"I think guys are looking forward to getting back home," he said later.
The prospect of a game at Dodger Stadium sounded welcome. Another night with the Astros offered less appeal. During the first five games, Houston's offense has punctured holes in Roberts' decision-making process, which he followed successfully throughout a record regular season but has led to gut-wrenching defeats in Game 2 and Game 5.
The Dodgers hope Game 6 will be different. While the offense attempts to conquer Astros ace Justin Verlander, Roberts must stitch together a bullpen behind his own starting pitcher, Rich Hill. Running a relief corps is one of Roberts' strengths as a manager, but his decisions during these World Series games have become lightning rods in the wake of late-game collapses.
The criticism of Roberts ignores the mistakes made by star pitchers in each defeat: closer Kenley Jansen blew a one-run lead in Game 2, top right-handed starter Yu Darvish collected five outs in Game 3, and ace Clayton Kershaw failed to protect seven runs of support in Game 5. Amid the tumult, Roberts has tried to stick with his process against a powerful Astros lineup capable of scrambling anyone's strategy.
As Roberts prepared for Tuesday, he indicated that every pitcher except Darvish and Kershaw would be available. Darvish is slated to start Game 7 Wednesday, if the Astros haven't clinched by then. Kershaw could relieve in that game. Even so, the Dodgers have not developed a trustworthy plan for defusing Houston's high-powered offense.
During the first two playoff rounds, across seven victories and one defeat against Arizona and Chicago, the Dodgers unveiled a strategy for deploying relievers based on a granular study of the opposing matchups, a keen understanding of the game's most important moments, and a trust of Roberts' instincts.
The approach was not foolproof, but Roberts is far from a fool. He won the National League Manager of the Year award in his inaugural season on the bench in 2016 and shepherded the Dodgers to 104 victories during the 2017 regular season — the most since the team moved to Los Angeles in 1958.
Roberts made his pitching decisions based on a few key principles. The organization trusted two of their starting pitchers, Kershaw and Darvish, to face opposing hitters for a third time through the batting order. They felt less confident in extending Hill and Alex Wood.
That translated to a sizable workload for the bullpen. In the moments of greatest importance, when the opposing team's best hitters came to bat after the fourth or fifth inning, they were usually assigned to either Jansen or Brandon Morrow.
Morrow has appeared in 12 of the team's 13 playoff games. Jansen has made four multi-inning appearances in a 23-day span.
Los Angeles Times sports writers Andy McCullough and Dylan Hernandez talk about Clayton Kershaw, the decision tree, and the Dodgers' chances in Game 6 of the World Series.
Against the Astros, the Dodgers discovered an opponent capable of solving their late-game system. The unraveling began in Game 2, when Roberts removed Hill after four innings and 60 pitches even though he had seven strikeouts and had given up one run. Roberts was following a script from earlier in October, and he knew that the Astros' lineup brutalized left-handed pitchers such as Hill.
Relievers Kenta Maeda and Tony Watson combined for six outs, but after Ross Stripling issued a four-pitch walk to the first batter he faced in the seventh inning, Roberts handed the ball to Morrow. The Dodgers led by two runs. If Morrow and Jansen could string together nine outs, the Dodgers could capture a 2-0 series lead.
It was not to be. Morrow gave up a run in the eighth. Jansen gave up a game-tying homer to outfielder Marwin Gonzalez in the ninth. When Jansen exited after two innings, Houston trampled Josh Fields and Brandon McCarthy in extra innings to even the series.
Two days later, Roberts faced another thorny situation. Darvish dumped the Dodgers in a four-run hole in the second inning. Roberts could not abide the thought of surrendering a World Series game, especially with the explosiveness of his offense. Maeda pitched 2 2/3 innings and Morrow collected two outs. However, the offense never came back.
The limitations of the Dodgers' roster became apparent in Game 4. Wood provided 5 2/3 innings before surrendering a solo home run to Astros outfielder George Springer, the only batter Wood faced for a third time that night.
When Wood departed, the ferocious top of the Astros order loomed. Maeda was unavailable. That meant Morrow, for the fourth time in five days. He got four outs. A Dodgers rally in the ninth evened the Series.
As Sunday dawned, Roberts insisted Morrow would not pitch in Game 5. So much went wrong that he had to change his mind. Kershaw blew a four-run lead. Kershaw and Maeda blew a three-run lead. Cody Bellinger swatted an improbable run-scoring triple to put the Dodgers ahead in the seventh. As Stripling warmed up to face the top of the Astros' lineup, Morrow convinced Roberts and bullpen coach Josh Bard that he could pitch.
Roberts believed his player. Pitching for the third day in a row for the first time in his career, Morrow served up two homers, a single and a double in the span of six pitches and turned a one-run lead into a three-run deficit. The Dodgers evened the score in the ninth before falling in the 10th, when Houston toppled Jansen for the second time in five games, with a run-scoring single.
"We played our tails off the entire game, and we got beat," Roberts said. "So I know we'll come with that same intensity tomorrow."
The Los Angeles Dodgers in the 2017 World Series
On Now
Video: Kenley Jansen, Cody Bellinger, Rich Hill talk about losing Game 7
1:59
On Now
Video: Analysis: Dodgers lose Game 7 and the World Series
11:43
On Now
Video: Yu Darvish talks about using his slider for Game 7
1:34
On Now
Video: Kenley Jansen and others talk about winning Game 6
1:58
On Now
Video: Analyzing the Dodgers Game 6 win
7:26
On Now
Video: Clayton Kershaw on starting Game 5 of the World Series
1:57
On Now
Video: Dave Roberts Talks Rich Hill and Kenley Jansen pitching in Game 6
1:57
On Now
Video: Dave Roberts talks preparing for Game 7
1:26
On Now
Video: Here it is, Game 7, and Bill Plaschke knows who wins
2:22
On Now
Video: Rich Hill talks about Game 6 of the World Series
1:48
Twitter: @McCulloughTimes
---