Clayton Kershaw adds first MVP to three Cy Youngs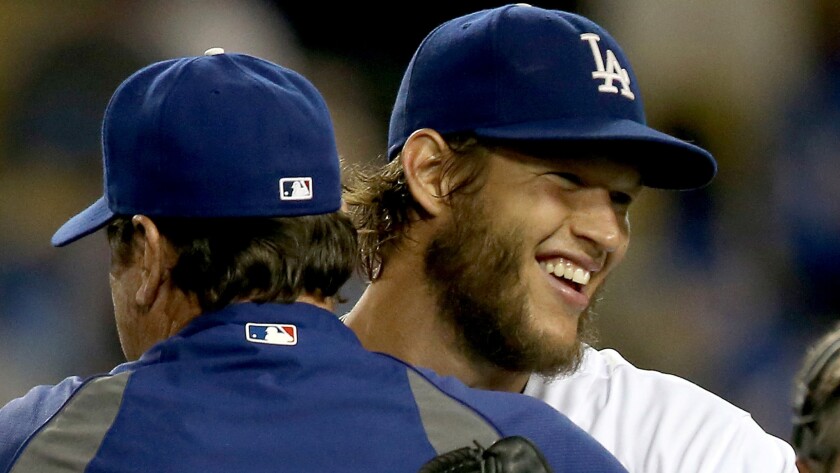 Clayton Kershaw didn't win a World Series ring this year, but landed the ultimate consolation prize Thursday.
Kershaw was named the most valuable player of the National League, becoming the first pitcher to win the award since Bob Gibson in 1968.
Kershaw became only the fourth NL pitcher to win both the MVP and Cy Young Award in the same season. The two other than Kershaw and Gibson to do it were both Dodgers: Sandy Koufax (1963) and Don Newcombe (1956).
The last pitcher in either league to claim the two prizes was Justin Verlander of the Detroit Tigers in 2011.
"You never in a million years think you're going to win MVP, let alone a Cy Young Award, let alone be in the big leagues," Kershaw said. "It's an amazing night for me."
Kershaw received 18 of 30 possible first-place votes from members of the Baseball Writers Assn. of America. He collected a total of 355 points in the balloting to finish ahead of outfielders Giancarlo Stanton of the Miami Marlins (298 points) and Andrew McCutchen of the Pittsburgh Pirates (271).
"A little bit of shock, honestly," Kershaw said. "You know you're a finalist, but I guess I never anticipated to win that. I don't know if I can ever get used to that."
Dodgers first baseman Adrian Gonzalez was seventh in the voting, with Yasiel Puig tying for 19th and Dee Gordon tying for 25th.
The Dodgers' last MVP was Kirk Gibson, who won the award in 1988.
Koufax congratulated Kershaw in a statement issued by the Dodgers. "It's a special honor to special pitcher and a special person," Koufax said.
Kershaw won his third Cy Young Award the previous day to equal Koufax's total.
Kershaw's historic season started with an injury. He pitched in the Dodgers' season-opening victory over the Arizona Diamondbacks in Australia, then was diagnosed with a strained back muscle and missed the entire month of April.
Kershaw returned to finish with a league-best record of 21-3. He led the major leagues in earned-run average for the fourth consecutive season at 1.77 and his six shutouts were the most in baseball. He had a 41-inning scoreless streak that included a no-hitter against the Colorado Rockies on June 18.
By the late stages of the season, Gonzalez said he was certain Kershaw deserved the MVP award.
"If someone even tries to mention someone else, they're an idiot," Gonzalez said.
The Dodgers were 23-4 in games pitched by Kershaw and 71-64 in their other games. They won each of his 13 starts from June 2 to Aug. 10.
They were 18-15 and in third place before Kershaw returned from the disabled list. They were 76-53 after he came back and won the NL West by a six-game margin over the eventual World Series champion San Francisco Giants.
Kershaw's dominance was such that Dodgers Manager Don Mattingly changed his mind about whether pitchers should receive MVP consideration. Mattingly previously said they should not.
Mattingly said that when Roger Clemens edged him for the 1986 American League MVP award, he had trouble understanding what the voters were thinking.
"That was then," Mattingly said. "As a manager, you see how valuable a guy like Clayton is — or Clemens, or whoever that dominant guy is."
Kershaw's candidacy benefited from the absence of a dominant position player. McCutchen and Stanton were injured during critical portions of the season. McCutchen was sidelined for more than two weeks in August with a fractured rib after he was struck by a pitch. Stanton, who led the NL with 37 home runs, was hit in the face with a fastball and missed the last three weeks of the season.
"Especially when you're associated with guys like Andrew and Giancarlo, it's pretty incredible to say you're the MVP," Kershaw said.
Kershaw was also complimentary of Mike Trout of the Angels, who won the AL MVP to complete a Southland sweep of the award.
"Seems like a great guy," Kershaw said. "Seems like a guy you really want to build a franchise around. The Angels were a great team, just like we were a great team. I know both of our seasons ended sooner than we would have expected, but I think in the future, we're both going to be contending for that World Series year in, year out."
The Dodgers and Angels were eliminated in the first round of the playoffs.
Kershaw lost two games to the St. Louis Cardinals in their National League division series, but he said he wouldn't let the unpleasant memory affect his appreciation for his latest trophy.
"It doesn't take the sting away from what happened in the playoffs," he said, "but you can't ever lose an opportunity to celebrate because this very well may never happen again."
Twitter: @dylanohernandez
---
Get our high school sports newsletter
Prep Rally is devoted to the SoCal high school sports experience, bringing you scores, stories and a behind-the-scenes look at what makes prep sports so popular.
You may occasionally receive promotional content from the Los Angeles Times.