Dodgers closer Jansen tries to stay positive after an uncharacteristically bad stretch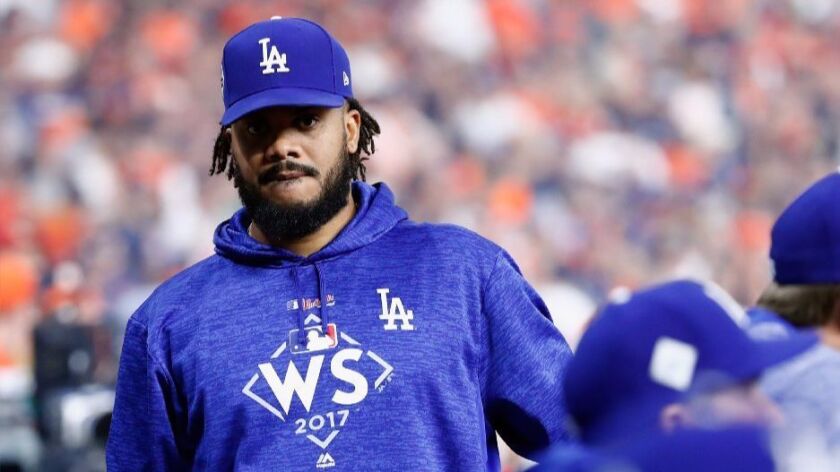 Dodgers closer Kenley Jansen has made four appearances in the World Series and given up runs in the last three, marking the first time in his big-league career he has allowed runs in three consecutive appearances.
Jansen gave up runs in only seven of 65 regular-season appearances, going 5-0 with 41 saves in 42 chances. In 11 postseason games, he has given up runs four times, going 1-1 with four saves in five chances. He has given up six hits and two home runs in 5 2/3 innings during the World Series. In the Houston Astros' 13-12 win Sunday, he took the loss when, with two outs, he hit a batter, walked another and gave up a walk-off, run-scoring single to Alex Bregman.
Jansen and other top-flight Dodgers relievers looked tired during Game 5, which was lasted 5 hours 17 minutes, but not too long afterward Jansen was already looking forward to another chance Tuesday.
"You've got to stay positive," he said. "We can't just let a bad day affect us."
Sunday night's marathon matchup was watched by 19.6 million viewers across Fox's media platforms — the Fox broadcast network, Spanish-language Fox Deportes and Fox Sports Go online.
Viewership peaked from 8:45 to 9 p.m. Pacific time with 20.76 million viewers, according to Nielsen ratings released Monday by Fox. The Game 5 ratings are expected to surpass those of NBC's "Sunday Night Football," a Pittsburgh Steelers victory over the Detroit Lions, when the final numbers are released Tuesday.
In the Los Angeles market, the game scored a 32.8 household rating and a 52 share, the largest television audience since Game 7 of the 2002 World Series, when the Angels defeated the San Francisco Giants.
The Dodgers and Astros combined for 11 home runs in the first two games at Dodger Stadium, a feat that probably was aided by unseasonably high temperatures. The warm, dry air helped the ball travel farther off the bat, turning the pitchers' park into a launching pad.
The advantage is expected to swing back to the pitchers this week, with temperatures in the high 60s. "That's below normal for late October," said Bill Patzert, a NASA climatologist at the Jet Propulsion Laboratory in Pasadena. "So Dodger Stadium goes from tank-top weather to hoodie time in one week. The ball will not carry as far."
Patzert, a lifelong Dodgers fan, noted that the weather affects more than the ball. Justin Verlander, the Astros' scheduled Game 6 starter, had to come out early from his Game 2 start in Los Angeles after tiring.
"Something to think about is the impact of weather — hot or cool, dry or damp — on various players," he said. "Who's hot when it's cool and who slumps when it sizzles?"
The Los Angeles Dodgers in the 2017 World Series
On Now
Video: Kenley Jansen, Cody Bellinger, Rich Hill talk about losing Game 7
1:59
On Now
Video: Analysis: Dodgers lose Game 7 and the World Series
11:43
On Now
Video: Yu Darvish talks about using his slider for Game 7
1:34
On Now
Video: Kenley Jansen and others talk about winning Game 6
1:58
On Now
Video: Analyzing the Dodgers Game 6 win
7:26
On Now
Video: Clayton Kershaw on starting Game 5 of the World Series
1:57
On Now
Video: Dave Roberts Talks Rich Hill and Kenley Jansen pitching in Game 6
1:57
On Now
Video: Dave Roberts talks preparing for Game 7
1:26
On Now
Video: Here it is, Game 7, and Bill Plaschke knows who wins
2:22
On Now
Video: Rich Hill talks about Game 6 of the World Series
1:48
kevin.baxter@latimes.com; Twitter: @kbaxter11
meg.james@latimes.com; Twitter: @MegJamesLAT
---