Final: Dodgers pull away from Reds in 8-4 win
Like on Tuesday night, the Dodgers used a late surge from their offense and a clean performance from their bullpen to pull away from the Cincinnati Reds in a 8-4 win on Wednesday night.
Freddie Freeman led the way at the plate, going two for four with a go-ahead home run in the seventh inning. Will Smith also had three hits and an RBI, as the Dodgers scored at least eight runs in back to back games for the second time this year.
After Tyler Anderson's five-inning, four-run (three earned) start, the bullpen got scoreless innings from Alex Vesia in the sixth, Yency Almonte in the seventh, Daniel Hudson in the eighth and Craig Kimbrel in the ninth.
The Dodgers are now 42-25 and can go for a series sweep tomorrow.
Final: Dodgers 8, Reds 4
Trayce Thompson extends Dodgers lead with first hit since rejoining the team
Trayce Thompson's first hit back with the Dodgers was a big one, the outfielder lining a two-run double to right-center field that extended their lead in the eighth.
In his first two at-bats since being reacquired by the team in a Monday trade, Thompson struck out.
However, after Justin Turner and Cody Bellinger drew walks in front of him, Thompson hit one deep enough into the gap to score both.
Thompson then came around to score himself, driven in by Trea Turner's sacrifice fly.
Top 8th: Dodgers lead 8-4
Freddie Freeman puts the Dodgers in front with solo home run
In his first 58 games as a Dodger, Freddie Freeman hit only four home runs.
In his past nine, however, the first baseman now has three, including two in his past three games after going deep in the seventh inning tonight.
The blast, a stinging line drive that landed several rows deep in right, put the Dodgers back in front.
End 7th: Dodgers lead 5-4
Dodgers take the lead, but then Reds tie it up again in the fifth
The Dodgers offense finally put a crooked number on the scoreboard in the top of the fifth, scoring three times to take their first lead of the day.
After a Gavin Lux leadoff double, Freddie Freeman and Will Smith hit back to back singles — the first plating a run — before Max Muncy walked to load the bases. Reds starter Luis Castillo then plunked Chris Taylor with an errant throw to force home another run. Justin Turner followed with a sacrifice fly that made it 4-3 Dodgers.
The lead, however, wouldn't last.
In the next half-inning, Albert Almora Jr. hit his second home run of the series to tie it up again.
The Reds almost retook the lead, too, but Chris Taylor threw out Jonathan India at home on a potential sacrifice fly to end the inning.
End 5th: Tied 4-4
Dodgers get one run back, but squander a couple chances for more
Will Smith delivered some much-needed situational hitting in the third inning, lining an RBI single to left that allowed Trea Turner to race home from second and evade a tag with one of his trademark slides.
However, the rest of the Dodgers lineup has squandered some early opportunities for more.
An inning prior, the team got two men aboard with one out before Cody Bellinger flied out and Eddy Alvarez went down swinging.
Then, after Smith's base hit in the third, Max Muncy struck out and Chris Taylor grounded out to end the inning.
End 3rd: Reds win 3-1
Reds score three early runs against Tyler Anderson
Last week, Tyler Anderson carried a no-hitter into the ninth inning.
Today, he was got knocked in the second.
The Reds jumped out to an early lead by plating three runs in the inning. First, Kyle Farmer and Donovan Solano hit back-to-back doubles.
Then, with runners on the corners, Aramis Garcia hit a grounder to the left side that went for an infield single after shortstop Trea Turner knocked it down with an impressive dive, but a spiked a throw to first that got past Freddie Freeman and went out of play.
That set up the Reds' third run, which came courtesy of a wild pitch from Anderson that snuck between catcher Will Smith's legs.
End 2nd: Reds lead 3-0
Dodgers place Hanser Alberto on paternity leave, call up Stefen Romero
CINCINNATI — The Dodgers shuffled up their roster on Wednesday, after infielder Hanser Alberto was placed on paternity leave.
To replace Alberto, Stefen Romero was called up from triple A, where he has been batting .270 this year with a .797 OPS and three home runs.
The 33-year-old utility man hasn't played an MLB game since 2016, spending the past five seasons playing in Japan before joining the Dodgers on a minor-league contract in February.
To make room for Romero on the 40-man roster, the Dodgers transferred injured infielder Edwin Ríos to the 60-day IL — meaning he won't return until at least early August.
In Wednesday's game — which will start on time despite some heavy pregame rain fall — the Dodgers will send left-hander Tyler Anderson to the mound for the first time since he carried a no-hit bid into the ninth inning last week.
On Wednesday afternoon, it was announced that MLB had made a scoring change in Anderson's previous outing, changing what had initially been ruled an error in the seventh inning a base hit — meaning his no-hit bid had actually been lost a couple innings earlier.
"I wish I would have known that then!" manager Dave Roberts joked pregame, after he let Anderson throw a career-high 123 pitches in pursuit of the no-hitter that night.
Despite the heavy workload, however, Roberts said he didn't plan to keep Anderson on a restricted pitch count on Wednesday after he'd had a couple extra off days between starts.
Here's the Dodgers lineup, as they face Reds right-hander Luis Castillo:
Freddie Freeman drives in five, Tony Gonsolin improves to 9-0 as Dodgers beat Reds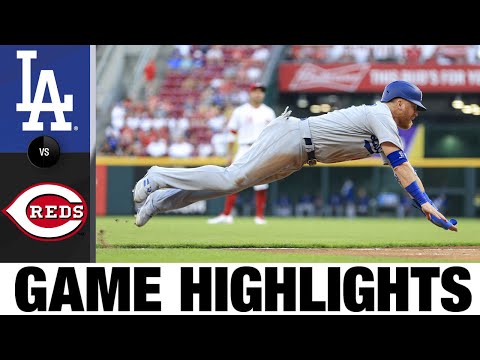 CINCINNATI — After riding a wave over the first two months of the season, the Dodgers embarked on a nine-game road trip this week stuck in a backward current, seemingly paddling upstream amid a three-week slump.
They were floundering beneath a rash of injuries to their lineup and pitching staff.
They were being weighed down by untimely hitting and inconsistent pitching, especially from the bullpen.
They had seen their early cushion in the National League West washed away, after the San Diego Padres pulled into a virtual tie for the division lead Monday.
And while they remained safely in the playoff picture, their recent 7-11 skid was starting to feel like more than a blip.