15 Images
Field of dreams
Barrow's ProGrass field is next to the Arctic Ocean. One of the reasons the field is blue is because that color tends to hold heat better than the traditional green. Temperatures in Barrow reach higher than 32 degrees an average of only 109 days a year.
(Terry Brown)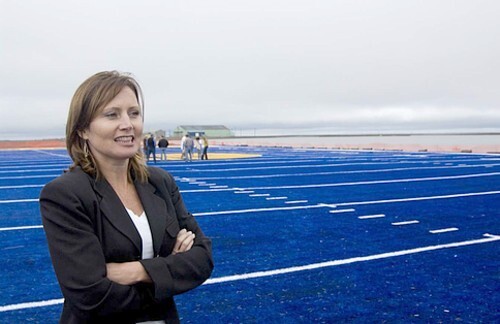 Cathy Parker takes her first tour of the ProGrass field. "It is a great feeling. I'm loving this seeing all the families and kids out enjoying today. It's awesome." She continues to raise funds for the project in hopes of getting other facility upgrades, including a scoreboard.
(Terry Brown)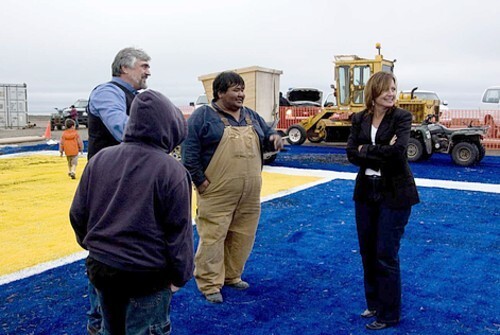 North Slope Borough School Superintendent Trent Blankenship, left, and Barrow handyman "Moosie" Igtanloc talk with Cathy Parker. It was Blankenship who spearheaded the move last year to start a football program at Barrow and the Whalers joined the seven-team Greatland Conference for 2007.
(Terry Brown)
Barrow Whalers receiver Ganinna Pili expressed her excitement over the field which has become the focal point of the small community on the edge of the Arctic Ocean. Pili is the only female on the team.
(Terry Brown)
Cathy Parker, left, and her daughter Cara, of Jacksonville, Fla., celebrate after seeing the newly-installed artificial turf football field.
(Terry Brown)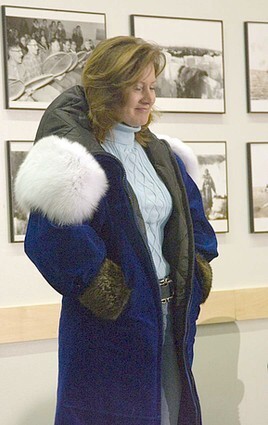 A 42-year-old bank account from Jacksonville, Florida, Cathy Parker reacts to receiving an Inupiat parka, a gift from the town of Barrow, Alaska for Parker's vision in helping bring a football field to the area.
(Terry Brown)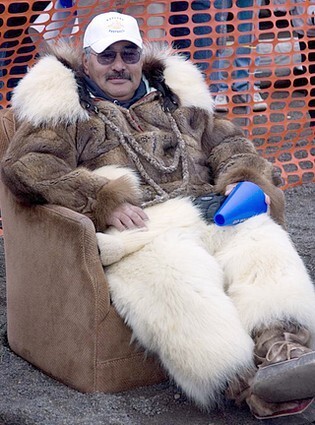 Dressed in his polar bear pants and parka, Inupiat whaler Price Brower kicks back in his lounge chair to cheer on the Barrow Whalers.
(Terry Brown)
Daniel Thomas, center, and the rest of the Barrow football team celebrate the first touchdown of Friday evening's game.
(John Wagner / AP)
Seward High School Seahawks football player Justin Coon dives for the ball against Barrow High School Whalers Justin Sanders as the teams compete.
(John Wagner / AP)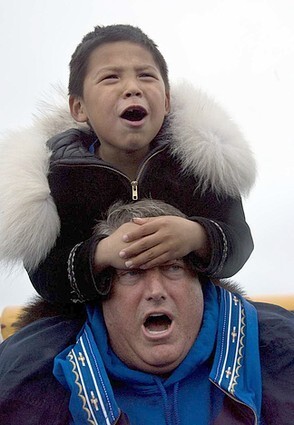 Barrow Inupiat native Joseph Aveoganna, 6, cheers on the Whalers from the shoulders of Tom Gloe of Jacksonville, Florida. Gloe was in Barrow as part of the entourage responsible for the new blue and gold artificial turf field.
(Terry Brown)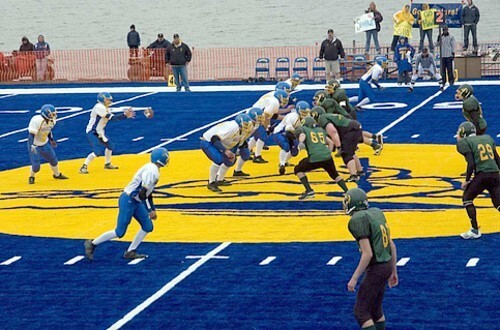 The Barrow Whalers execute their spread offense against the Seward Seahawks. In storybook fashion, the Whalers won the game 18-16, after the team scored with 31 seconds left in the game.
(Terry Brown)
Floridians Cathy Parker (from left), Ike Sherlock, Cathy Cope, Judy Adams and Jennifer Sherlock react to the Barrow Whalers game winning touchdown.
(Terry Brown)
Evan Hall, a football player from Bartram Trail High School in Jacksonville, Fla., dove into the frigid waters of the Arctic Ocean.
(Terry Brown)
Barrow High School Whalers football team members take a victorious dip into the Arctic Ocean after beating the Seward High School Seahawks 18-16.
(John Wagner / AP)
Members of the Barrow Whalers jump into the frigid Arctic Ocean.
(Terry Brown)