15 Images
The high-rent seats at Lakers games
Laker Girls present Jack Nicholson with a birthday cake during a playoff game.
(Andrew Gombert / EPA)
Director Penny Marshall sizes up the Lakers before a 2007 playoff game.
(Vince Bucci / Getty Images)
Dyan Cannon does her customary rooting.
(Vince Bucci / Getty Images)
Jack Black, left, and Kyle Gass get into the action.
(Mark J. Terrill / AP)
New York Knicks fan and filmmaker Spike Lee celebrates after the Knicks beat the Lakers during the 2006-2007 season.
(Jeff Lewis / AP)
Spike Lee, wearing a Knicks jersey, taunts Laker fans, including Denzel Washington, who gestures how he feels about the Knicks. New York's Eddie Curry had just made the go-ahead basket with less than 10 seconds remaining in the game.
(Gina Ferazzi / LAT)
Jack in black is a fixture at Lakers games in Staples Center.
(Kevork Djansezian / AP)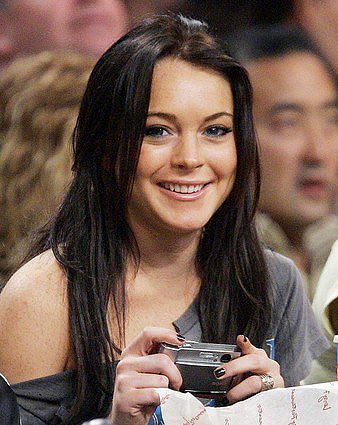 At Lakers games, even the frequently photographed -- such as Lindsay Lohan -- turn into photographers.
(Mark J. Terrill / AP)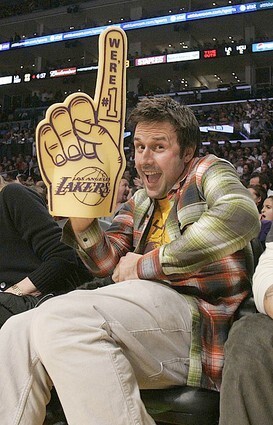 David Arquette shows his colors.
(Lori Shepler / LAT)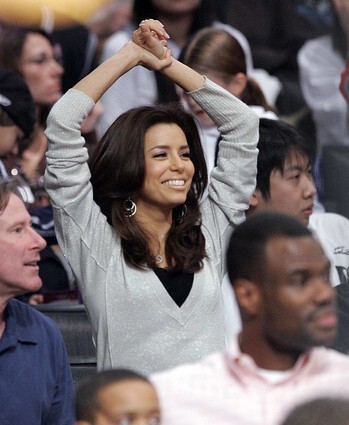 Eva Longoria-Parker, who is married to San Antonio's Tony Parker, cheers on her husband's team. At lower right is former Spurs player David Robinson.
(AP Photo / Mark J. Terrill)
If you're Jack Nicholson or Morgan Freeman, you don't have to shave to get courtside seats at a Lakers game.
(Kevork Djansezian / AP)
David Arquette holds up a sign with a catchphrase made famous by broadcaster Chick Hearn, meaning the game is over.
(MATT SAYLES / AP)
Luke Walton and actor Jeremy Piven of HBO's "Entourage" touch fists before a game.
(Richard Hartog / LAT)
Nicholson gets into the game with actor and director Sean Penn.
(Christine Cotter / LAT)