Rams can't keep up with Saints, fall in New Orleans, 49-21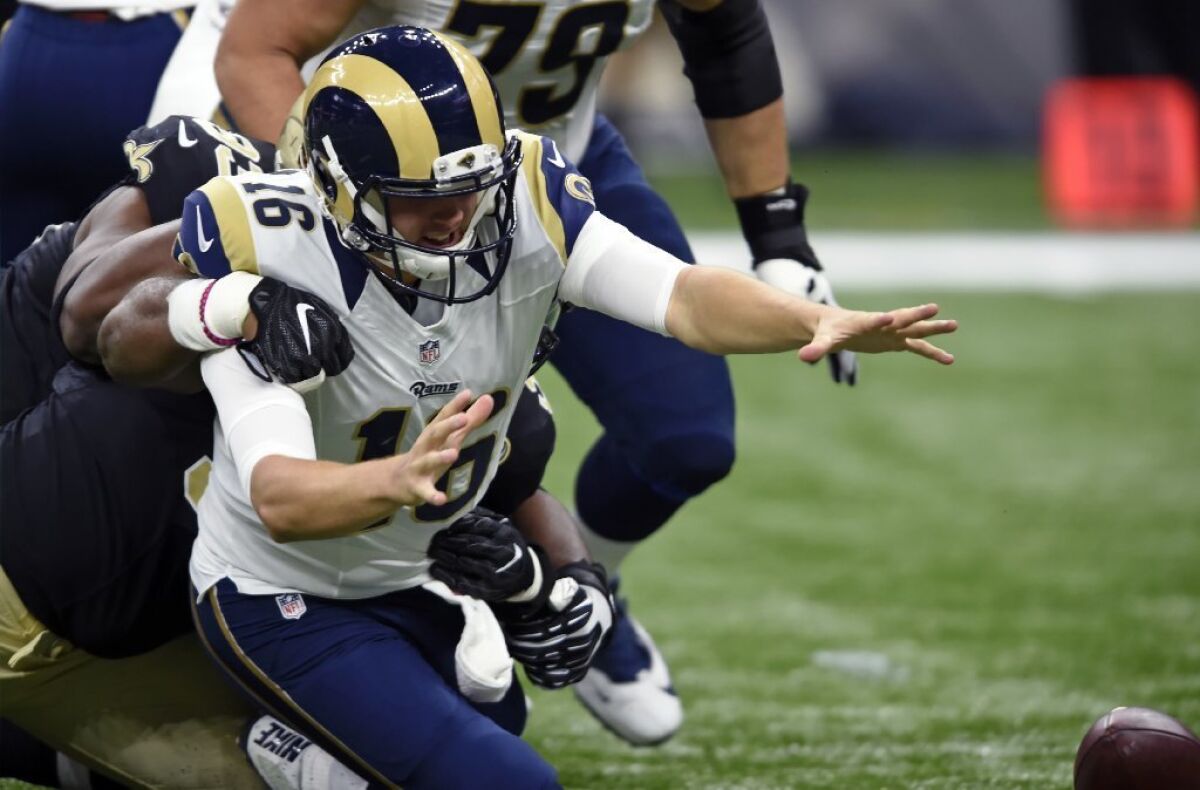 Defense has carried the Rams most of the season.
A late breakdown last week against Miami was considered a blip. The unit was ranked sixth in the NFL going into Sunday's game against the New Orleans Saints at the Mercedes-Benz Superdome.
Saints quarterback Drew Brees and running back Mark Ingram changed that.
Brees passed for four touchdowns as the Saints rolled up 555 yards in a 49-21 rout of the Rams.
The Rams fell to 4-7 going into next week's game at New England.
Rams quarterback Jared Goff, making his second start, passed for three touchdowns, but he also had a pass intercepted and lost a fumble.
The Saints led, 28-21, at halftime and then quickly put the game out of reach in the third quarter.
Ingram broke free for a 61-yard run in the first play of the second half and turned a screen pass into a 22-yard touchdown for 35-21 lead. Brees' touchdown pass to Michael Thomas increased the margin to 21 points. Receiver Willie Snead's 50-yard touchdown pass to running back Tim Hightower added insult to the defeat.
Brees completed 28 of 36 passes for 310 yards.
Ingram rushed for 146 yards and a touchdowns in 14 carries. He also scored on a touchdown pass play.
Thomas, who played at Woodland Hills Taft High, had nine catches for 108 yards and two touchdowns.
Goff completed 20 of 32 passes for 214 yards.
Rams running back Todd Gurley rushed for 50 yards in 13 carries behind a reconfigured offensive line. Greg Robinson was healthy but designated as inactive for the game. Rodger Saffold started at left tackle but suffered a hand injury, leaving Andrew Donnal to protect Goff's blind side.
Goff completed 12 of 20 passes for 167 yards and three touchdowns in the first half.
Goff looked completely comfortable on the first possession of the game when he drove the Rams 75 yards in six plays and passed for his first touchdown, a 24-yard strike to receiver Tavon Austin.
Brees evened the score with a touchdown pass to Brandon Coleman late in the first quarter.
The Rams defense stepped up early in the second quarter when tackle Aaron Donald sacked Brees and forced a fumble that was recovered by linebacker Mark Barron at the Saints' six-yard line.
On the Rams' first play, Goff connected with receiver Kenny Britt for a 14-7 lead.
Brees brought the Saints right back, and Ingram tied the score by turning a fourth-and-1 play at the 10 into a touchdown.
Saints defensive tackle Sheldon Rankins sacked Goff on the first play of the ensuing possession and forced him to fumble.
Four plays later, Brees leaped from the one and put the ball across the goal line for a touchdown and a 21-14 lead.
The Saints extended the lead on Brees' short touchdown pass to Thomas.
Goff kept the Rams within striking distance just before halftime by masterfully engineering a two-minute drive that ended with a touchdown pass to tight end Lance Kendricks.