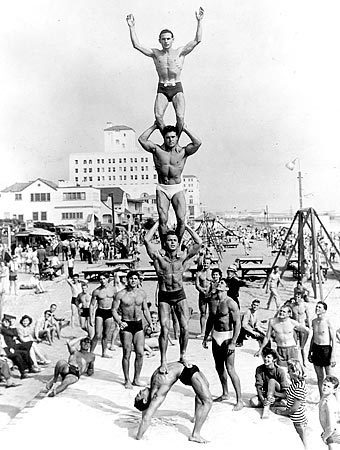 13 Images
Jack LaLanne | 1914-2011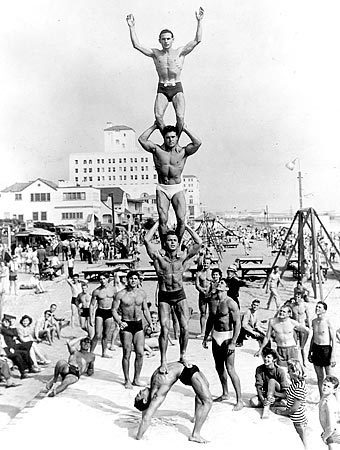 On the beach in Santa Monica, a young Jack LaLanne is third from the bottom. Harold Zinkin does a back bend, supporting Deforrest "Moe" Most, who supports LaLanne, with Gene Miller on top. LaLanne was the spiritual father of the health movement that blossomed into a national craze of weight rooms, exercise classes and fancy sports clubs.
(Harold Zinkin and Bonnie Hearn)
Known for his exuberance and good cheer, LaLanne saw himself as a combination cheerleader, rescuer and savior.
()
LaLanne, with his hand and foot chained, tows 76 youths in 13 boats for a mile across Long Beach Harbor in 1976. He opened what is commonly believed to be the nation's first health club, in Oakland, in 1936.
(Los Angeles Times)
The fitness expert, shown in 1980, was born Sept. 26, 1914, and grew up in Bakersfield, where his parents moved to become sheep farmers. The family later moved to Oakland. LaLanne's father died of a heart attack at age 50.
(Associated Press)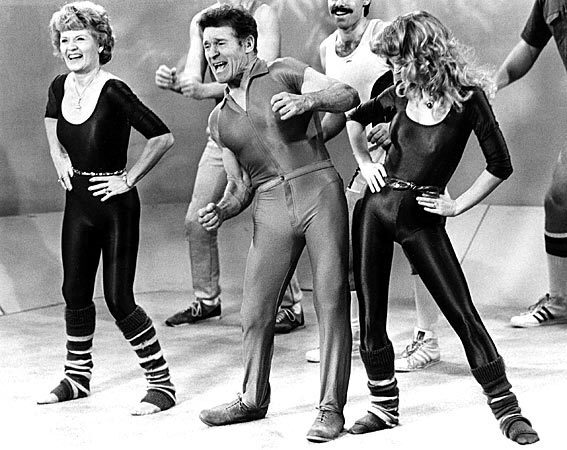 Elaine LaLanne, left, Jack and his TV co-host Lezlie Allyn lead guests and a TV audience through an exercise session in 1982. LaLanne began televised exercise programs in the 1950s.
(Los Angeles Times)
"If man makes it, don't eat it," LaLanne, with wife, Elaine, was famous for saying.
()
A couple of classics: Jack LaLanne flexes beside a car at the Petersen Automotive Museum in 2002.
(Los Angeles Times)
A memorial gathering in 2004 for Joe Gold, bodybuilder and gym owner, at the Del Rey Yacht Club in Marina del Rey brought LaLanne together with Arnold Schwarzenegger, background.
(Lawrence K. Ho / Los Angeles Times)
LaLanne, a strong proponent of drinking fresh juice, and Mike Levy in a juicer infomercial.
()
The fitness pioneer pursued his passion with an almost religious zeal. "It
is
a religion with me," he said in 1999.
(Maureen Donaldson / For The Times)
Gov. Arnold Schwarzenegger jokes with LaLanne after presenting him with a lifetime achievement award at the finals of the Arnold Classic bodybuilding contest in Columbus, Ohio.
(Jay LaPrete / Associated Press)
At Disney's California Adventure in Anaheim, the fitness expert is on hand in 2005 as Gov. Schwarzenegger launches the Governor's Council on Physical Fitness and Sports.
(Glenn Koenig / Los Angeles Times)
Micheal Clark, chief executive of the National Academy of Sports Medicine, presents LaLanne with honorary certification as a personal trainer in celebration of his 95th birthday.
(National Academy of Sports Medicine / PRNewsFoto)