3 Images
A new dress code
Jenny Balin of Long Beach says she appreciates the "more girlie, feminine fashion" now offered by the Dodgers after spending years in oversized jerseys and ill-fitting T-shirts.
(Lori Shepler / LAT)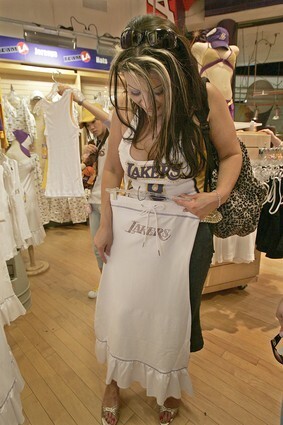 Patty Romo of Rialto checks out a dress at the Laker store at Staples Center. Items beyond the typical shirts and jerseys are available to women.
(Ricardo DeAratanha / LAT)
Laker fan Natasha Moore of Fresno shops for a cap to go with the rest of her ensemble at the store at Staples Center.
(Ricardo DeAratanha / LAT)