Ex-UFC star Brock Lesnar brightens WWE on his rare career path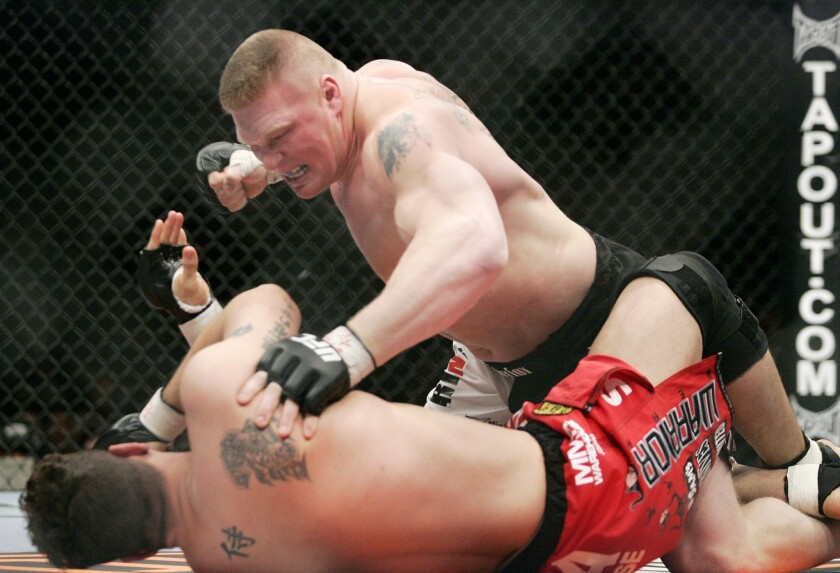 Brock Lesnar says he has "never been in the habit to look back."
So as he nears his return to a fighting stage Sunday at Staples Center, he's hyping fights differently from when he was the Ultimate Fighting Championship heavyweight champion.
"I'm excited to squash CM Punk like a little bug and move on to my next victim," Lesnar said, the bit prompting him to deliver a sinister chuckle. "Ha, ha, ha."
Yes, Lesnar, 36, is less than three years removed from wearing the UFC's heavyweight belt, but also it has been less than two years since he underwent surgery to remove nearly a foot of his colon because of the painful intestinal disease diverticulitis.
And when UFC title contender Alistair Overeem kicked Lesnar in the same liver area where doctors had cut earlier in the year, prompting a quick first-round knockout on Dec. 30, 2011, Lesnar announced that night he was done with the real fighting.
By April 2012, he reunited with his former boss, Vince McMahon of World Wrestling Entertainment (WWE), and has performed in a handful of scripted events, leading to his Sunday main-event fight against Punk in the pay-per-view "SummerSlam."
Lesnar has now stridden one of the more intriguing athletic career paths, from 2000 NCAA heavyweight wrestling champion to WWE stardom to an NFL training-camp experience to UFC championto a return to the WWE.
Since the time of Lesnar's retirement, Overeem has lost, and Lesnar said his own health has improved, which prompts the question: Did he leave the UFC prematurely?
"You've always got that part in your mind," Lesnar said. "I do miss it, but I've got to keep myself in check. What I went through the last few years was quite traumatic, not being able to fight like I wanted. I got back on the horse way too soon. Coulda, shoulda, woulda.
"That chapter in my life has come to closure, and I'm comfortable with it."
Earlier this year, Lesnar put more finality to it by signing a contract extension with WWE that will continue to limit his annual appearances while allowing his star power to attract "in at least a couple more Wrestlemanias," he said.
UFC President Dana White bathed in the riches of Lesnar-featured cards but lamented recently, "He is done with real fighting."
Lesnar said he's gone with no regrets. "I know I trained to the highest capability I could at the time," he said.
In the UFC, Lesnar took the heavyweight belt when he beat veteran Randy Couture. The title was a tribute to the natural talent and varied mixed martial arts skills that first persuaded White to sign Lesnar.
The intestinal condition prompted a layoff, but he returned to avenge a debut submission loss to Frank Mir by pummeling him before being knocked out by current UFC heavyweight champion Cain Velasquez.
Enduring the toll of the second round of the illness proved too much.
"Life for me has always been about timing, and it was bad timing for that disease to hit me," said Lesnar, who added that maybe it was a blessing in disguise, telling him "it was time to exit stage left."
"I've never really sat and pondered about what I could've done differently or how things could've been, but I wasn't the same guy. Now I feel great; there's days I think I can get back into the octagon and be the same human being I was before. But I'm on another chapter."
It's no secret that life on the road takes a toll, particularly for pro wrestlers. Lesnar has two children and wants to be with them rather than revert to his original frenetic schedule in the WWE.
He credits the UFC experience for allowing him to boost his own brand, giving him leverage in contract talks with McMahon to have plenty of time off between appearances, similar to former WWE champion and film star Dwayne "The Rock" Johnson.
"I'm at a different stage in my life where … I think I've earned all that," Lesnar said. "That was the only way I could make this happen. They [WWE] played ball and hopefully it's a win-win for both of us. I really do enjoy putting on a show.
"I left originally because I was a caged animal 300 days a year on the road and they knew that. That was the bottom line — I don't want to be that person."
Now, the WWE enjoys a proven pro wrestling star enhanced by the credibility of being a recent UFC champion.
And, no, Lesnar doesn't believe any other current WWE fighter could make a successful transition to UFC.
Does the real fighting ever enter the scripted action?
"Yeah," he said. "That's what you get when you step in the ring with me. I'm always taking it to the next level. I don't want to ever intentionally hurt someone, because it is pure entertainment.
"You want to portray things so they look real. We're selling tickets and things to people, we're selling entertainment. The guys that have got in the ring with me … they have to step up their game because of the intensity. I don't have a governor switch … it's wide open and you better hold on."
Transforming again to a wrestling bad guy is something that doesn't require Lesnar to dig too deep.
"Inside, some days I feel like that," he said. "I am a private guy, and at the end of the day I only really do care about my family. That's the most important thing: my way of life, my family. Whoever is in front of that is going to get hurt."
Twitter: @latimespugmire
---
Get our high school sports newsletter
Prep Rally is devoted to the SoCal high school sports experience, bringing you scores, stories and a behind-the-scenes look at what makes prep sports so popular.
You may occasionally receive promotional content from the Los Angeles Times.