LeBron James and the Lakers opened the season on Thursday night in Portland, where they lost to the Trail Blazers for the 16th consecutive game, 128-119 this time. Portland has now won 18 consecutive openers. James finished with 26 points, 12 rebounds and six assists as well as six turnovers. Damian Lillard led all scorers with 28 points for the Trail Blazers. Nik Stauskas fueled a couple of Portland rallies and finished with a career-high 24 points. Josh Hart scored 20 off the bench for the Lakers.
Rajon Rondo shows he has plenty of game left for the Lakers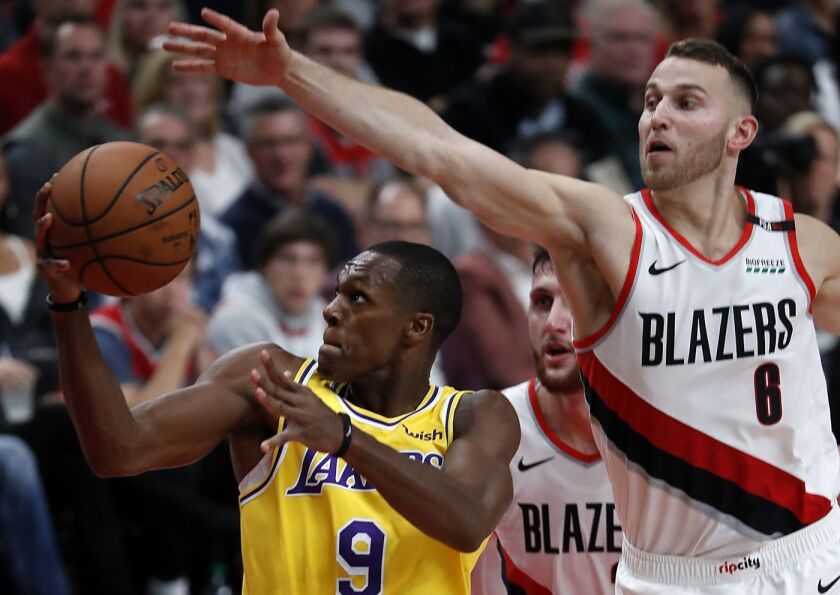 Rajon Rondo's night was done with 16.3 seconds left, the Lakers point guard getting his final foul when he tried to take a charge from Damian Lillard that led to two free throws for the Portland point guard.
Rondo untucked his jersey from his shorts and slowly walked to the Lakers bench after a solid performance Thursday night during a 128-119 loss to the Trail Blazers in both teams' season openers at the Moda Center.
He recorded a double-double with 13 points and 11 assists. He was six for 13 from the field, one for two from three-point range, and was a plus-seven in the plus-minus category.
"Once I watch the film, I'll be able to look back and figure what we can do to get better," Rondo said.
"For me, never too high, never too low," Rondo said. "Keep our guys poised. It's a game of runs. That's how we approach it whether LeBron is on the court or not."