Judging controversy unfolds in Golovkin-Alvarez draw with one lopsided score for Canelo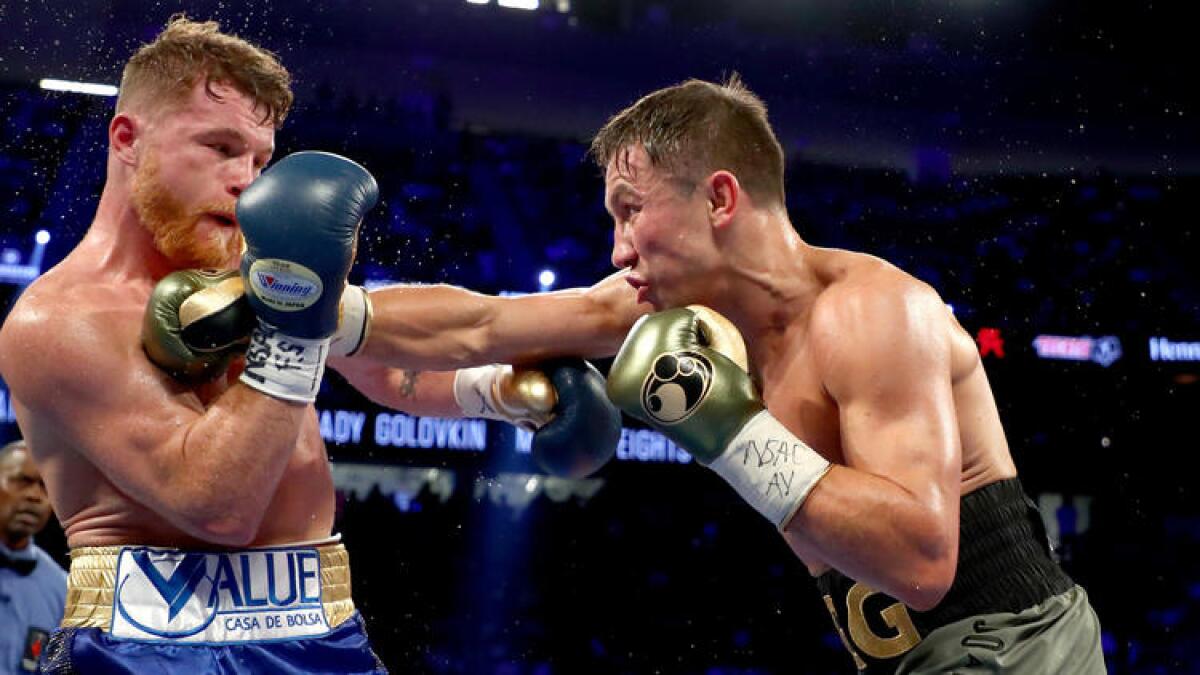 Bob Bennett, the executive director of the Nevada Athletic Commission, said late Saturday night that judge Adalaide Byrd needs "a small break" from big fights after turning in a scorecard in the draw between unbeaten middleweight champion Gennady Golovkin and Canelo Alvarez that had the Mexican challenger winning 118-110.
"I'm not going to put her right back in," Bennett said. "She'll still be in the business … but she needs to catch her breath."
Golovkin, holder of three middleweight belts, said he felt "terrible" after Byrd's lopsided scorecard in favor of Alvarez helped lead to a draw in the title fight at T-Mobile Arena.
"I think she turned in her scorecard before the fight started," Golovkin trainer Abel Sanchez said.
Judge Dave Moretti scored the bout 115-113 in favor of Golovkin (37-0-1), and judge Don Trella scored it 114-114 to create the draw.
In five rounds that Moretti and Trella scored for Golovkin, Byrd awarded each round to Alvarez (49-1-2). Also, Trella strangely gave what seemed to be Golovkin's decisive seventh round to Alvarez, also helping to create the draw.
"I had suspicions when they gave us the list of judges," Sanchez said. "I think she needs to go back to school and learn how to judge a fight."
The last time a Nevada boxing judge returned to a major fight after producing a universally panned scorecard, it was awful again, so don't expect Byrd to be back anytime soon.
In 2013, judge C.J. Ross turned in a highly disputed card that allowed Timothy Bradley to upset Manny Pacquiao. Commission head Keith Kizer returned her to judge the 2013 Alvarez-Floyd Mayweather Jr. fight.
Mayweather cruised to victory on the other cards, but Ross scored the bout a draw. Shortly after that, Kizer and Ross were out of the business.
Bennett said Byrd was "wide" on her scoring, and even Alvarez promoter Oscar De La Hoya said, "What was that? People are scratching their heads. They're confused."
"Like in any profession, you have a bad night," Bennett said. "Unfortunately, she didn't do well. I can tell you she conducts training for us, takes judges under her wing … but her score was too wide."
Bennett said a bad score "tears apart" a judge. He said he'll order a meeting to discuss the card with Byrd, who has scored more than 100 title fights, according to Bennett.
Golovkin promoter Tom Loeffler admitted the controversy took some of the shine off an important night for the sport.
"Scoring it that way for Canelo takes away from the greatness of the performance in the ring," Loeffler said. "Frankly, it is not good for the sport of boxing."