U.S. holds on and earns a tie in Mexico City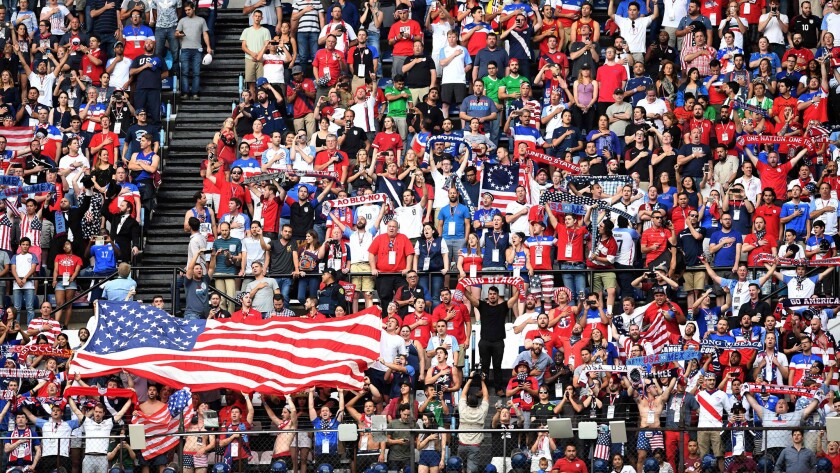 It was hardly a game befitting a tense and historic rivalry.
For long stretches the U.S. didn't try to score. And for even longer ones, Mexico was unable to. So, fittingly, Sunday's World Cup qualifier at Estadio Azteca ended in a cloudburst with the score tied 1-1.
And while that was a result that satisfied neither side, it was also one that didn't disappoint either team.
"We'll take our point. Points are hard to come by here," said U.S. captain Michael Bradley, who scored the only American goal in the sixth minute.
"They had one or two chances. We had one or two chances," said U.S. goalkeeper Brad Guzan, who is unbeaten in two starts at Azteca. "For us to come down here and take a point, it's not the worst result in the world."
The point, in fact, is the eighth for the U.S. in its last four World Cup qualifiers, equaling Costa Rica for second-best, behind Mexico, with four games remaining in the CONCACAF tournament.
Entering March, the U.S. was winless, pointless and in last place.
"I feel very good with where we are," U.S. coach Bruce Arena said. "We made up some ground,"
The tie also leaves the U.S. unbeaten in seven games under Arena and unbeaten in Mexico City since 2009.
Mexico, meanwhile, remained unbeaten through six qualifiers and extended its lead to six points over the U.S. and Costa Rica, virtually guaranteeing it will earn one of CONCACAF's three automatic berths in next summer's World Cup.
But to earn the tie Mexico had to overcome a surprise start that saw Bradley take advantage of some video research and two Mexican mistakes to give the U.S. a 1-0 lead before many of the more than 81,000 spectators had found their seats.
When Mexico tried to play the ball out of its own end, Bradley anticipated the pass would come to Javier Hernandez, so he closed on the Mexican striker at the midfield stripe and took the ball off his foot after a sloppy first touch. Bradley then raced between two defenders and, looking up, noticed keeper Guillermo Ochoa was way off his line.
That was Mexico's second mistake. And Bradley took advantage of that one, too, sending a right-footed shot from about 40 yards over the outstretched hand of the backpedaling keeper.
"We've played against him a number of times," Bradley said of Ochoa, who often strays from his net. "I took the first touch and saw that he was a good ways out. And here you know if you catch a ball right, with this air the ball is going to fly.
"I just wanted to make sure I caught it right. And I did."
The goal was just the fourth by an American in an Azteca qualifier since 1980. It was also just the second Mexico has allowed in six qualifiers in this cycle — both against the U.S.
But the lead didn't last long, with Carlos Vela equalizing for Mexico on a counterattack in the 23rd minute. Hernandez made it happen, keeping the ball alive at midfield by dribbling through U.S. defender Kellyn Acosta before sending the ball ahead for Vela, who skipped away from DaMarcus Beasley, then beat Guzan with a left-footed shot from the top of the penalty area.
The goal was Vela's first against the U.S. since the 2009 Gold Cup final but it could hardly be blamed on the seldom-used Beasley, who got little help from his two center backs when Vela turned toward the goal.
With the U.S. playing at altitude for the second time in 70 hours, Arena promised lineup changes, and he replaced seven players who started in Thursday's win over Trinidad and Tobago in Colorado. It was a plan Arena formulated months ago, then started to put into practice when his team gathered for training camp two weeks ago.
That meant hunkering down with a five-man back line, absorbing pressure and robbing Mexico of the space it creates by spreading its attack wide. "Our team did a great job with our tactical plan," Arena said.
Said Mexico coach Juan Carlos Osorio sadly: "Their intention was to defend."
Before Sunday, Beasley had played just four minutes this year. Midfielder Paul Arriola had played only eight, Acosta just 74. But the three have also played in Liga MX, meaning they are familiar with playing at altitude and dealing with the intimidating environment of Azteca.
And though the U.S. wall would bend at times, giving up 10 shots, it broke just once with Vela's score coming on the team's lone shot on goal.
Both teams had chances to steal in a win in the closing minutes, only to be denied by the goal frame, with Mexico's Hector Herrera driving a long free kick off the underside of the crossbar in the 71st minute and Bradley striking the right post on a half-volley from 30 yards three minutes later.
"We were certainly playing to get three points. Nevertheless we're pound of the result," Arena said. "We played 90 minutes to win. Not 90 minutes not to lose."