Manny Machado's three-run homer has given the Dodgers a commanding lead. David Freese, acquired for moments like this, had a two-out pinch-hit two-run single in the top of the sixth to put the Dodgers ahead, 3-2, in the top of the sixth. If the Dodgers win, they advance to the NL Championship Series against Milwaukee. Lose and they return home to face the Braves in a decisive Game 5 on Wednesday. Join us here for live in-game updates and pre-game and post-game news and videos from our crew of reporters: Andy McCullough, Bill Plaschke, Dylan Hernandez, Jorge Castillo, Houston Mitchell and Mark Potts.
Dodgers beat Braves and advance to NLCS to take on Brewers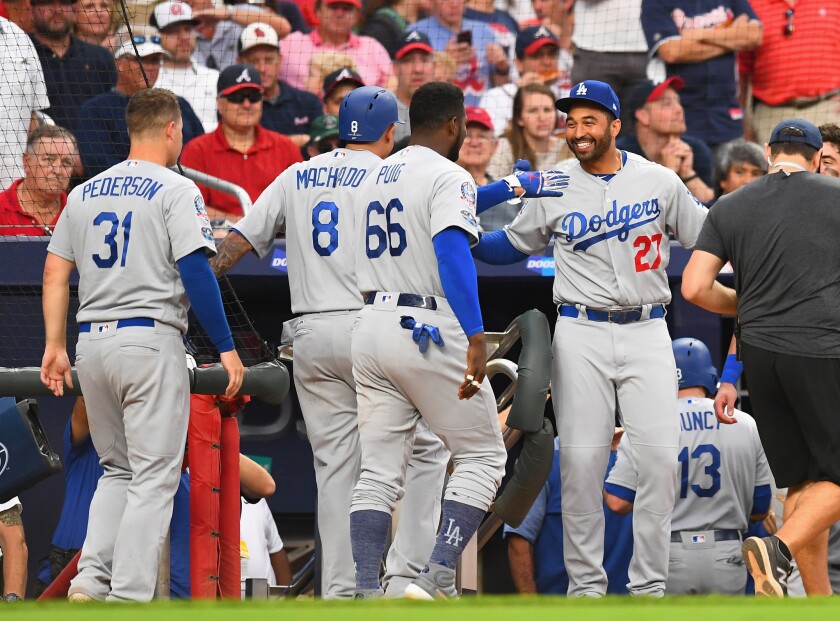 Baseball is not predicated on violence. The sport revolves around grace and grit, subtlety and subterfuge, deception and dexterity. The game does not celebrate the brutal.
Yet there is no other way to describe what transpired in the seventh inning on Monday: Manny Machado committed a violent act against a baseball, unleashing all his frustration and force on a 95-mph fastball, launching a concussive, three-run homer that solidified the Dodgers' capture of the National League Division Series with a 6-2 victory in Game 4 over the Braves.
The blast stunned SunTrust Park and delighted the Dodgers. Inside the dugout, Rich Hill gasped. Clayton Kershaw skipped. Cody Bellinger held his arms aloft. Machado popped a wad of Dubble Bubble before rounding the bases. A parade of hitters flowed up the steps to greet him.
"Get that money," Joc Pederson cried. "Get that money."
Over the winter, when Machado dives into free agency, his net worth will expand. For now, he still can play a prominent role in the Dodgers' pursuit of a championship. For the fourth time in six seasons, the team will compete in the National League Championship Series. Milwaukee hosts Game 1 on Friday.
To get there, the Dodgers bullied a youthful Braves team. They rebounded from a shaky outing by Walker Buehler in Game 3 to finish the job on Monday. David Freese supplied a go-ahead, two-run single in the sixth inning. Machado unloaded on Braves reliever Chad Sobotka an inning later to pad the lead.