Chargers cut Rams lead to 35-23 on Caleb Sturgis field goal
Three plays from the Rams' 10-yard line failed to yield a touchdown, so the Chargers settled for a 26-yard field by Caleb Sturgis, which pulled them to within 35-23 of the Rams with 11 minutes and 49 seconds left in the game.
The Chargers drove from their own 34-yard line to the Rams' 10-yard line in 12 plays and recovered from a Ndamukong Suh sack of Philip Rivers to gain a first down on Austin Ekeler's 10-yard run and Rivers' five-yard pass to Antonio Gates on a third-and-four from the Rams' 29.
Tyrell Williams ran for 14 yards on a reverse to the Rams' 10, but Melvin Gordon was held to two yards on first down, and Rivers overthrew two receivers in the back of the end zone on second and third down.
Another Jared Goff touchdown pass gives Rams 35-20 lead over Chargers
Jared Goff threw his third touchdown pass of the game, a six-yard dart over the middle to Robert Woods, to give the Rams a 35-20 lead over the Chargers with 3 minutes and 19 seconds left in the third quarter.
Goff, who completed passes of 15 and 16 yards to Brandin Cooks on the 11-play, 77-yard drive, has completed 28 of 35 passes for 342 yards in the game.
Philip Rivers hits Mike Williams with 20-yard touchdown pass on fourth down to pull Chargers within 28-20 of Rams
Philip Rivers hit Mike Williams on a beautiful 20-yard post-corner route for a touchdown on a fourth-and-two play to pull the Chargers to within 28-20 of the Rams with 8 minutes and 18 seconds left in the third quarter.
Rivers converted a third-and-eight play from the Chargers 27-yard line with a 13-yard pass to Tyrell Williams earlier in the drive, then Austin Ekeler ran 32 yards up the middle to give the Chargers a first down at the Rams 28-yard line.
Three plays netted only eight yards, but on fourth down, Williams shook Rams safety Lamarcus Joyner near the goal line and broke toward the left pylon, where caught a perfectly thrown ball for his second touchdown of the game.
Rams convert turnover into touchdown for 28-13 third-quarter lead over Chargers
The Rams converted a Chargers fumble into a touchdown, with Jared Goff and Cooper Kupp combining on a 53-yard scoring play, to take a 28-13 lead with 12 minutes and 38 seconds left in the third quarter.
The Chargers appeared to gain a first down when Chargers quarterback Philip Rivers hit Keenan Allen with an 11-yard pass near midfield, but the Chargers receiver lost control of the ball as he fought to gain an extra yard or two on the play.
Lamarcus Joyner recovered at the Rams' 45-yard line, and three plays later, Goff, under pressure, stepped up in the pocket and hit Kupp with a pass at the Chargers' 25-yard line.
Chargers cornerback Trevor Williams grabbed Kupp around the knees and ankles, but Kupp somehow slipped free and raced into the end zone for the score.
Rams dominate Chargers in first half, but lead is only 21-13
Sam Ficken was wide right on a 46-yard field-goal attempt as the first-half clock ran out, preventing the Rams from extending their 21-13 lead over the Chargers in the Coliseum.
The Chargers have to feel fortunate to be within a touchdown and a two-point conversion of the Rams considering how thoroughly they were outplayed in the first two quarters.
The Rams had 313 total yards compared to the Chargers' 146 yards. They had twice as many offensive plays (44-22), more than three times as many first downs (21-6) and held the ball for twice as long as the Chargers (19:52-10:08).
Rams quarterback Jared Goff, facing virtually no pressure from a Chargers defense that has barely blitzed him, has completed 21 of 25 passes for 216 yards with one touchdown and one interception. Robert Woods has caught seven passes for 79 yards and a touchdown, and Brandin Cooks has four catches for 55 yards.
Chargers quarterback Philip Rivers has completed seven of 13 passes for 109 yards and a touchdown. He has faced constant pressure from the Rams' ferocious defensive front, but was only sacked once.
Chargers cut Rams' lead to 21-13 on Melvin Gordon's 11-yard touchdown run
The Chargers are not going down without a fight (for L.A.). They responded to a Rams touchdown on a blocked punt with a 10-play, 75-yard touchdown drive, Melvin Gordon covering the final 11 yards on a pitch around the left side, to cut the Rams' lead to 21-13 with 3 minutes and 12 seconds left in the first half.
Quarterback Philip Rivers completed two huge passes on the drive, a 27-yarder to veteran tight end Antonio Gates, who broke free from John Johnson on a third-and-four play from the Chargers' 31-yard line, and a 25-yarder to Keenan Allen, who made a leaping catch between Lamarcus Joyner and Sam Shields on a third-and-17 play from the Rams' 49.
Rivers also hit Keenan Allen over the middle for a nine-yard gain to give the Chargers a third-and-one at the 15-yard line. Gordon ran four yards for a first down and then got a nice block from fullback Derek Watt en route to the end zone for his score.
With punter Drew Kaser out with a leg injury, Rivers held for Caleb Sturgis' extra point.
Rams and Chargers fans discuss their L.A. rivalry
The Chargers and Rams played each other Sunday in a regular season game. So is there a real rivalry and fight for Los Angeles? Here is what fans of both teams had to say.
The Chargers and Rams played each other Sunday in a regular season game. So is there a real rivalry and fight for Los Angeles? Hear what fans of both teams had to say.
Interception by Chargers safety Derwin James keeps Rams out of end zone
Chargers safety Derwin James prevented another Rams touchdown by stepping in front of tight end Gerald Everett in the end zone and intercepting a Jared Goff pass with 9 minutes and 43 seconds left in the second quarter.
The Chargers appeared to stop the Rams on a key third-and-14 play from the Rams 44-yard line when cornerback Casey Hayward broke up a long pass intended for Brandin Cooks. But Hayward was flagged for illegal contact on the play, giving the Rams a first down.
Goff hit tight end Tyler Higbee for a 20-yard pass down the right sideline, but he was thwarted by James, who, after intercepting the pass, ran out of bounds at the Chargers' one-yard line. The Rams are leading 14-6.
Rams are off to the races: Their quick-strike offense scores again for 14-6 lead over Chargers
The Rams and their hurry-up offense are turning this game against the Chargers into a track meet. They just drove 75 yards on seven plays, scoring on Jared Goff's three-yard pass to Robert Woods on a quick slant to take a 14-6 lead with 51 seconds left in the first quarter.
Goff has had plenty of time to pick apart the Chargers defense, connecting with Woods on a 20-yard pass play and Brandin Cooks on a 21-yard play. The quarterback also scrambled for 16 yards for a first down earlier in the drive.
Rams take 7-0 lead over Chargers on Todd Gurley touchdown run
Todd Gurley capped an 11-play, 80-yard drive with a one-yard touchdown run to give the Rams a 7-0 lead over the Chargers with 6 minutes 14 seconds left in the first quarter.
Rams quarterback Jared Goff, given ample protection from his offensive line, completed passes of 16 yards to Gurley and Robert Woods and connected with tight end Tyler Higbee for 15 yards.
The score was set up by a 16-yard pass from Goff to Brandin Cooks, who made the catch at the one-yard line with Chargers cornerback Casey Hayward draped over his back.
The Rams drove from their own 25-yard line the Chargers 34-yard line on their first possession but turned the ball over when Gurley fumbled as he was hit from behind by Chargers tackle Brandon Mebane. Desmond King recovered for the Chargers, who went three-and-out on their first possession.
Philip Rivers and Mike Williams team up on 42-yard TD play to pull Chargers to within 7-6 of Rams
The Chargers responded to a Rams touchdown with a big play of their own, with quarterback Philip Rivers throwing a 42-yard touchdown pass to Mike Williams, who made a superb diving catch in the end zone with Rams cornerback Marcus Peters on his back.
Williams remained on the ground for about a minute, but eventually walked off the field under his own power.
The Rams' kick after their first touchdown went out of bounds, giving the Chargers possession at the 40-yard line. Melvin Gordon set up the score with a 20-yard run on which he leaped over one Rams defender. Caleb Sturgis' extra-point attempt was wide right.
Chargers guard Forrest Lamp is among inactive players for Rams game
Forrest Lamp's NFL debut will have to wait for at least another week. The 2017 second-round pick out of Western Kentucky, who missed his entire rookie season because of knee surgery, is among the Chargers' inactive players for today's game against the Rams in the Coliseum.
Lamp has been practicing since mid-August but is not ready for game action.
Speedy receiver Travis Benjamin will miss his second straight game because of an Achilles injury, and defensive end Joey Bosa (foot injury) and right tackle Joe Barksdale (knee) are out again. The other three Chargers inactives are linebacker Emmanuel Ellerbe, center Cole Toner and defensive tackle T.Y. McGill.
The Rams' inactive players are linebacker Mark Barron, kicker Greg Zuerlein, running back John Kelly, linebacker Trevon Young, center Brian Allen and defensive tackles Sebastian Joseph-Day and Tanzel Smart.
Rams-Chargers rivalry? Not yet, but you could call it the Los Angeles Bowl
The Rams and Chargers are in a battle for the hearts and minds of Southland football fans, for the ticket-, merchandise- and luxury suite-buying public as they attempt to gain the upper hand in a once-barren professional football landscape.
The on-field fight for supremacy begins Sunday at 1 p.m. in the Coliseum, where players will drop the gloves in the first regular-season meeting between the teams since they relocated to Los Angeles.
"It will probably get heated," Chargers cornerback Casey Hayward said before Thursday's practice in Costa Mesa. "We're all professionals, so it shouldn't go overboard, but we're definitely trying to take each other's heads off."
There should be no shortage of big hits and plays in a marquee matchup of predicted playoff contenders. There is star power on both sides and standout quarterbacks, one near the end of a renowned career, the Chargers' Philip Rivers, and one just getting warmed up, the Rams' Jared Goff.
But few expect Sunday's game to be the start of a classic NFL rivalry, the second coming of Packers vs. Bears or Chiefs vs. Raiders.
The teams share a city, and beginning in 2020 they will share a palatial new stadium in Inglewood, but with the Rams in the NFC and the Chargers in the AFC, they will play each other in the regular season only once every four years.
Chargers will have to lay it on the line to have a chance against the Rams' formidable defense
Last week, the Chargers flew across the country for the opportunity to run over the Buffalo Bills.
This week, they'll drive across town for the opportunity to run into a wall of Rams. Face-first, no less.
Week 3 brings these dominating two: Aaron Donald and Ndamukong Suh. What the NFL has been fearing since the offseason waits just down the street for the Chargers.
"You could argue they're the two best inside players in the league," right guard Michael Schofield said. "Me and Dan, we're going to have to have our best game out there on Sunday."
Rams receivers eager for quarterback Jared Goff to attempt more deep passes against Chargers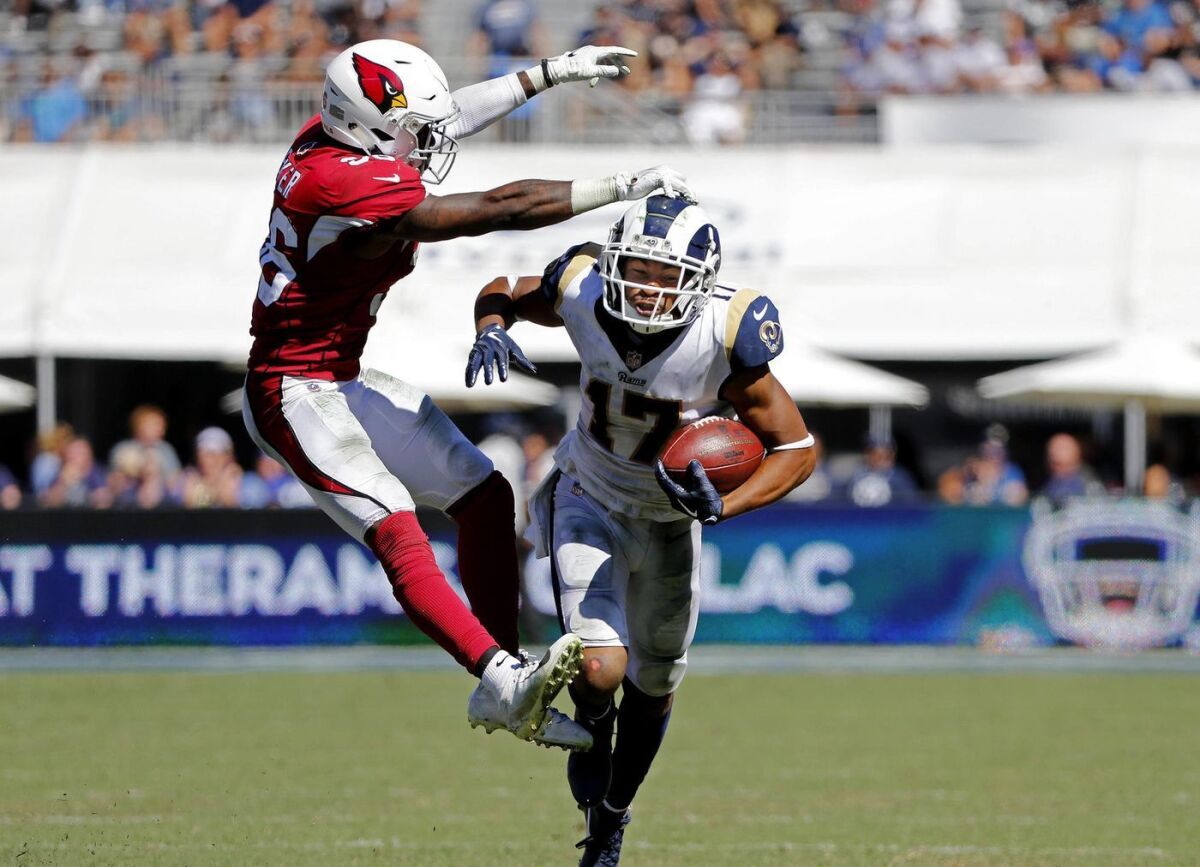 Several long passes in the season opener against the Oakland Raiders resulted in near misses. Two produced pass-interference penalties against defenders.
So Rams receiver Brandin Cooks was happy to haul in a 57-yard pass from quarterback Jared Goff in last week's victory over the Arizona Cardinals.
Cooks and other Rams receivers are eager for Goff to take more deep shots Sunday against the Chargers at the Coliseum.
"To get a connection going is always going to be good," Cooks said Friday of his catch against the Cardinals. "Just continue to work on it. Just let it come naturally. Don't force it, I think, is the key thing about it."