Call this UFC 202 headliner between Conor McGregor and Nate Diaz an instant classic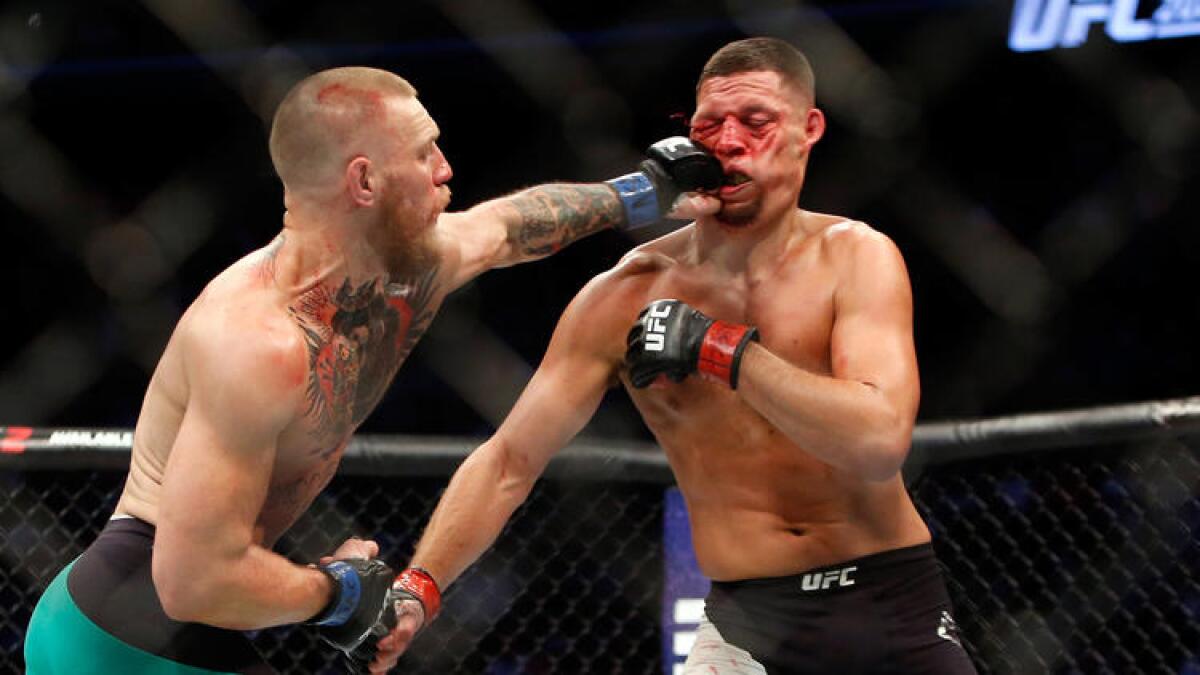 All the hostility and hard feelings between Conor McGregor and Nate Diaz were released marvelously Saturday in a classic, five-round battle won by McGregor's drive for revenge.
In a technical, rugged and smart performance that answered his disappointment from a March loss to the bigger, heavier Diaz, McGregor won a majority decision by scores of 48-47 (Jeff Mullen), 47-47 (Glenn Trowbridge), 48-47 (Derek Cleary).
McGregor (20-3) scored three knockdowns of Diaz in the first two rounds, survived a vicious Diaz rally in the third and did enough precise punching and clock management in the final two rounds to gain the UFC 202 victory at T-Mobile Arena.
"Surprise, surprise … the king is back," McGregor said after the decision was read, spinning Diaz's statement, saying, "I'm not surprised" after his second-round submission triumph five months earlier.
Nate Diaz vs. Conor McGregor round-by-round coverage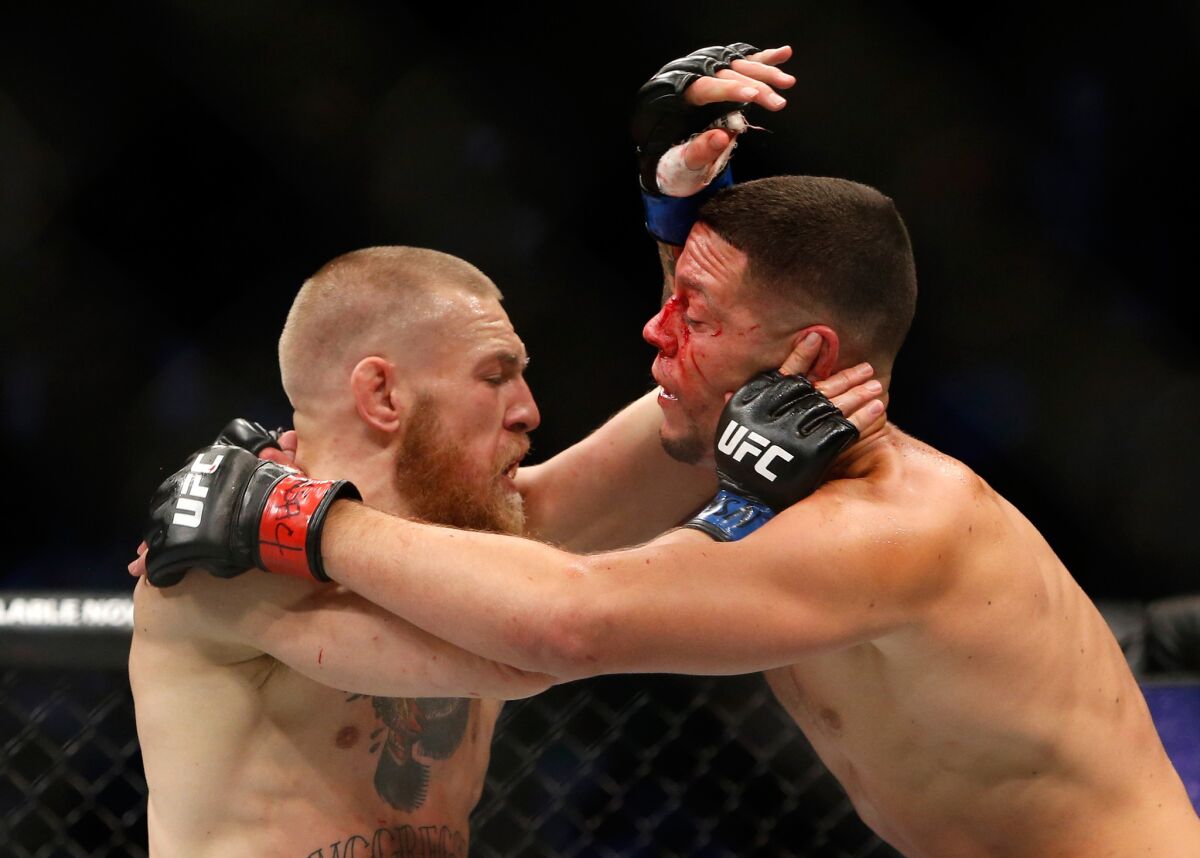 Conor McGregor has quickly emerged as one of the biggest attractions in the history of MMA thanks to his bold trash talking and success inside the Octagon. He was supposed to fight Rafael Dos Anjos for the lightweight title earlier this year when Dos Anjos pulled out. Nate Diaz took the fight on short notice and scored the upset win in front of the second biggest pay-per-view audience in MMA history. Now, McGregor is gunning for revenge while Diaz seeks to reaffirm the result of the first fight.
Round 1. McGregor opens with a couple low kicks. McGregor continues to hammer the leg. Diaz lands a nice punch up the middle. Diaz throws some leg kicks of his own. McGregor appears to stagger Diaz a little with a left hand. He then drops Diaz with another. Diaz gets back up. Diaz connects with a solid right hook. McGregor continues to throw those leg kicks. He will then follow with power punches. McGregor lands a nice 1-2 punch combination to the body and head. McGregor lands a hard left hand straight up the middle. Diaz lands a few jabs of his own. That was a dominant round for McGregor. 10-9 McGregor.
Round 2. McGregor goes back to work on Diaz's lead leg. He then drops Diaz with a left hand and calls for Diaz to return to his feet. McGregor drops Diaz again with another punch. He has Diaz stand back up but Diaz does so slowly. Diaz is bleding from the face, although it appears to mostly be coming from the nose and not in the eyes. McGregor attacks the body with punches. Diaz is struggling to get off. He also isn't able to take advantage of his reach advantage. Diaz begins to add the pressure in the second half of the round, opening up with punches and moving forward. McGregor moves away. Diaz clearly thinks McGregor is tiring. Diaz catches McGregor with some solid punches up against the cage with less than a minute left. He's pouring it on. This is like a replay of the first fight. Still McGregor's round. 10-9 McGregor.
Round 3. McGregor starts out with some straight punches. He mixes in a leg kick. Diaz is smiling and moves forward with a big punch. Diaz clinches by the cage. They grapple up against the cage and separate. McGregor lands two solid punches on separation and a good leg kick. Diaz lands a hook and is talking trash. Diaz goes for a takedown but McGregor defends. McGregor lands a knee and elbow. McGregor does look more tired this round, but he's still landing the better shots. Diaz is walking McGregor down as McGregor keeps backing away and looks very tired. Diaz lands a nice two punch combination and a kick. Diaz follows with additional punches. Diaz is opening up big time up against the cage, landing punch after punch. McGregor is just eating them all. McGregor is in big, big trouble. 10-9 Diaz.
Round 4. McGregor lands two solid punches early. He adds a leg kick. Diaz is having trouble seeing and is wiping the blood from his eyes. McGregor is landing some solid punches and kicks and is walking Diaz down. Diaz's confidence seems to have done a 180 since the end of the last round. Diaz goes for a takedown and gets close but McGregor stays up. McGregor lands a hard elbow in the clinch. McGregor scores with a solid combination but Diaz answers back with a big punch of his own. McGregor goes back to work with his punches. He's showing great tenacity continuing to press on despite being so tired. Diaz lands a punch and slips on a head kick late. 10-9 McGregor.
Round 5. McGregor circles out of range early, prompting the crowd to boo. Diaz comes in with punches. McGregor goes for a flying knee but it doesn't connect solidly. McGregor backs away and stares at the clock with his back turned to Diaz. McGregor backs away and Diaz gives him the finger. McGregor lands a few more punches. Diaz lands some punches by the cage and a knee. He uses a vicious hook. Diaz is clinching and landing punches. McGregor gets a takedown but Diaz gets back up. Diaz gets a takedown at the very end. 10-9 Diaz, 48-47 McGregor.
Winner: Conor McGregor, majority decision (48-47, 48-47, 47-47).
"Surprise, surprise, [expletive], the king is back," McGregor declares. After the fight, he talks about fighting Nate Diaz for a third time, this time at 155 pounds. That's an interesting direction from McGregor, given UFC president Dana White has said he will give up his featherweight title if he doesn't defend it next.
Diaz-McGregor II was a strange, dramatic fight. It looked like McGregor had the fight firmly in control early and that Diaz was worn down. Diaz then made a strong comeback against a tired McGregor. It seemed improbable by the end of the third that McGregor would be able to survive another two rounds and win at least one given how exhausted he was, but he did just that. The question is now what McGregor does next. He's a fighter that has constantly sought out challenges for himself, but either of the two options being floated right now are just him defending territory: a rematch against Jose Aldo or a rematch against Diaz. Either way, he showed great heart on this night, working through exhaustion and an injured foot to avenge his previous loss to Diaz.
Anthony Johnson vs. Glover Teixeira round-by-round coverage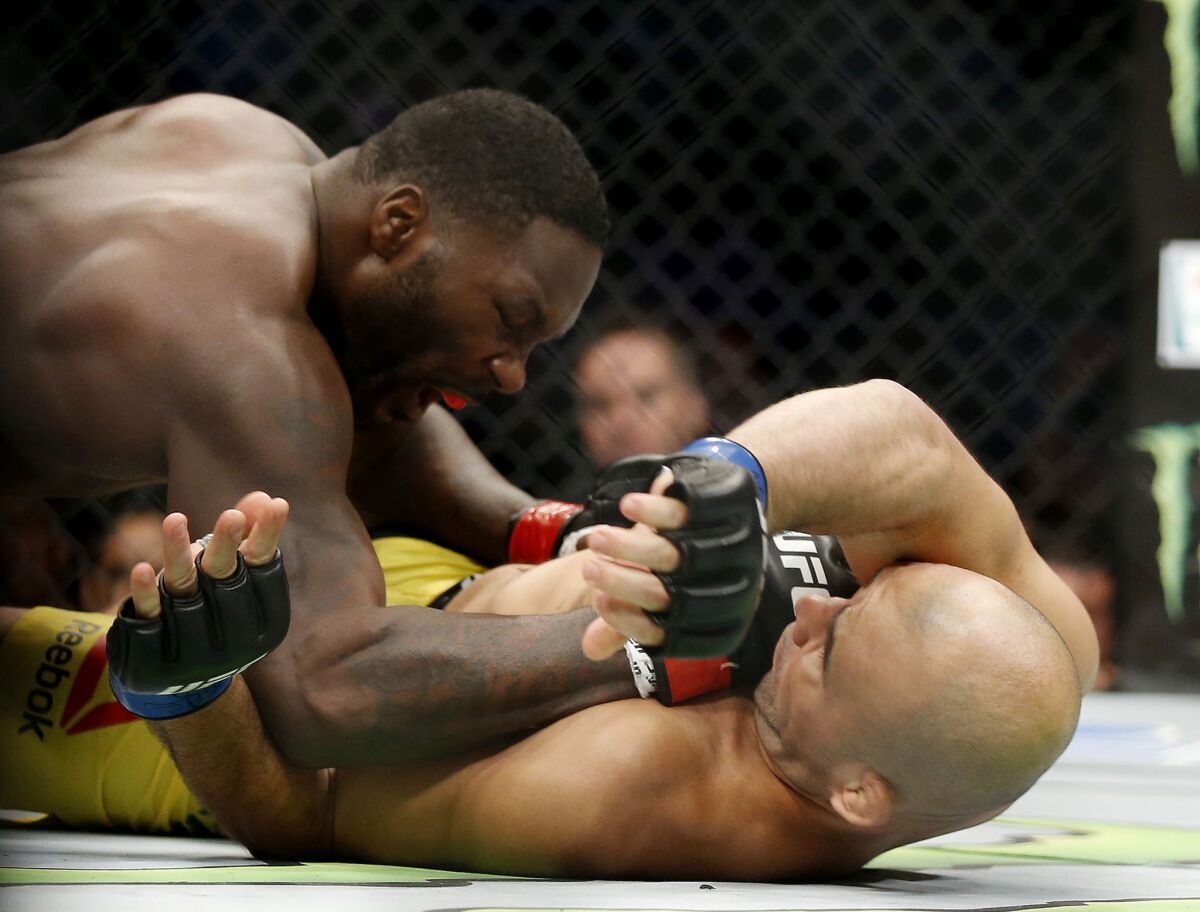 The UFC light heavyweight division has been thrown into chaos by Jon Jones, who is almost universally considered the best in the division but may not be able to fight for two years thanks to a drug test failure. Johnson and Teixeira are looking to get a title shot against Daniel Cormier and the winner of this fight is likely to get that spot. Johnson is a feared knockout artist with great wrestling to boot, although he does tend to fade late in fights. Teixeira, 25-4, is an excellent all around fighter and hasn't been knocked out since 2002.
Round 1. Anthony Johnson knocks Glover Teixeira out cold with a right uppercut 13 seconds into the fight.
Winner: Anthony Johnson, KO, round 1.
Johnson has probably the scariest power in the sport and he showed it again tonight. Any opponent facing Johnson has to know that to get a win, they are going to have to weather some serious early danger.
Donald Cerrone vs. Rick Story round-by-round coverage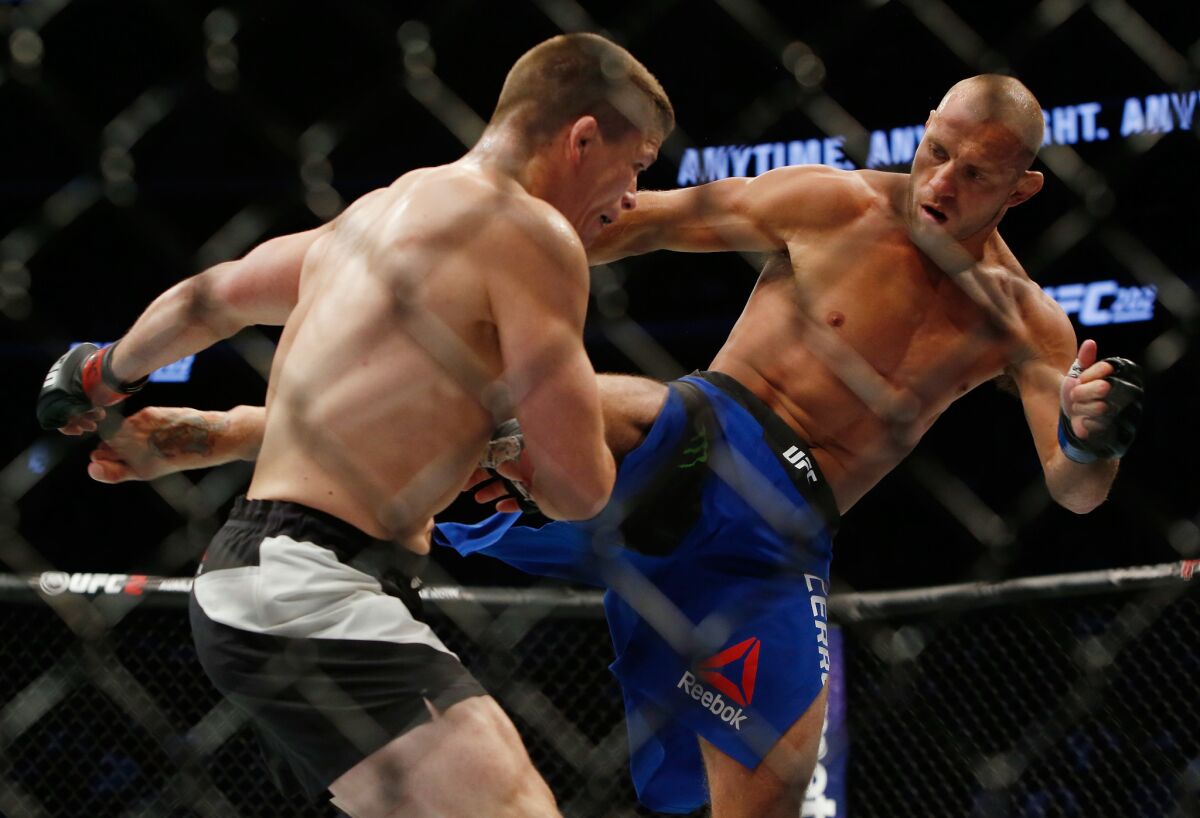 Cerrone is one of the more popular fighters in the UFC thanks to his crowd pleasing style and personality. After fighting for years at lightweight, he is now testing out the waters at welterweight. He is 2-0 thus far and Rick Story is a test of how Cerrone can deal with a powerful welterweight grinder. Story isn't the most exciting fighter to watch but he's difficult to deal with. He's content to clinch for long periods and wear on his opponents. 13 of his 18 UFC fights have gone to the decision.
Round 1. Story moves in with punches early and then does so again. Surprisingly, Cerrone goes for a takedown and gets it. Story gets back up to his feet and looks to take Cerrone down. Story gets Cerrone down. Cerrone immediately looks to set up a triangle choke but Story gets out of danger and gets into side control. Cerrone gets back up to his feet and they trade kicks. Cerrone walks forward with a series of punches. None lands that cleanly. Cerrone's best consistent weapon has been his kicks to the legs. 10-9 Cerrone.
Round 2. Story moves in with some punches but doesn't land with impact. Story briefly looks for a takedown but gives up the attempt. Cerrone lands a couple of punches from close range and then backs away. He catches Story with a knee to the body when Story moves in. Cerrone rocks Story with a magnificent combination - a jab, right body punch and left punch to the head punctuated by a powerful right head kick. Story has to go into defensive mode and Cerrone lands additional punches on the ground until the fight is stopped.
Winner: Donald Cerrone, TKO, round 2.
Cerrone originally moved to welterweight because he lost twice to the lightweight champion Rafael Dos Anjos. Dos Anjos lost that title to Eddie Alvarez, who Cerrone defeated, so there isn't the same reason for Cerrone to stay at 170. However, he has done well enough that he may just stay at that weight class anyway. There are plenty of interesting fights for him at either spot.
Hyun Gyu Lim vs. Mike Perry round-by-round coverage
The South Korean Lim has 12 finishes in his 13 wins. He has lost 2 of his last 3, albeit to reputable competition in Neil Magny and Tarec Saffiedine. Perry is something of a wildman. He is 6-0 in MMA with 6 knockouts.
Round 1. The bigger man Lim is moving in, throwing mostly straight punches. Perry will occasionally dive in with looping punches. He's at a disadvantage in the standup because Lim is so much longer. Perry drops Lim with a punch. He ends up in half guard and then advances into side control. Perry gets the crucifix position and lands a series of punches while Lim flails about trying to get out. Lim finally gets out and returns to his feet but he took some big shots. Perry drops Lim with a massive punch and looks to finish the fight with more punches on the ground. Perry lets Lim up and then drops him with another huge punch and the fight's over. Perry celebrates with a backflip.
Winner: Mike Perry, TKO, round 1.
That was a memorable debut for Mike Perry. He doesn't have ideal size for his division but he has remarkable power and finishing instincts. He also has a big personality. He could be in some memorable fights going forward.
Tim Means vs. Sabah Homasi round-by-round coverage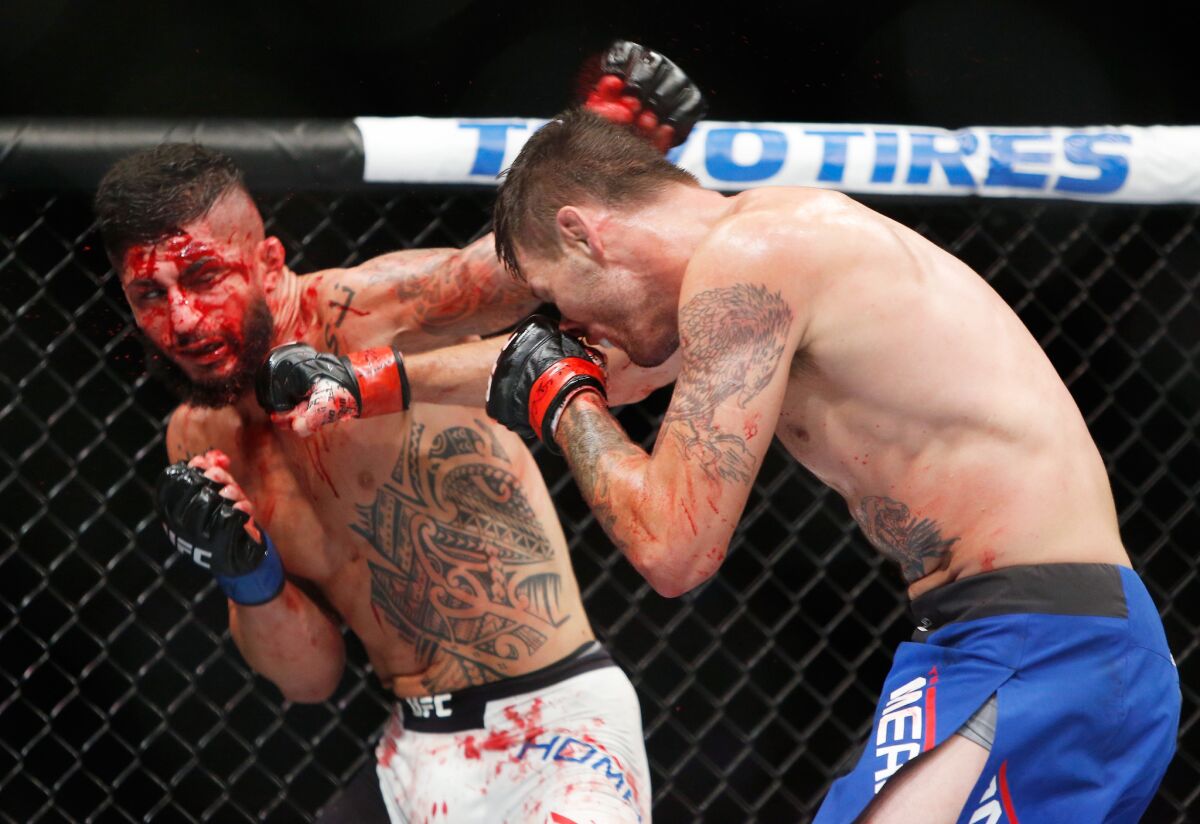 Tim Means is one of the most underrated fighters in the sport, long having struggled to string together the right series of wins against the right opponents to capture the public imagination. He has won five of his last six in the UFC and is a dangerous finisher. Sabah Homasi is making his UFC debut. He has won his last three fights via knockout.
Round 1. Means presses the action. He lands some nice punches and a knee. Homasi dashes in to close range and scores a takedown. Means gets up. Means again moves forward but eats some hard looping punches in the process. Homasi gets another takedown. Means lands some elbows from the bottom. Means then stands back up. Means connects with a hard knee and elbow that open up a cut on Homasi. Homasi is bleeding badly all over the left side of his face. That's going to affect his vision going forward. Means is pouring on the offense as the round concludes. 10-9 Means.
Round 2. Means goes back to work, walking Homasi down with punches and elbows in particular. Homasi is slowed down markedly and is a bloody mess. Means hammers him with hard knees to the body by the cage. Means is landing big punches and mercifully referee Herb Dean finally stops the fight.
Winner: Tim Means, TKO, round 2.
Means is a fun fighter to watch when he's on offense and this was another example of that. He has such a diverse set of attacks and really pours it on when he has the advantage. This wasn't a high profile opponent, so Means will still need to seek out a statement win that gets him consistent fights against the stars of the division.
Cody Garbrandt vs. Takeya Mizugaki round-by-round coverage
Garbrandt is an undefeated contender on the rise, coming off the biggest win of his career, a first round knockout of formerly 20-0 Thomas Almeida. At 9-0 with 8 knockouts, Garbrandt has dominated the opposition thus far. That will be difficult to accomplish against Mizugaki, a longtime contender who has fought many of the 135 pound division's best.
Round 1. Mizugaki lands a nice right hand and a low kick early. Garbrandt drops Mizugaki with a right hook and follows with additional punches on the ground until the fight is stopped.
Winner: Cody Garbrandt, TKO, round 1.
Cody Garbrandt has some of the most impressive power we've ever seen for his weight class and he showcased it again there. He's going to be a real challenge for the best fighters in the division and his emergence is an exciting development for fans of the bantamweights.
Raquel Pennington vs. Elizabeth Phillips round-by-round coverage
Raquel Pennington is a gritty veteran who has gained some momentum with wins in three of her last four fights. Phillips, 5-3, has struggled in the UFC thus far but did pick up her first UFC win in her last fight.
Round 1. Phillips appears content to fight from distance, circling and throwing kicks as Pennington moves in. Pennington finally closes distance and clinches, leading to a clinch battle up against the Octagon. Neither woman is able to gain much of an advantage as they struggle for control. They finally separate with a little over a minute left in the round. Pennington gets a takedown late. Phillips stands back up and grabs a guillotine choke from the standing position. Pennington gets out and lands some hard punches as the round concludes. 10-9 Pennington.
Round 2. Pennington moves in with punches and clinches. Phillips gets a takedown. Pennington grabs the neck and looks for a guillotine choke from the bottom. Phillips gets out but Pennington then stands up. Phillips looks to take Pennington back down. She really commits to going for the takedown but isn't able to get it. Pennington slams Phillips down emphatically late and drops some elbows at the close. 10-9 Pennington.
Round 3. Pennington gets a takedown. Pennington works her way into taking Phillips' back, setting her up to go for a rear naked choke finish. Pennington transitions into full mount but loses the position. Pennington looks for an arm triangle choke from the bottom but doesn't come close. Pennington gets back up to her feet. That third round was clear but the other two were very close. 10-9 Pennington, 30-27 Pennington.
Winner: Raquel Pennington, unanimous decision (30-27, 30-27, 30-27).
That fight was closer than those scorecards indicate, but Pennington deserved to pull out the win.
Artem Lobov vs. Chris Avila round-by-round coverage
Lobov is best known for being a friend and training partner of Conor McGregor. He tends to have entertaining standup fights but his MMA record is a rather unsightly 11-12-1 (1 NC). Avila is an inexperienced 5-2 fighter making his UFC debut. He is a training partner of Nate Diaz, so the fight is something of an appetizer for the card's main event.
Round 1. Lobov lands a hard left hand early. The fighters exchange kicks. Lobov is backing Avila up against the cage, something Avila should probably be making more of an effort to avoid. Lobov's shots are much heavier than Avila, although neither fighter is landing a ton. Lobov lands a combination with a few punches and kicks. Avila isn't getting off. 10-9 Lobov.
Round 2. Lobov opens with some leg kicks. Lobov continues to mix punches with low kicks. Avila isn't doing much of anything and doesn't look like a UFC caliber fighter at all. Lobov slaps Avila a few times and taunts him. Dull round. 10-9 Lobov.
Round 3. The lead leg of Avila is badly damaged and Lobov continues to nail it with kicks. Lobov gets cut on a head butt. Avila throws a high kick that lands decently. Lobov slips on a kick and Avila takes top position. Lobov attacks the ankle and Avila backs out of that and lets Lobov back up. 10-9 Lobov, 30-27 Lobov.
Winner: Artem Lobov, unanimous decision (30-27, 30-27, 30-27).
The idea of Conor McGregor's training partner fighting Nate Diaz's training partner made for a good story, but it didn't make for a good fight. Neither fighter was impressive at all, although Lobov won the fight handily.
Randa Markos vs. Cortney Casey round-by-round coverage
Markos is a Canadian fighter of Iraqi descent. She made it to the semifinals of the Ultimate Fighter tournament to crown the first UFC women's strawweight champion. Casey had some buzz going into her UFC debut but she dropped her first two UFC fights. She rebounded to win in her last contest, earning her another opportunity in the UFC.
Round 1. The fighters start out with boxing, neither landing anything of note. They clinch and Casey lands some knees to the body. Markos uses a judo throw to take Casey down and controls Casey's head. She lands some punches from that position. Casey uses a leg to lock Markos in place and then takes Markos' back. She lands some punches and elbows from there and a scramble ensues for position. Markos ends up on top. Casey looks for an armbar from the bottom and gets it for the submission.
Winner: Cortney Casey, submission, round 1.
That was an exciting fight, with each fighter having their opportunities. Casey was able to capitalize on small mistakes by Markos to secure a second consecutive first round victory.
Neil Magny vs. Lorenz Larkin round-by-round coverage
In an effort to sell subscriptions to its Fight Pass service, UFC is featuring higher profile fights before the television and pay-per-view portions of its events. This bout fits into that trend, as surging welterweight contender Neil Magny takes on the exciting Lorenz Larkin. Magny has won 10 of his last 11 fights in the UFC, a remarkable streak for anyone at the UFC level. Larkin is a dynamic striker who has won 3 of 4 in his own right.
Round 1. Larkin lands some vicious kicks early, concentrating on the legs and body. He hurts Magny and knocks him down with body kicks. He is just punishing Magny. He lands a few hard punches as Magny comes in. He's knocking Magny around with leg kicks and backs Magny up against the cage. Magny goes down and has trouble standing back up. Magny is having trouble standing and is getting picked apart. Magny is wincing at every leg kick and Larkin is targeting it. Magny goes in for a takedown, eats some big elbows, goes down, and the fight is stopped.
Winner: Lorenz Larkin, TKO, round 1.
Larkin was spectacular in that fight. It was a reminder of the fighter who had a lot of hype when he was starting his career in Strikeforce. His dynamic striking was too much for a very durable opponent. It's great timing as well for Larkin. He is a free agent now and will be able to get a very nice contract coming off that sort of performance.
Colby Covington vs. Max Griffin round-by-round coverage
Covington is a highly regarded young fighter with a strong ground game and only one professional loss. That makes him a sizable favorite against Max Griffin, a heavy handed competitor fighting on a proper UFC card for the first time (he once lost in an Ultimate Fighter qualifier).
Round 1. Covington comes out with a few flying kicks early. He shows enough with his standup that he is able to catch Griffin with a takedown and get him to the mat a minute in. Covington lands some punches from inside Griffin's guard. Griffin grabs a kimura and nicely uses it to roll Covington over and take top position. Covington gets up from there and works to take Griffin back down. Griffin looks for a kimura again but gives it up this time. Covington takes Griffin back down. Covington takes side control position while keeping busy with strikes. Covington lands some big shots late and looks for an arm triangle choke at the end of the round. 10-8 Covington.
Round 2. Covington throws a few wild kicks like in the first before switching levels and getting the takedown. Covington controls Griffin on the ground and keeps landing shots. Griffin is cut on the forehead and Covington gains full mount position. Griffin bucks him off but Covington keeps on the pressure while continuing to land punches. Griffin is forced to just defend as the round progresses as Covington is having his way. Covington lets Griffin up at the end and lands a few punches as the round concludes. 10-8 Covington.
Round 3. Like in the first two rounds, Covington throws a few high kicks early. His confidence in his wrestling allows him to take chances in the standup. The third round follows the same pattern, with Covington again using the standup to set up a takedown. He goes back to work with punches on the ground. After repeated offense, the referee stops the fight.
Winner: Colby Covington, TKO, round 3.
That was a thoroughly dominant performance by Covington from beginning to end. He just had too much of an advantage in the wrestling department and he used that to control and beat up Griffin throughout. It was a sharp reminder of why Covington is thought of as a dangerous force in his weight class.
Marvin Vettori vs. Alberto Uda round-by-round coverage
UFC 202 kicks off with a preliminary bout pitting Alberto Uda against UFC newcomer Marvin Vettori. Uda is a tall Brazilian fighter who was undefeated before losing his UFC debut via knockout. Vettori is an Italian ground specialist.
Round 1. Vettori moves in with a left hand and clinches. Vettori looks to take down Uda with a body lock. Initially, Uda gets top position on Vettori but Vettori gets up and then takes Vettori down to gain top position. Uda locks up Vettori from the bottom with a body triangle while Vettori lands punches from the top. Vettori continues landing punchess while Uda just ties him up with the body triangle. It's an interesting strategy from Uda because it doesn't allow him to do much but defend. Uda finally gives up the body triangle with a minute left in the round. Vettori postures up higher and looks to land harder shots with the leverage. He then grabs a guillotine choke, rolls to the bottom, and gets the tapout.
Winner: Marvin Vettori, submission, round 1.
That was an impressive performance from Vettori in his UFC debut. He was calm, composed and efficient despite making his UFC debut at age 22. There haven't been a lot of high quality Italian MMA fighters over the years so Vettori offers a lot of promise to that market.
No risk, no reward for Conor McGregor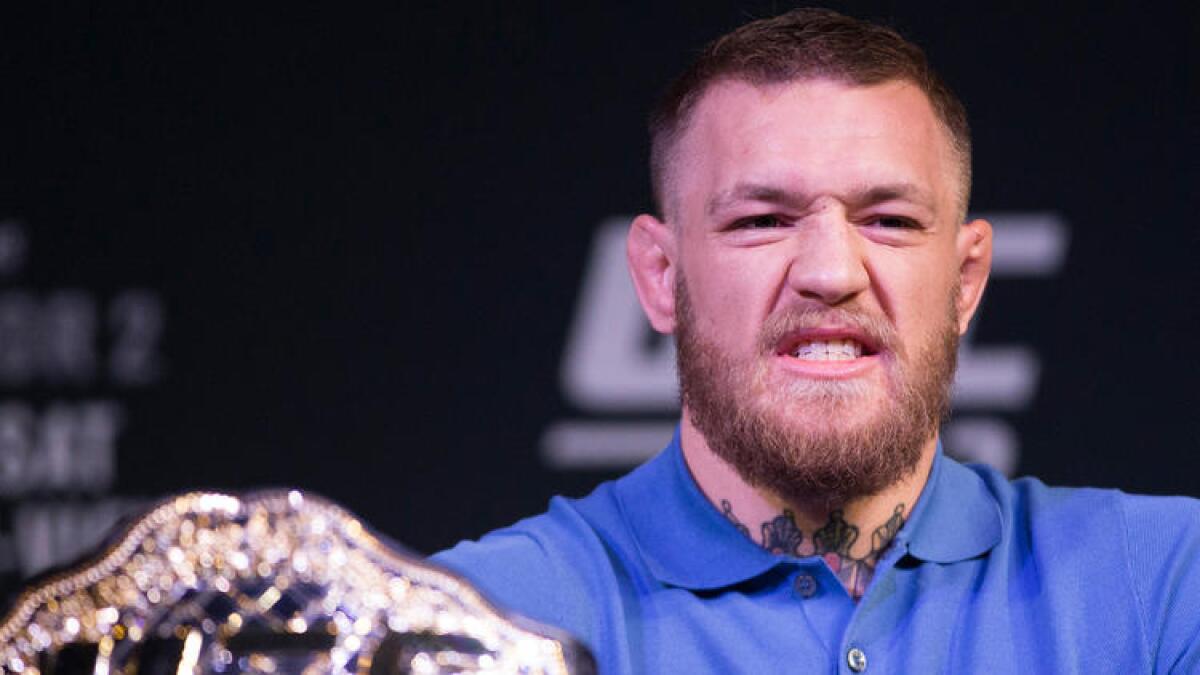 The risk Conor McGregor is taking by possibly staining his career with a second consecutive loss to Nate Diaz on Saturday in UFC 202 is one thing.
But McGregor's toned-down interest in promotion is the greater danger for the UFC's most compelling figure.
Since McGregor's falling-out with UFC leadership over his refusal to interrupt training to publicize the rematch of his March 5 second-round submission loss to Diaz, the Irishman hasn't seemed near the lively figure he was in his emergence.
The colorful words and shocking acts McGregor rode to prominence – jumping out of the octagon to confront then-featherweight-champion Jose Aldo after a victory, verbally dicing up both Aldo and Diaz in the buildup to those fights – have dwindled.
This can't get started soon enough
It's called the hurt business for good reason, and the headliners in the UFC 202 drama that will play out Saturday night expect plenty of it.
Conor McGregor, humbled by his first UFC loss in March after agreeing to fight replacement foe Nate Diaz 25 pounds over the Irishman's weight limit, used the motivation from that defeat to train fervently for the rematch.
Looking sculpted and more muscular after extended preparation in Europe and the Mojave Desert, McGregor weighed in Friday two pounds under the welterweight limit at 168 pounds.
"I feel like I didn't prove what I know I can [do] and I want an opportunity to correct that error," McGregor (19-3) said.