USC (4-4 overall, 3-3 Pac-12), who have lost two in a row, make their first trip to Corvallis since 2013. Quarterback JT Daniels and linebacker Cameron Smith are expected to play for USC after missing a 38-35 loss against Arizona State last week.
Oregon State (2-6, 1-4) ended a road losing streak at 22 games with their 41-34 overtime win at Colorado last week. It's a must-win game for the Beavers if they want to stay alive for bowl contention.
USC defeats Oregon State 38-21 behind fourth-quarter surge
Behind a dominant fourth quarter, USC defeated Oregon State 38-21 on Saturday night.
USC earned 509 total yards on offense to Oregon State's 332. The Trojans limited the Beavers to 31 net rushing yards while mounting an explosive rushing attack.
Aca'Cedric Ware ended the game with 205 yards in 17 carries, with two long touchdown runs and three scores. Vavae Malepeai and Stephen Carr contributed 101 and 49 yards, respectively, to USC's effort on the ground. JT Daniels completed 14 of 26 passes for 177 yards.
While Jake Luton completed 31 of 45 passes to total 301 yards and a touchdown, Oregon State's run game struggled. Jermar Jefferson leads the Pac-12 in rushing yards but earned 58 yards against the Trojans.
Michael Brown drills 46-yard field goal to give USC 38-21 lead
Michael Brown booted a 46-yard field goal late in the fourth quarter, giving USC a 38-21 lead over Oregon State.
USC got into field goal range through a run-heavy attack. Vavae Malepeai contributed four rushes for 45 yards as Aca'Cedric Ware added 20 yards in two carries.
Of USC's 498 total yards on offense, 321 were gained on the ground. Ware has contributed 192 yards with three touchdowns, Malepeai 101 rushing yards.
Aca'Cedric Ware breaks free for 62-yard touchdown run
For the second time tonight, Aca'Cedric Ware broke through the Oregon State defense for an explosive touchdown run. This time, he bolted 62 yards to the end zone, giving USC a 35-21 lead.
Ware's run was the only play of USC's drive. Ware has totaled 172 rushing yards in 13 carries. He made a 57-yard touchdown run at the start of the second quarter.
With 56 yards by Vavae Malepeai and 49 from Stephen Carr, USC has established an aggressive rush attack, for 266 net rushing yards, after struggling to create consistent success on the ground in the games leading up to this contest.
Oregon State recovers Vavae Malepeai's fumble
Vavae Malepeai fumbled the ball on USC's 37-yard line, as Matthew Tago stripped the ball away.
Jalen Moore recovered the ball for Oregon State and sprinted to the end zone, but the touchdown did not count, because Malepeai was initially ruled down before the ball came loose. But upon a review of the play, referees overturned the call, giving Oregon State possession.
On the next possession, Jermar Jefferson rushed twice but only gained a yard, and Jake Luton threw two incomplete passes, keeping the fumble from becoming a scoring chance for the beavers.
Artavis Pierce makes 6-yard touchdown run to cut USC's lead to 28-21
Artavis Pierce bolted to the right in a 6-yard run to the end zone for Oregon State, bringing the Beavers' to trail USC 28-21 following their opening drive of the second half.
Oregon State got into position with a pair of completions by Jake Luton for 35 yards and rushes by Jermar Jefferson. Pierce brought the Beavers to the 13-yard line with a 10-yard play. Then Oregon State advanced to the 6-yard line after a penalty on USC's defense for a late hit.
Pierce and Jefferson each have seven net rushing yards in the game, and Luton has earned 265 passing yards to keep the Oregon State offense contending with USC.
Aca'Cedric Ware gives USC 28-14 lead with second rushing touchdown
Aca'Cedric Ware powered into the end zone for a 2-yard touchdown run, giving USC a 28-14 lead over Oregon State to open the second half.
The opening drive of the half was made up of eight plays for 67 yards, sparked by JT Daniels' 29-yard pass to Devon Williams. Williams leads the Trojans with 77 receiving yards in just three catches.
USC got in scoring position with two rushes by Ware, an eight-yard pass to Amon-ra St. Brown and an 8-yard rush by Vavae Malepeai. With 110 yards in 12 carries, Ware is averaging 9.2 yards per rush, leading the Trojans' rushing effort.
Oregon State trails USC 21-14 at halftime with late touchdown drive
With four seconds remaining on the clock. Jake Luton connected with Noah Togiai for an 11-yard touchdown pass to trail USC 21-14 at the half.
The play was Togiai's second touchdown of the season and capped off an eight-play, 85-yard scoring drive that took 1:07. Oregon State trailed USC 21-0 before scoring two unanswered touchdowns to narrow the deficit.
Luton completed seven of eight passes in the drive, including a 43-yard pass to Isaiah Hodgins, and used two timeouts. USC had time for one final play, but the handoff to Stephen Carr was not enough to answer the Beavers' quick score.
Oregon State cuts deficit to 21-7 with Jack Colletto's 6-yard touchdown run
After faking a handoff to freshman running back Jermar Jefferson, back-up quarterback Jack Colletto sprinted untouched to the left for six yards for a touchdown, cutting USC's lead over Oregon State to 21-7.
Quarterback Jake Luton completed four of six passes on the eight-play, 45-yard drive for Oregon State. Luton has completed 15 of 19 passes for 135 yards as the Beavers have struggled to establish their run game, with -9 rushing yards. With 11 rushing yards, Colletto is the only Beaver with more than one net rushing yard.
Oregon State has converted three of four third-downs in the second quarter, with 64 total yards in the quarter to USC's 177 total yards.
Devon Williams reels in touchdown catch to give USC 21-0 lead
Freshman Devon Williams darted down the left sideline and reeled in a deep pass from quarterback JT Daniels as he cruised into the end zone, giving USC a 21-0 lead in the second quarter.
Williams, who is Daniels' roommate, made the 41-yard play for his second reception of the night for 48 receiving yards. With the completion, Daniels has made nine of his 15 throws for 102 passing yards.
A 13-yard rush by Stephen Carr was the greatest gain on the drive before Williams' explosive catch, following a sack of Daniels. The Trojans have earned 138 total yards on offense in the second quarter.
Aca'Cedric Ware makes 57-yard touchdown run to extend USC lead to 14-0
Aca'Cedric Ware broke free of the Oregon State defense, sprinting 57 yards past the Beavers to the end zone. With the score, USC takes a 14-0 lead to start the second quarter.
The Trojans gained yardage to set up the run with a 9-yard rush by Ware and Daniels' 2-yard quarterback sneak. Ware has earned 87 yards in five carries so far, leading USC in rushing. Oregon State has struggled to string together an attack on the ground, with -14 net rushing yards.
The four-play drive took 53 seconds, boosting the momentum of a USC offense that has converted four of its five third-down attempts while earning 116 rushing yards.
USC takes early lead over Oregon State with Stephen Carr touchdown run
Stephen Carr bolted to the end zone in USC's opening drive, giving the Trojans a 7-0 lead over Oregon State in the first quarter.
In USC's first offensive drive with coach Clay Helton calling plays instead of offensive coordinator Tee Martin, the Trojans moved down the field through gradual gains over explosive plays. The greatest gain on the 86-yard drive was a 13-yard pass by JT Daniels to Amon-ra St. Brown.
Aca'Cedric Ware led the rushing effort, with 21 yards in three carries, while Daniels completed six of his nine passes for 43 yards. Half of those passes were caught by St. Brown, who leads USC receivers with 31 yards.
Clay Helton and USC hope to escape their troubles for one night against Oregon State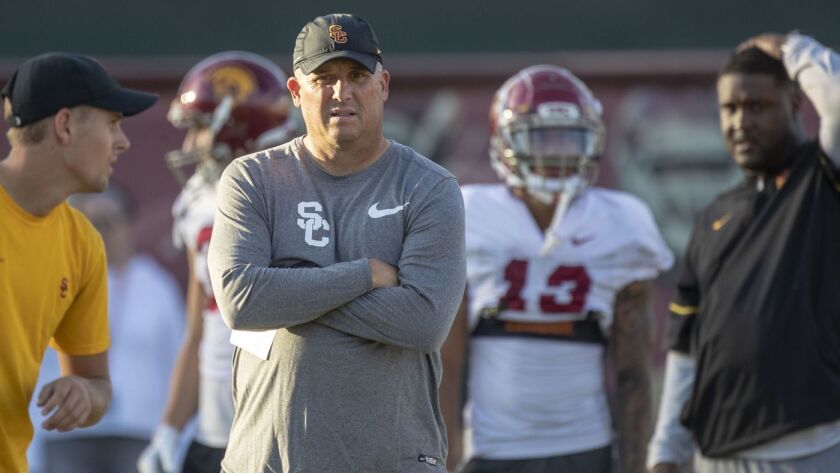 When things are going well for a college football program, its news value is contained to what happens on Saturdays. Even after a loss, the three or four plays that cost the team a game are dissected to a fine level until the attention naturally turns to the next weekend's chance at swift redemption.
In the days that passed after N'Keal Harry's 92-yard punt return sent USC to its fourth loss of the season, though, the Trojans fell into uncomfortable territory. Something had to change. Clay Helton could not deny it to himself anymore. That meant that his program spent a week being talked about for all the wrong reasons.
The fodder out of USC was juicy enough to break through the noise of a city reeling from Dodgers heartbreak and an uneasy start to a Lakers season that seemed destined for more. The uber-loyal Helton fired his offensive line coach, Neil Callaway, a man who is like family. He took over play-calling duties from his "right-hand man," offensive coordinator Tee Martin.
USC-Oregon State: A look at how the teams match up
USC (4-4, 3-3) at Oregon State (2-6, 1-4)
Saturday, 7 p.m., Reser Stadium, Corvallis, Ore. TV: FS1. Radio: 1110, 99.1.
Marquee matchup
USC offensive line vs. Oregon State defensive line. USC coach Clay Helton fired offensive line coach Neil Callaway Monday and moved running backs coach Tim Drevno, who is an offensive line coach by trade, back into that role. With Helton calling plays and in position to get credit for any improved offensive production, the timing couldn't be more perfect to be playing Oregon State. The Beavers are 126th nationally in rush defense, giving up 267.4 yards per game. Arizona State's Eno Benjamin rushed for 312 yards against Oregon State. Arizona's JJ Taylor turned in 284. Aca'Cedric Ware, Vavae Malepeai and Stephen Carr should be looking to combine for a similar total. If they can't, it may be the most alarming sign yet that the USC offensive line is broken and in need of drastic repairs. Ideally, the Trojans will be able to run at will and then hit the Beavers over the top with JT Daniels throwing to Michael Pittman and Tyler Vaughns.