USC-UCLA rivalry week pranks: a timeline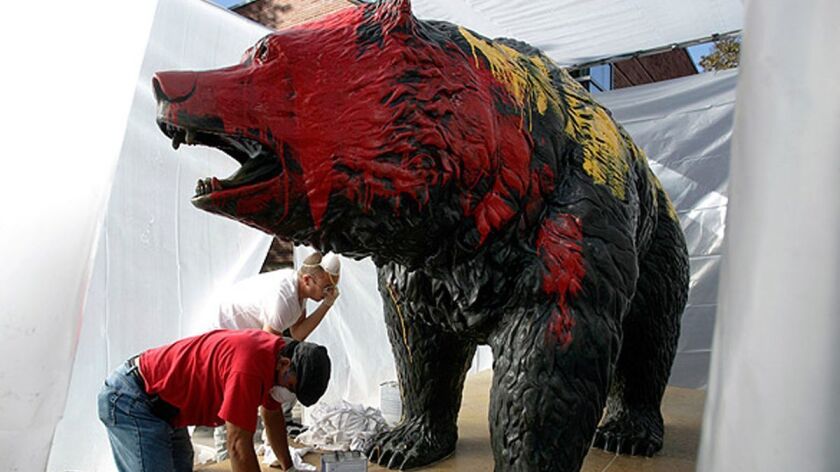 Some USC fans solved the "puzzle box" meant to protect UCLA's Bruin Bear and spray painted the statue in approximate Trojans colors earlier this week. That's not bad, as far as rivalry week pranks go. But how does it compare to some of the stunts pulled by USC and UCLA fans in the past?
1941 — Six USC fans made off with the Bruins' "Victory Bell" while posing as UCLA students. A group of actual UCLA students got revenge by attacking USC's Tommy Trojan statue. A peace agreement was reached the following year, with the bell going to the school that wins the rivalry football game.
1943 — USC's mascot, a dog named George Tirebiter, was kidnapped. He was returned before kickoff with "UCLA" shaved into his fur.
1957 — UCLA's student section planned a series of card stunts for that year's game at the Coliseum, with students holding up cards that were supposed to combine to form pro-Bruins messages. But a group of USC supporters altered the cards before the game, so the UCLA students ended up unwittingly displaying pro-Trojans messages instead.
1958 — The next year, UCLA fans rented a helicopter to dump 500 pounds of manure on the Tommy Trojan statue. But USC fans say the plan backfired when most of the manure was sucked back into the helicopter and onto the folks who dumped it.
The same year, USC students are said to have kidnapped a truck driver so they could replace copies of the UCLA newspapers with a fake edition that quoted Bruins coach George Dickerson as saying, "I can't see any hope for our team."
1962 — Five wannabe pranksters from USC got caught on the UCLA campus and ended up tied to a flagpole during a pep rally with "UCLA" shaved into their heads and their faces painted blue.
1989 — USC supporters released 30,000 crickets, painted red and gold, in a UCLA library during exams week. "Even today, dead crickets can be found between the pages of older books," the Daily Bruin reported last year.
2009 — The Bruin Bear, located in UCLA's Bruin Square, was splattered with red and yellow paint. The prank cost the university $40,000 — $20,000 for the restoration of the statue, $15,000 for three security cameras and $5,000 for a "puzzle box" constructed around the bear for protection during rivalry week.
2014 — One or more Trojan fans got to the Bruin Bear before the puzzle box went up, spray painting "SC RUNS LA" across the bear's torso nine days before the rivalry game.
Read more about the USC-UCLA prank wars from The Times archives:
Pranks for the memories (2001)
When UCLA, USC meet in football, defense (against pranks) is key (2011)
Twitter: @chewkiii
---
Get the latest on L.A.'s teams in the daily Sports Report newsletter.
You may occasionally receive promotional content from the Los Angeles Times.